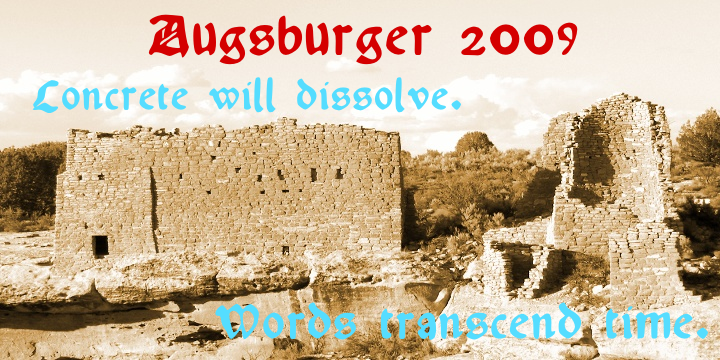 About Augsburger2009 Font Family
---
This typeface was inspired strongly by one of Ernhardt Ratdolt's (1442-1528?) many beautiful typefaces. Mr. Ratdolt was a printer from the city of Augsburg, who had also worked for several years as a printer in Venice. He made many advances in printing technique and technology, including the decorated title page. Early books have a mysterious rhythm to the appearance of the text, due to small variances in letters caused by casting irregularities and ink transfer from the press. This supposed defect, which is present in this typeface, gives a pleasing effect when compared to the sterile regularity of modern printing technology. This font has been released as version 2.0 with over two hundred additional characters and improved metrics.
Augsburger2009™ is a trademark of Proportional Lime Type Foundry.
About Proportional Lime
Proportional Lime Type Foundry is a second floor operation that is overrun with a bird, cats, and unpleasant levels of heat, some of which is generated by the obsolescent machinery, and the rest enforced by the laws of thermodynamics. The bird owns the cats. And the cats own the humans. However, even considering the aggressive nature of the bird's endless commentary, and the cat's intermittent proofreading sessions, work is still routinely accomplished, and the goal of creating historically influenced typefaces achieved. We at PLTF desire to create typefaces that accurately recreate the feel of the old printing technologies for use in the modern world and also to explore novel designs.
Choosing a selection results in a full page refresh.