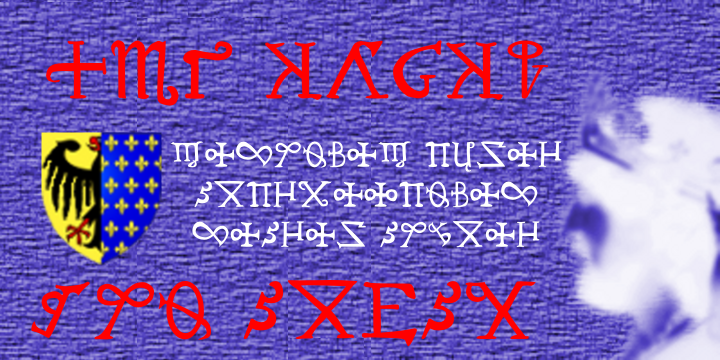 About Big Chuck Font Family
---
Charlemagne, one of the great rulers of the Middle Ages, was instrumental in the reestablishment of formal education in the West. This font was inspired by the notion that he felt the need to protect his communications from people with the ability to read; a rare skill then. Did he really command such a script to exist? He did instigate the development Carolingian minuscule script. Here are two different systems that are both attributed to him. Does it provide any real security? No, but it is fun to think about how such a system might have been used.
Big Chuck
About Proportional Lime
Proportional Lime Type Foundry is a second floor operation that is overrun with a bird, cats, and unpleasant levels of heat, some of which is generated by the obsolescent machinery, and the rest enforced by the laws of thermodynamics. The bird owns the cats. And the cats own the humans. However, even considering the aggressive nature of the bird's endless commentary, and the cat's intermittent proofreading sessions, work is still routinely accomplished, and the goal of creating historically influenced typefaces achieved. We at PLTF desire to create typefaces that accurately recreate the feel of the old printing technologies for use in the modern world and also to explore novel designs.
Choosing a selection results in a full page refresh.