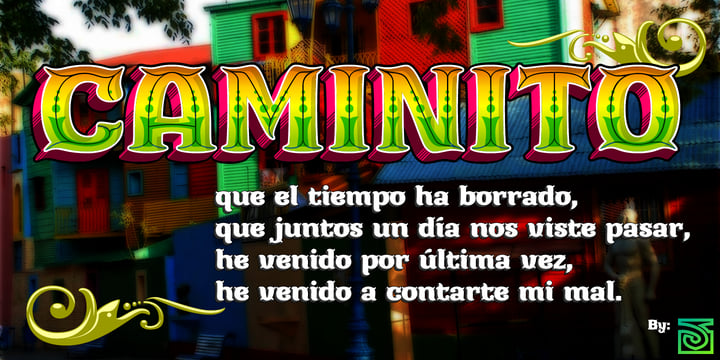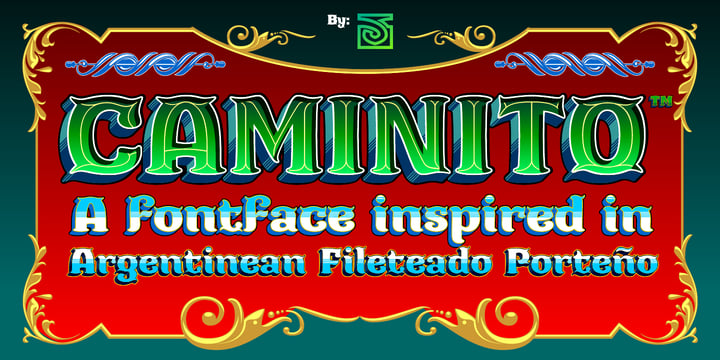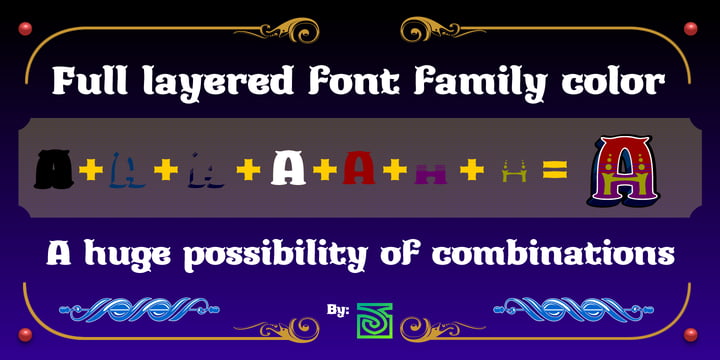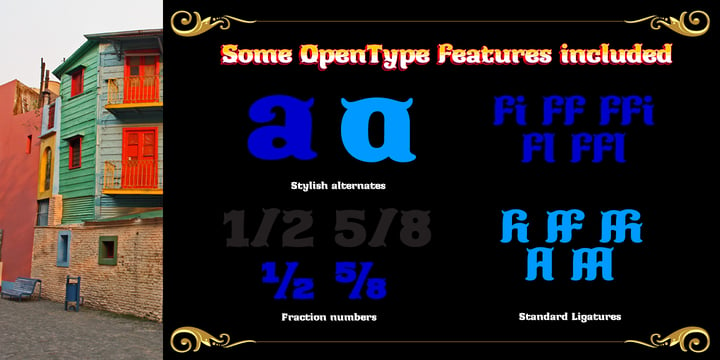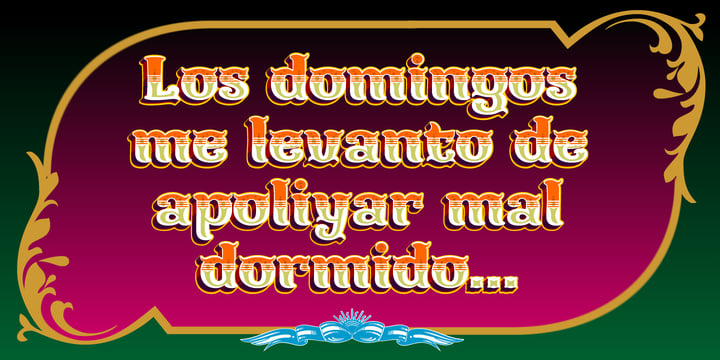 About Caminito Font Family
---
This fontface is inspired on Argentinean classic and traditional art craft named as Fileteado Porteño. Caminito is available in 10 layered styles for compose with multi combinations and a extra of ornaments. Highly recommended to be used for colorized titles and display texts. Fileteado Porteño is a type of artistic drawing, with stylized lines and flowered, climbing plants, typically used in Buenos Aires, Argentina. It is used to adorn all kind of beloved objects: signs, taxis, lorries and even the old colectivos, Buenos Aires's buses. Filetes (the lines in fileteado style) are usually full of colored ornaments and symmetries completed with poetic phrases, sayings and aphorisms, both humorous or roguish, emotional or philosophical. They have been part of the culture of the Porteños (inhabitants of Buenos Aires) since the beginnings of the 20th century. One of the most highlighted and recognized artists nowadays is Alfredo Genovese, who does a great job of teaching and claim this art and craft. The name Caminito reminds the emblematic and iconic Buenos Aires neighborhood immortalized by Carlos Gardel in music, in the tango.
Caminito™ is a trademark of John Vargas Beltrán.
About John Vargas Beltrán
John Vargas Beltrán (Bogotá – Colombia, b. october 12th 1974) graduated as graphic designer from the Universidad Nacional de Colombia in 1997 and has more than 10 years experience in calligraphy, typeface designing and lettering. Pioneer of digital Type Design in Colombia. Since 1997 he has designed different fonts for display or specialized titles. In 1997 he shown Muisca Sans as his degree work, a typeface based on pre-Columbian elements. That same year he collaborated on the project degree work of his colleague Andrés Marquínez, designing Macondo: this font was reissued and is now distributed through MyFonts in Pro version. In 1998 he started the concept of Conectiva which was edited and published 12 years later by MyFonts.com. In 2005 he participated at the Spanish contest Tipo-Q with Dulcinea Serif which became one of the 10 highlighted projects submitted. His font Cambalache (2008) was published by MyFonts in 2011. In 2009 he designed Convergence with his colleague, fellow student and Venezuelan counterpart Nicolás Silva Schwarzenberg. That same year he prepared and developed the Salsa font family and obtained the title of Font Design Specialist (UBA). Currently he designes new typefaces published by GoogleFonts. He is co-founder of the ADG Tipográfico.org Colombia (Graphic Designers Association of Colombia). He worked for over 8 years in the area of interactivity in advertising agencies like Euro RSCG and G2. He specialized in Management of Design UJTL (Universidad Jorge Tadeo Lozano - 2003) and finalized the Typographic Design postgraduate course from the Universidad de Buenos Aires (Argentina - 2010). In March of 2012 his project Macondo was selected at the Tipos Latinos 2012 Biennal.
Choosing a selection results in a full page refresh.