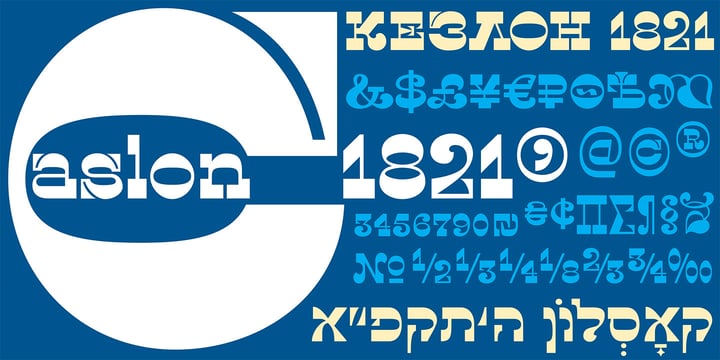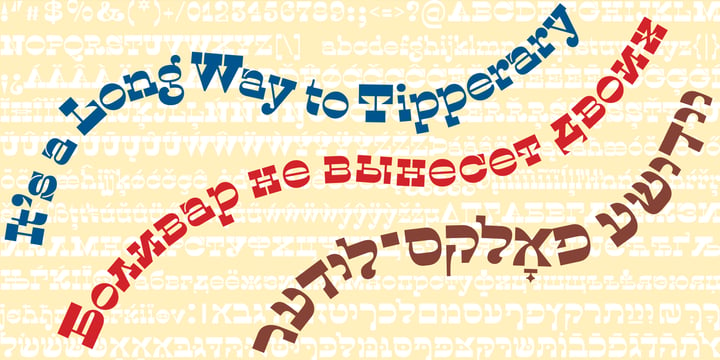 About Caslon1821 Font Family
---
Caslon1821 is a revived "Italian" typeface of foundry Caslon & Livermore, 1821. The typeface quickly extended across Europe and America. It came to Russia and became very popular from France in the 30s of the XIX century. It's Cyrillic versions were offered by typefoundries of Revillion and Co., Pluchard, Semen, etc. In our version we also added support for Hebrew (with vowels).
Caslon1821
About Apostrof
Ukrainian typefoundry 'Apostrof' was founded in 2012 by Viktor Kharyk and Konstantin Golovchenko for implementation of the ideas, researches and development in the area of font design. Konstantin (aka Salmoose) is engaged in researches of history of typefaces and printing. He examines the question of revival of a half-forgotten typefaces of old foundries. In addition he deals with OpenType-programming. Viktor specializes on development of multilingual fonts and opportunities of coexistence of different writing systems within one graphic system. Thus main tasks of our foundry are: restoring and developing interesting half-forgotten typefaces, adapting the above mentioned for different writing systems, designing new original fonts of different styles with a wide range of code pages supported, as well as decorative and experimental fonts, publishing research materials in history and theory of typefaces and typography.
Choosing a selection results in a full page refresh.