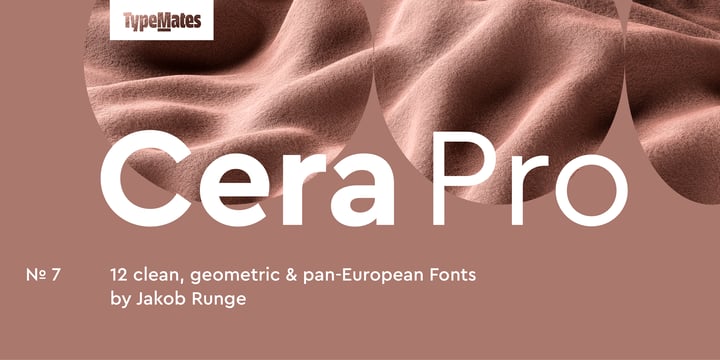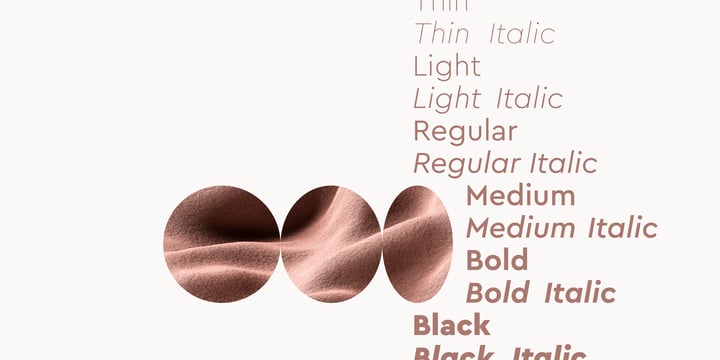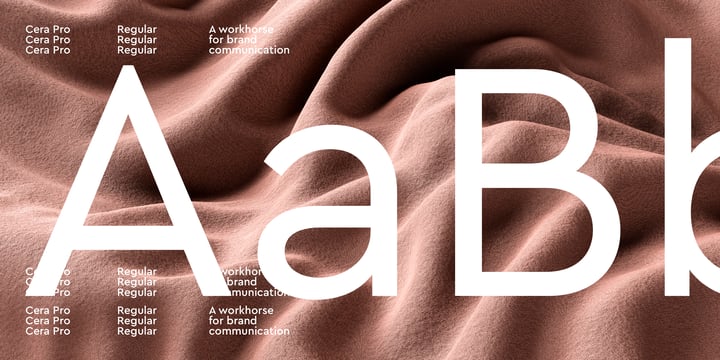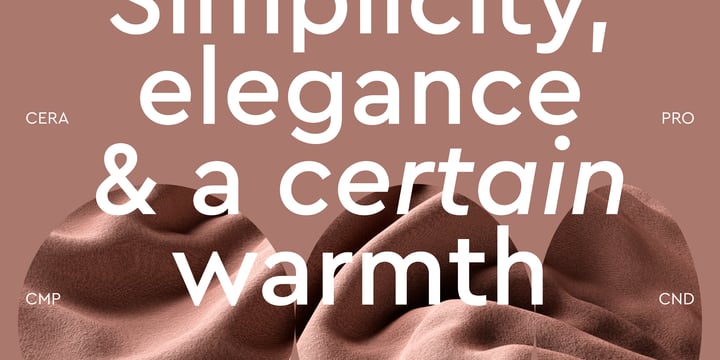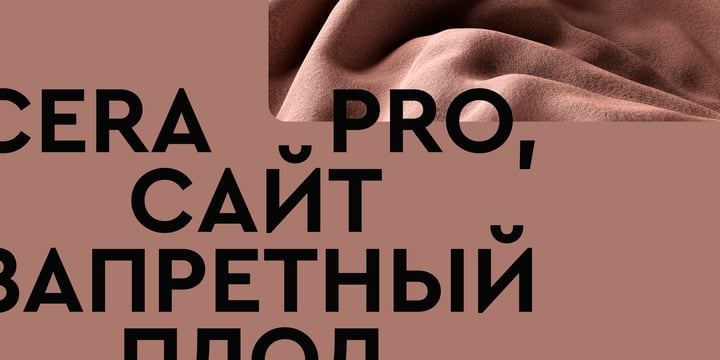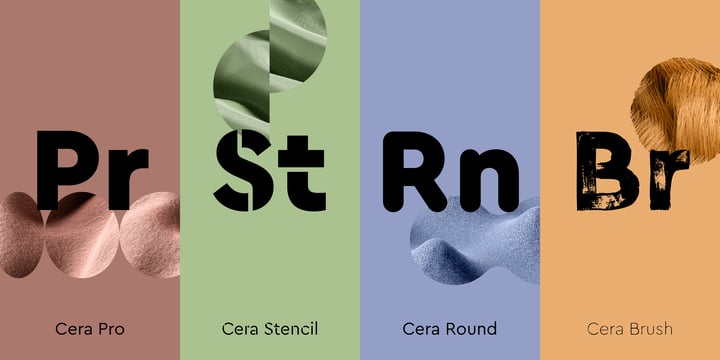 About Cera Pro Font Family
---
Cera Pro is distilled from elementary shapes and brings simplicity, elegance and a certain warmth wherever a contemporary geometric typeface is needed. It is complemented by two space-saving counterparts for narrow reading environments and compressed spaces.
Key to Cera is usability. Whether responding to print, screen, technical commitments or aesthetic demands, Cera Pro remains super usable and ready to match your design vision. With a carefully controlled character for utility and clarity, this geometric sans subtly combines a friendly attitude and classic details. Modernism and the luxury of Art Deco are joined with the solid performance of text typefaces.
Cera Pro provides six weights, thin to black, to give it a full range of expression for interfaces and corporate design; in print, on screen and in multiple languages. Matching italics, carefully sloped a lively 10º, are invigorated with a dash of rotalic flavour: keeping the 'o' 'a' perfect circle and giving Cera's italics striking effect when used for display typography.
A steadfast companion for text, Cera has a large x-height and compact capitals. For best on-screen performance, web and desktop fonts have been improved with manual TrueType hinting. Perfect online and in interfaces!
The extended, pan-European Cera supports around 270 languages in the Latin, Cyrillic and Greek scripts and was developed with native consultants. With over 980 glyphs per style, Cera cares about localised letterforms and has the OpenType features to match. Naturally, it also has all the dingbats and arrows you might need.
The pan-European Cera Collection is driven by pure geometry including bestselling Cera Pro and its space-saving counterparts, the stencilled enhancement Cera Stencil, a truly hand-crafted display Cera Brush and soft, machine milling inspired Cera Round.
Cera™ Pro is a trademark of TypeMates.
About TypeMates
TypeMates: a straightforward font foundry. For years, we — Jakob, Nils and Lisa — have been passionate about type and since 2015 we are working together, from our offices near Munich and Hamburg, as a type foundry. We don't believe that typefaces are neutral or purely functional systems for reading, rather that they are a visual language with emotional values. Our aim is to be straightforward in the complex field of type design. We do not want to hype or praise type too much, we want to work together with our clients and partners to deliver good results. Our practice covers everything, from the tiniest nuance in a logo or piece of lettering to the design of extensive type systems. And whether it's a beautiful idea, a complex client project with intense technical demands, or we're just following our investigative TypeMate's nose — we're passionate about well-made letterforms delivered to the highest technical standard. Whether it's Die Zeit online, Fast Company, Red Bull TV or Lufthansa Magazine, typefaces we designed are used by magazines, newspapers and corporations who set the bar for design.
Choosing a selection results in a full page refresh.