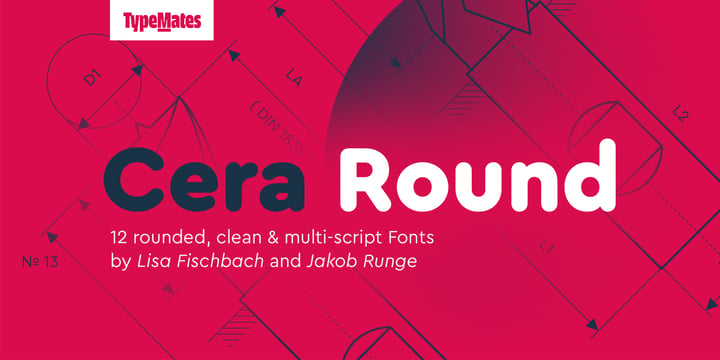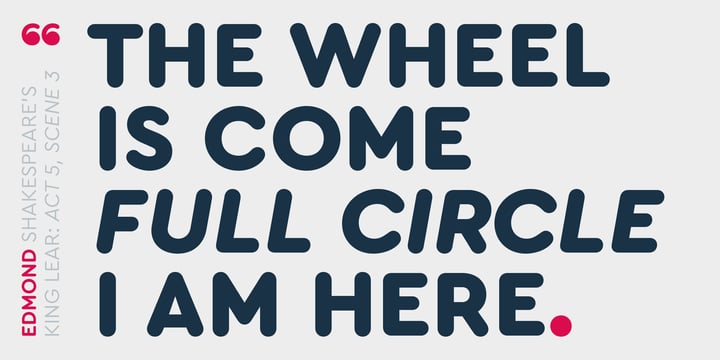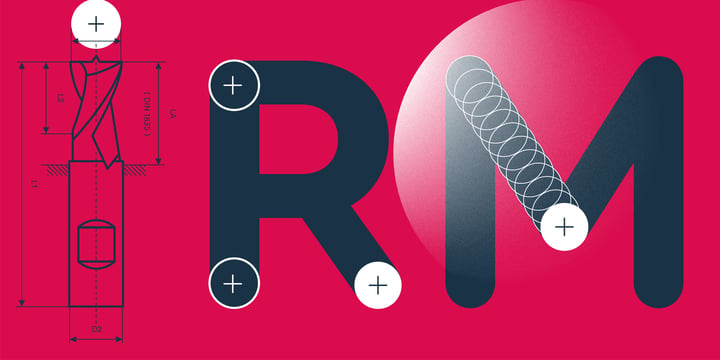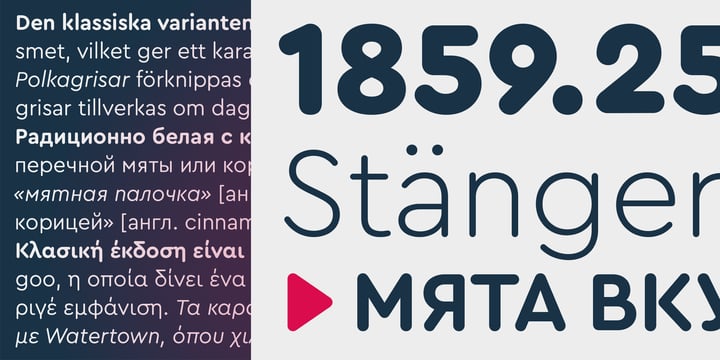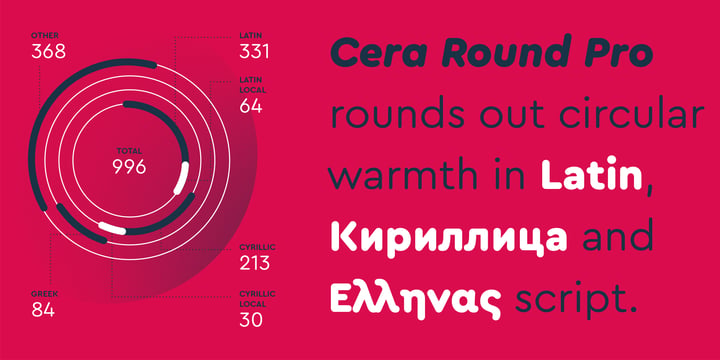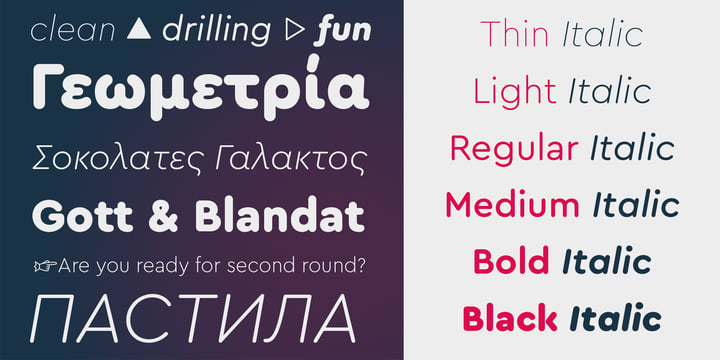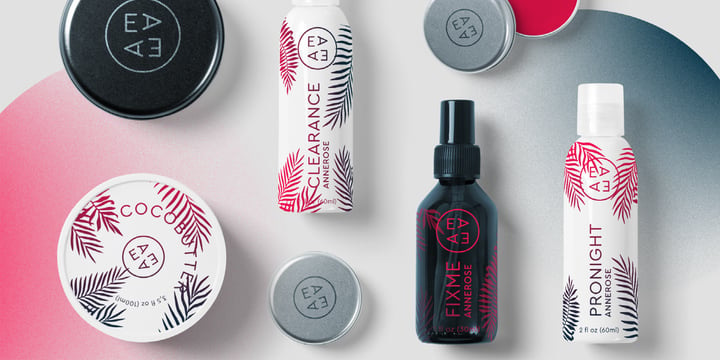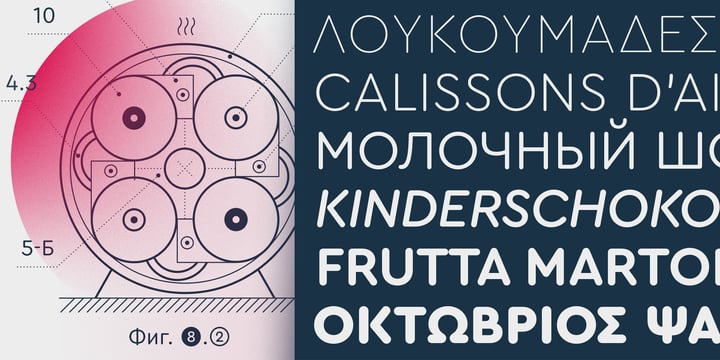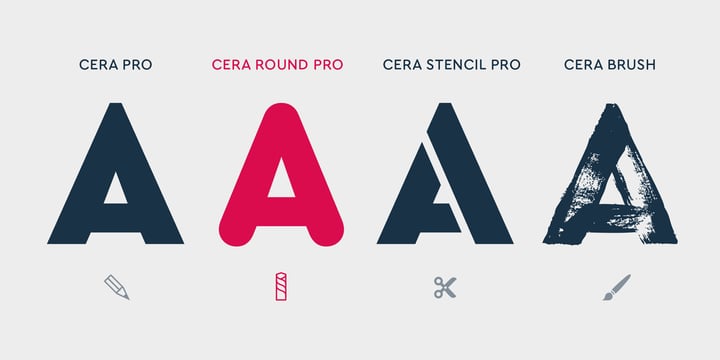 About Cera Round Pro Font Family
---
The pan-European Cera Collection is driven by pure geometry and contains the bestselling
Cera, its stenciled counterpart Cera Stencil, Cera Condensed, the hand-crafted display Cera Brush and the soft Cera Round. As powerful as any other member of the collection, Cera Round Pro combines warmth with elegance and its support for Cyrillic and Greek makes it a reliable and engaging companion for international communication. Drawing on a tradition of machine-milled lettering and combining it with the technical geometry of Cera, Cera Round Pro features circular stroke endings and softly rounded corners to create cheerful feeling text. Amongst its smooth, yet precise letterforms, the circular o takes on a new, striking quality. While the regular has been carefully proofed for long editorial texts, Cera Round Pro's six weights, thin to black, plus six italics, allow for a whole range of expression in display typography. Where the light weights have all the cleanliness and precision of technical drawings, its heavy weights are playful and soft: perfect for strong headlines and packaging projects. With this broad spectrum of expression, from technical to friendly — and always sincere — Cera Round is an excellent choice for branding and editorial design. Its large x-height also means that it is recommended for interface design. And while Cera Round Pro may be a counterpart to Cera, it's not just Cera with rounded corners. We've carefully reworked and adjusted many of the glyphs to adapt them to Cera's new attitude. When rounded edges and smooth shapes created new optical problems, we found new solutions: making Cera Rounded Pro an individual member of the Cera Collection. In 2021 we expanded the family to also cover the italic styles and made Cera Round even more versatile for uses. The extended, pan-European Cera Pro supports around 150 languages in the Latin, Cyrillic and Greek scripts, which were developed with native consultants. With over 900 glyphs per style, Cera cares about localised letterforms and has the OpenType features to match.
Cera Round Pro
About TypeMates
TypeMates: a straightforward font foundry. For years, we — Jakob, Nils and Lisa — have been passionate about type and since 2015 we are working together, from our offices near Munich and Hamburg, as a type foundry. We don't believe that typefaces are neutral or purely functional systems for reading, rather that they are a visual language with emotional values. Our aim is to be straightforward in the complex field of type design. We do not want to hype or praise type too much, we want to work together with our clients and partners to deliver good results. Our practice covers everything, from the tiniest nuance in a logo or piece of lettering to the design of extensive type systems. And whether it's a beautiful idea, a complex client project with intense technical demands, or we're just following our investigative TypeMate's nose — we're passionate about well-made letterforms delivered to the highest technical standard. Whether it's Die Zeit online, Fast Company, Red Bull TV or Lufthansa Magazine, typefaces we designed are used by magazines, newspapers and corporations who set the bar for design.
Choosing a selection results in a full page refresh.