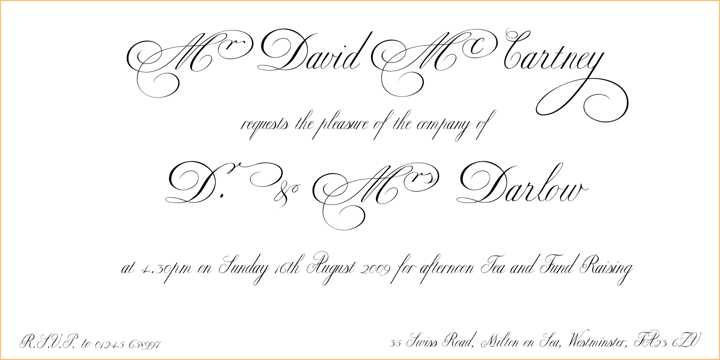 Copper Alt Caps Bold

Copper Alt Caps Expert

Copper Alt Caps

Copper Bold

Copper Expert Bold

Copper Expert

Copper Inline

Copper Open

Copper

Copper Decor
Per Style: $6.49
Pack of 10 : $64.95
Copper Bold

Copper Alt Caps

Copper Expert

Copper Inline

Copper Alt Caps Bold

Copper Alt Caps Expert

Copper Decor

Copper Open

Copper Expert Bold

Copper
Per Style: $6.49
Pack of 10 : $64.95
About Copper Font Family
---
The Copperplate Set' a series of type that can be used to produce letters and documents in the style used in the 19th century. The set is divided into two families Copper and Classic with an extra font called Decor. The Copper faces are based on true copperplate hand writing as would be produced by using a split nib. Classic however is based on engraved text and has a more precise feel to it. Both families have many extras allowing decoration and florishes to be created or added. The Decor font finishes the set by adding instant headers and footers which are entered directly from the keyboard.
Copper
About Classic Font Company
The Classic Font Company was originally known as 'The Datafile' which was an Acorn Public Domain Library. Tony Nash, our font designer sent some of his work for inclusion in the library and it soon became apparent that Tony was a talented designer and together we set about polishing Tony's work adding hinting and fine tuning the finished typeface. They were an immediate sucess on the Acorn Computer platform. With the decline of the Acorn platform we decided to convert the typefaces for use on PCs. We used varied software including: FontLab, Font Monger, Fontographer, !FontEd, !Daeddalus and !FontFiend to name a few. We hope that you will find the unusual features of El-Cid, Carol, Frameworks and Savoy a joy to use.
Choosing a selection results in a full page refresh.