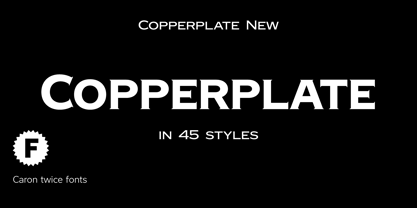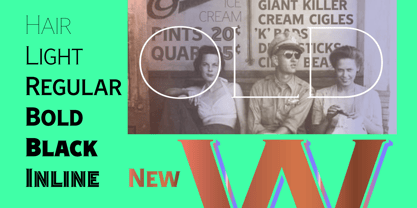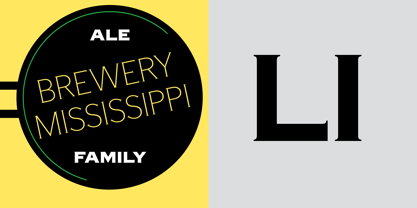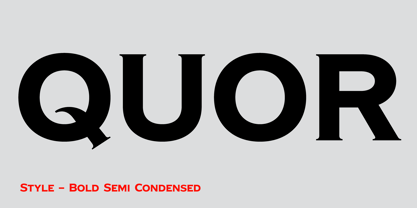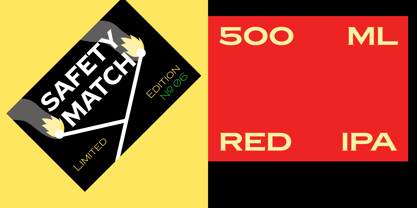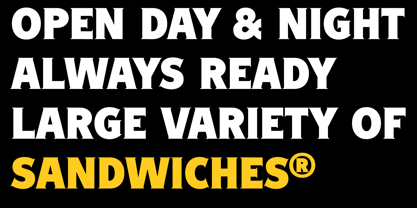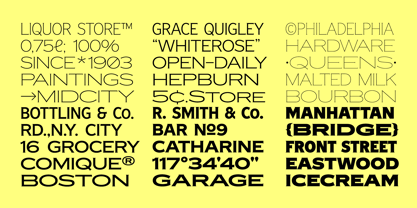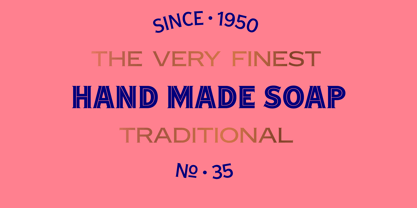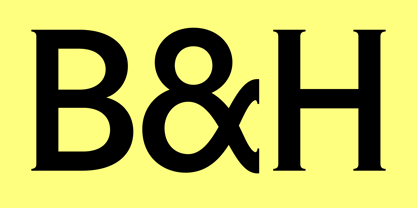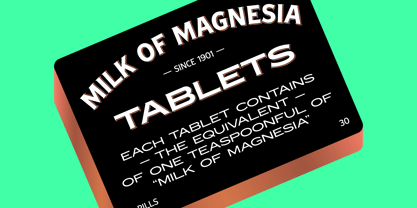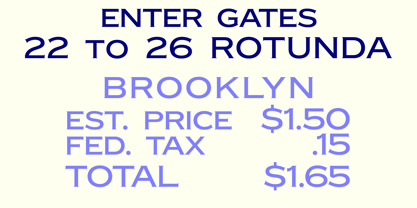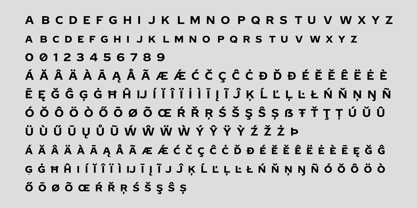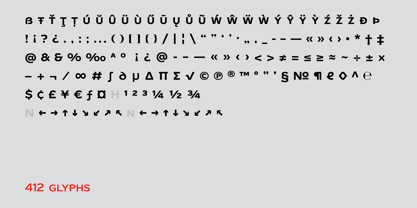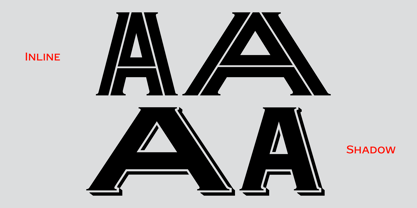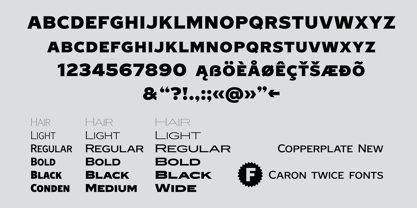 About Copperplate New Font Family
---
Imagine America in the 1930s. A gangster flick with Al Capone, a crime novel featuring Philip Marlowe. Our hero in a fedora sits in a classy bar, orders a double bourbon, lights a cigar and eyes the evening paper. He turns the pages, reading about a bank heist over on Third Avenue, a scandal involving a baseball player, a small ad for a general practitioner and a large spread about a famous law firm. What do the bottle of booze and the majestic facade of the bank have in common? The elegant baseball uniform and trustworthy attorneys? - Copperplate Gothic - When Frederick William Goudy created his legendary typeface in 1901, it went on to literally become the symbol of early 20th century America. Tiny serifs, characteristically broad letterforms, and particularly bold titles decorated calling cards at 6-point size, enormous bronze-cast logos, newspaper headlines, restaurant menus and more. This was the golden age of Copperplate, lasting up until the arrival of die neue Typografie and monospaced grotesques in the 1960s. Then the typeface almost completely disappeared. It made a partial comeback with the advent of the personal computer; digitizations of varying quality appeared, and one version even became a standard font in Adobe programs. This may have played a role in Copperplate later being used in DIY projects and amateur designs, which harmed its reputation. Copperplate New has been created to revive the faded glory of the original design. Formally, the new typeface expands the existing weight and proportional extremes. The slight serifs are reduced even further, making the typeface sans-like at smaller point sizes and improving readability. In contrast, at large point sizes it retains all of its original character. Decorative inline & shadow styles have been added and both have been created in all five proportions, making it easy to adapt the typesetting to the format you need. Despite these changes and innovations, Copperplate New remains true to Goudy's original design and represents a snazzy way to evoke a golden era in American culture.
Specimen:
http://carontwice.com/files/specimen_Copperplate_New.pdf
Copperplate New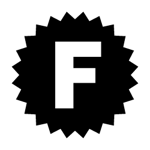 About
Caron twice
Caron twice Fonts is a small digital type foundry. We create professional quality fonts and offer licenses for their commercial use. Our customers are graphic studios, creative agencies and freelance designers. We stand out from the competition with our typefaces offer. Each of our typeface is a distinct character of a certain category. The number of typefaces is limited. That's why the choice is simpler with us. What does our font offer look like? You will find the modern sans-serif font Atwic for universal and contemporary use. Calligraphic Afera serif typeface for headlines and posters. Copperplate New decorative retro typeface for a crafty look in packaging design, company logo, company name sign or official printed matter such as certificates. Pixel Grid bitmap font for a digital and techy look. The font breaks the traditional values of beauty based on strong individuality and recognizability Wild Sans, which is suitable for headings of leisure activities such as festivals and cultural or sports events. The serif font Little Micro is suitable for small text or reading text from a distance, e.g. in a navigation system. And the classic serif typeface Textworthy inspired by Times typeface and the writing by pen. It has a trustworthy and official look. The last and newest typeface is Ligaturess Serif, suitable for a traditional and yet interesting look for chapter headings in a book, blog or on the poster. We currently offer 8 distinctive type families. A total of 296 fonts, because each typeface contains a different scale of boldness or italics. All our fonts contain a character set for language support of 47 Latin languages. Founded by type designer Martin Cincar, 2019, in the Czech Republic, in Prague.
Read more
Read less
Choosing a selection results in a full page refresh.