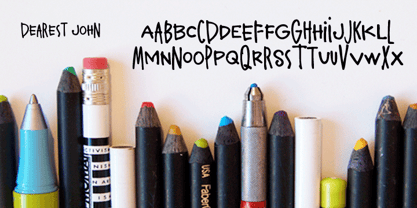 About Dearest John Font Family
---
Dearest John is the first font in the Love Letters series from Outside the Line. It is a bouncy hand lettered font. If you type caps and lower case you get one look. If you type all caps you get another look. Kind of 2 fonts for the price of one. I prefer to type caps and lower case and then go back in and tweak the headline a little to get the look I want. Dearest John was seen in the 2011 Typodarium Page-A-Day Calendar on 12-9-2011.
Dearest John™ is a trademark of Outside the Line.
About
Outside the Line
Outside the Line's type designer Rae Kaiser never intended to design fonts. It just happened that way. Most of Rae's fonts are either hand-lettered like Dearest John and Architectural Lettering or hand drawn doodles like Party Doodles with a few dingbat fonts like Fleurons of Paris or Home Sweet Home Dingbats. Rae says, "It is the perfect job. I get to wander around in my pjs thinking creative thoughts and making fonts. I am good with type. Love type, am fascinated with type. So I make fonts."
Read more
Read less