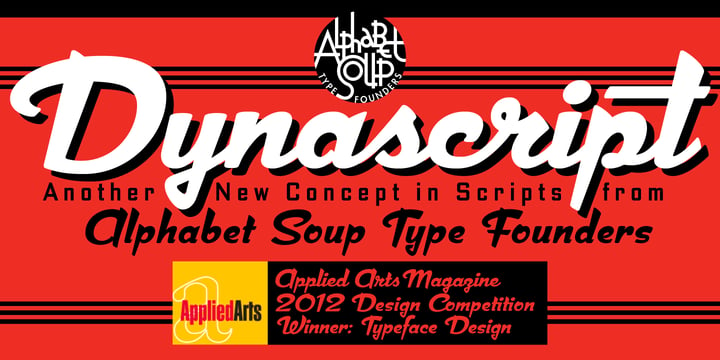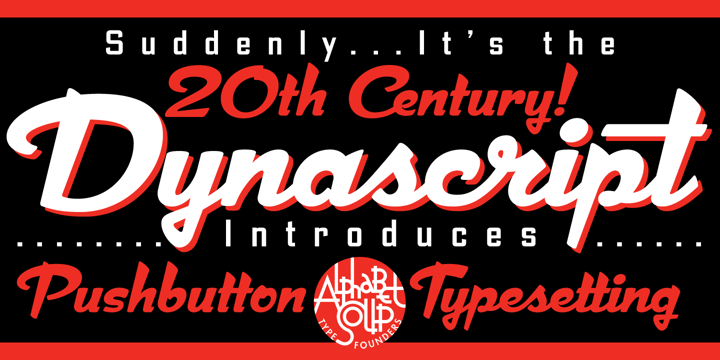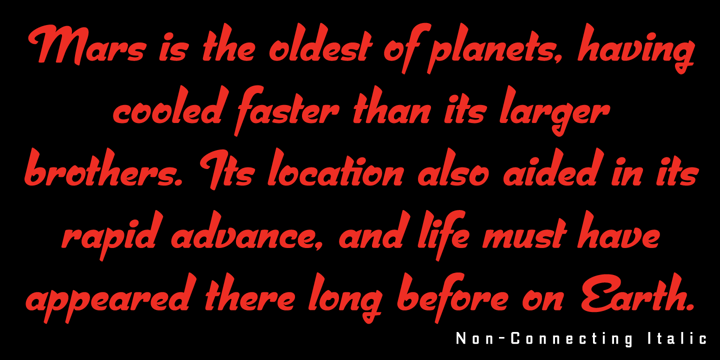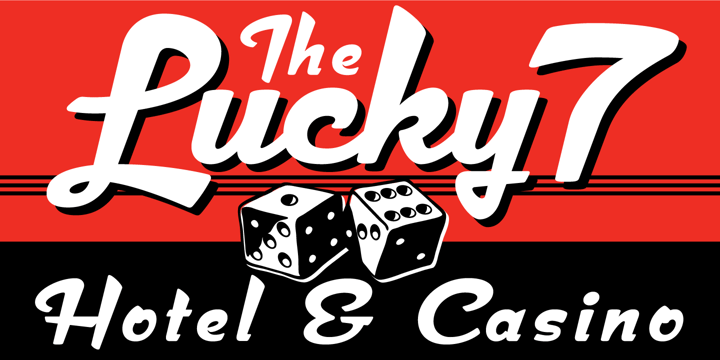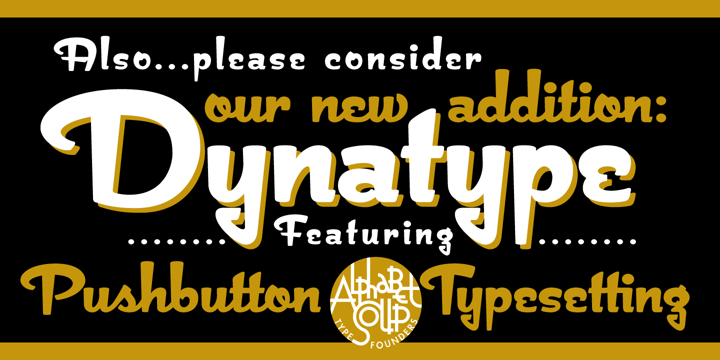 About Dynascript Font Family
---
Typography enters the Space Age! Dynascript brings the ease of "Pushbutton Automatic" to your typesetting experience. Dynascript is actually Two fonts in One–without switching fonts you can instantly change from Dynascript's connecting font to the non-connecting italic with the simple push of a button. For more details download "The Dynascript Manual" from the Gallery Section. What is Dynascript? Dynascript is the slanted script cousin of Dynatype. It shares many of the characteristics of it's sibling, but is drawn entirely from scratch and has it's own unique character. To some it may be reminiscent of various mid-century neon signage, and of sign writing, Speedball alphabets and even baseball scripts. The design of Dynascript also takes some cues from a historical typographic curiosity that began in Germany in the '20s and which lasted into the '60s—when Photo-Lettering gave it the name "Zip-Top". Basically it was believed to be the wave of the future—that by weighting an alphabet heavier in its top half, one could increase legibility and reading speed. The jury's still out on whether or not there's any validity to this claim, but I think you'll agree that in the context of this design, the heavier weighting at the top of the letters helps to create some uniquely pleasing forms, and a script unlike any other. Typesetters across the planet will also be able to set copy in their language of choice. Dynascript's 694 glyphs can be used to set copy in: Albanian, Basque, Catalan, Cornish, Croatian, Czech, Danish, Dutch, Esperanto, Estonian, Faroese, Finnish, French, Galician, German, Hungarian, Icelandic, Indonesian, Irish, Italian, Kalaallisut, Latvian, Lithuanian, Malay, Maltese, Manx, Norwegian Bokmål, Norwegian Nynorsk, Oromo, Polish, Portuguese, Slovak, Slovenian, Somali, Spanish, Swahili, Swedish, Turkish, and Welsh—and of course English. Sorry! Off-world languages not yet supported. PLEASE NOTE: When setting Dynascript one should ALWAYS select the "Standard Ligatures" and "Contextual Alternates" buttons in your OpenType palette. See the "Read Me First!" file in the Gallery section.
Dynascript™ is a trademark of Alphabet Soup.
About Alphabet Soup
For most of his career Michael Doret has been well known as a letterforms artist and designer whose work has overlapped the areas of lettering, illustration and graphic design. Although the work always involved lettering, it was a very different discipline from the world of font design. Recently he expanded his letterforms work into that area under the name "Alphabet Soup Type Founders". Having been a letterforms artist for many years, he believes that he brings a very different perspective to the art of font design from most other foundries. He's now bringing these years of experience of creating art with letterforms to bear on his font design efforts, so that with each new font released he's pushing the envelope and coming up with something new, or a novel twist on the familiar.
Choosing a selection results in a full page refresh.