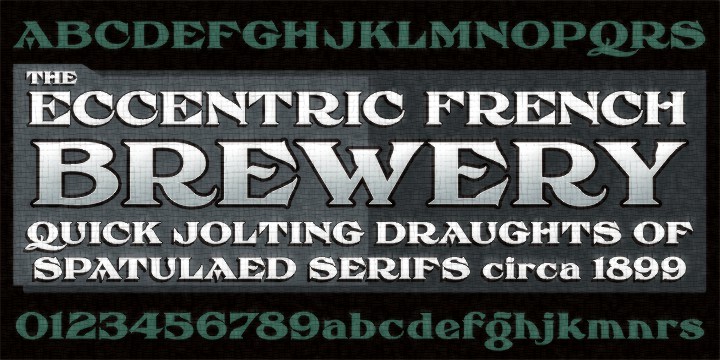 About FHA Eccentric French Font Family
---
The curves are vintage and the serifs are big. They're so big that for years I never had the courage to tackle this intimidating font. But when fellow signmaker Frank Smith laid the groundwork for this intriguing typeface by Frank H. Atkinson, I couldn't pass on the opportunity to take it from paper to keyboard. After all, at over 100 years old, I felt this alphabet had never been given a proper, digital treatment. So how did this face survive the last century? Well, for those who don't know the history, it survived in Atkinson's ubiquitous book, Sign Painting, published first in 1908, the generational standard for anyone interested in sign-related type design. The layouts and lettering treatments in this book have influenced countless designers for more than a hundred years, but most haunting to me was this strange face with the big serifs. Well, I'm haunted no more. The work is done, the kerning is complete, and nothing but a mouse-click separates a very old idea from the modern world. It's wide, it's big, and with those crazy serifs, it is definitely eccentric-!!!
FHA Eccentric French™
About The Fontry
When foundry's were making steel and fonts were but a molten dream ... well, we don't go that far back! But that's how we came up with the name for The Fontry. Spun into existence in 1992 by James L. Stirling and Michael Gene Adkins, The Fontry owes its origins to lots and lots of years working around screenprint shops and the signmaking business, influences that translate clearly into our font designs. It stands to reason then that many of our typographic efforts reflect the needs of those industries. Not ones to wimp around with frilly type, many of our fonts exude the strength you've come to expect from any font that dares to call itself a display face. No typesetting lots of tiny text with any of our fonts! And our inspiration covers the gamut, from full-on customs to period revivals. But no matter the origins, we pride ourselves on taking care of the details, from the nudge-fussiest node positioning to the single-digit kerning adjustments. Every Fontry font has over 40 hours of work in it, and we like to think it shows. At least we hope it shows--really! So for fonts that really fill the space, we're the foundry guys you wanna try!
Choosing a selection results in a full page refresh.