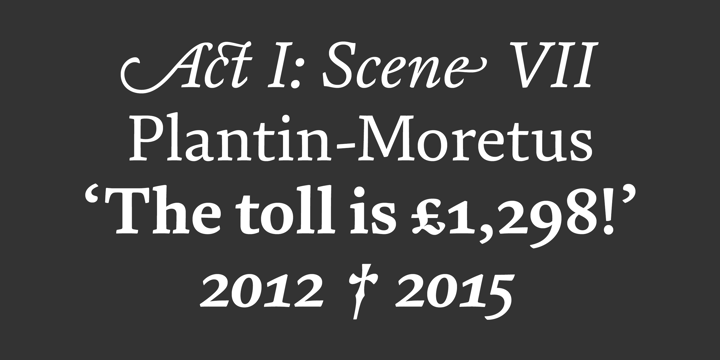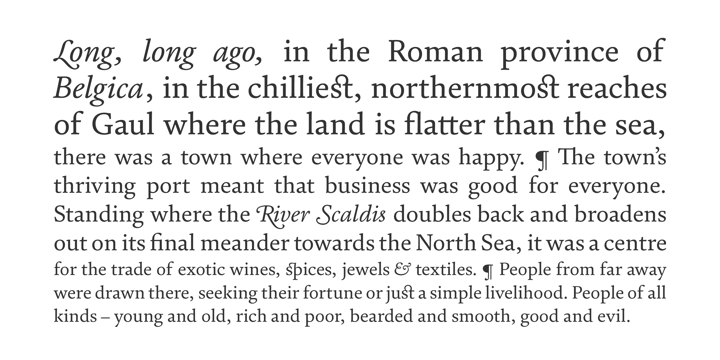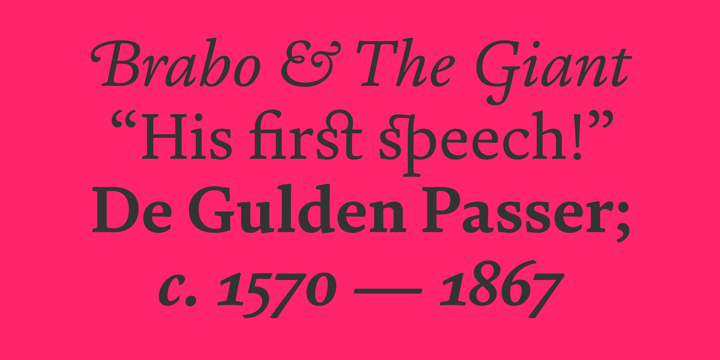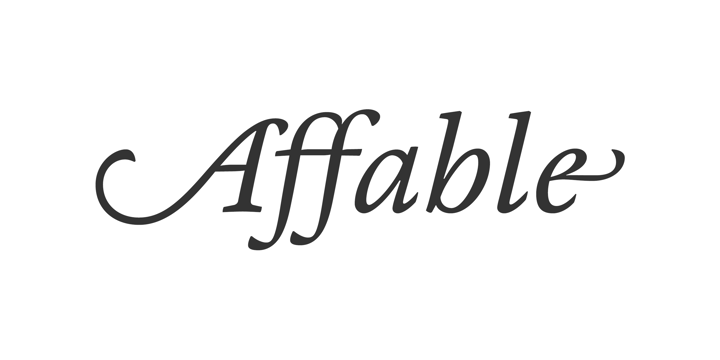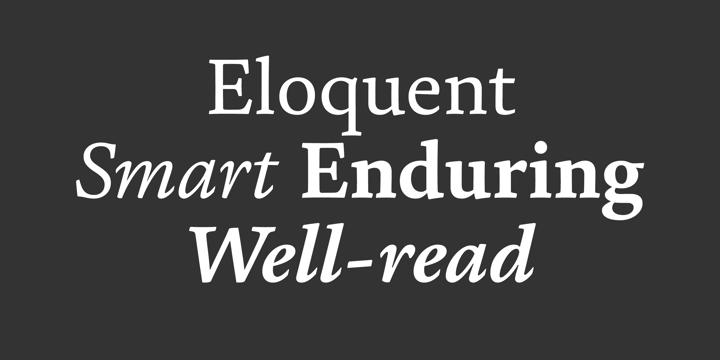 About FS Brabo Font Family
---
Worldly
Even though it's a new arrival, FS Brabo has seen the world. Designed by a Brazilian working in London and studying in Belgium under a Dutchman, it's certainly well-travelled. And it was inspired by the extraordinary archive of early book typefaces at the world-renowned Plantin-Moretus Museum in Antwerp, while Fernando Mello was attending Frank Blokland's Expert class Type Design course at the Plantin Institute of Typography. It was there that Fernando became engrossed in the collection of early metal type, matrices, punches and type samples by figures such as Garamond and Granjon. So much so that he took on the mighty task of developing 'a beautiful, functional, serifed text font' of his own.
Heroic
FS Brabo's journey from sketch to font family took an epic three years, starting in Antwerp, continuing at Fontsmith in London, and reaching its conclusion back in Fernando's home city of São Paulo. No wonder Fernando was reminded of another titanic face-off: that of Antwerp's Roman hero of legend, Silvius Brabo, and the evil ogre, Antigoon. Brabo came to the town's rescue after the tyrannical giant had been charging ships' captains extortionate taxes and chopping off the hands of those who refused to pay up. Having finally downed Antigoon after a long and terrible duel, Brabo cut off the giant's own hand and threw it into the river Scheldt, unwittingly giving the town its name: the Dutch for 'hand-throw' is hand werpen. What better way for Fernando to name his literary typeface than after the hero of Antwerp's oldest tale?
The garalde factor
FS Brabo is not a revival, but a very much a contemporary, personal interpretation of a garalde – a class of typeface originating in the 16th century that includes Bembo, Garamond and Plantin, with characteristically rounded serifs and moderate contrast between strokes. Brabo's 'ct' and 'st' ligatures, upper-case italic swashes and contextual ending ligatures – 'as', 'is', 'us' – all preserve the beauty and character of traditional typefaces, but its serifs are chunkier than a garalde. Their sharp cuts and squared edges give them a crispness at text sizes, helping to bring a beautifully bookish personality to hardworking modern applications.
A workhorse with pedigree
It may give the appearance of a simple, four-weight typeface, but FS Brabo has hidden depths beneath its simplicity and beauty. OpenType features such as cap italic swashes, contextual ending swashes – programmed only to appear at the end of words – and stylistic alternatives make this a complete and well-equipped typeface. Comprehensive testing was carried out at text and display sizes, too, to prevent counters from filling in. All of which makes FS Brabo a very modern take on a traditional workhorse serif typeface: colourful and versatile enough to adorn not just editorial projects but also signage, advertising and logotypes.
FS Brabo&reg is a registered trademark of FontSmith.
About Fontsmith
Fontsmith is a London based type design studio founded in 1999 by Jason Smith. The studio consists of a team dedicated to designing and developing high quality typefaces for both independent release as well as bespoke fonts for international clients.
Choosing a selection results in a full page refresh.