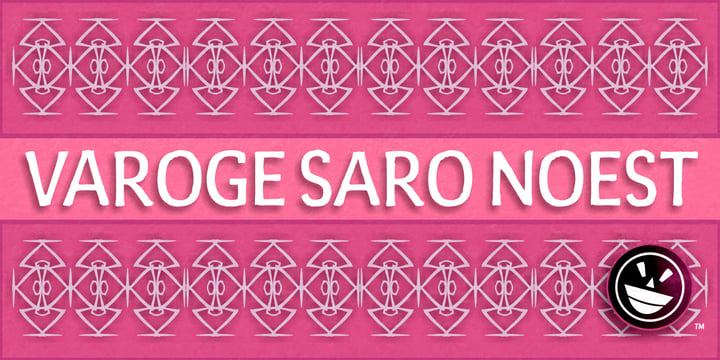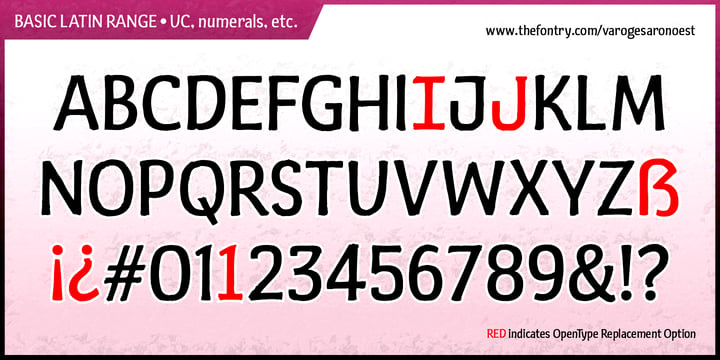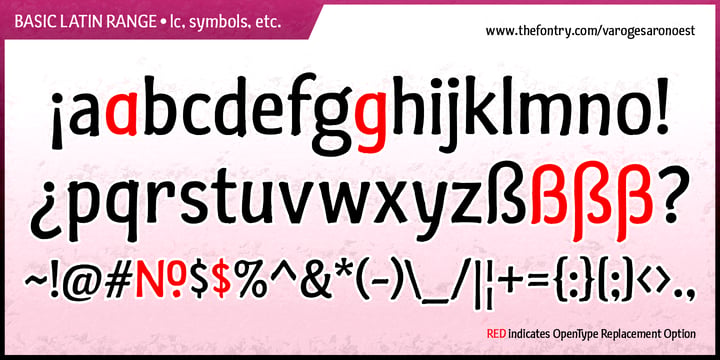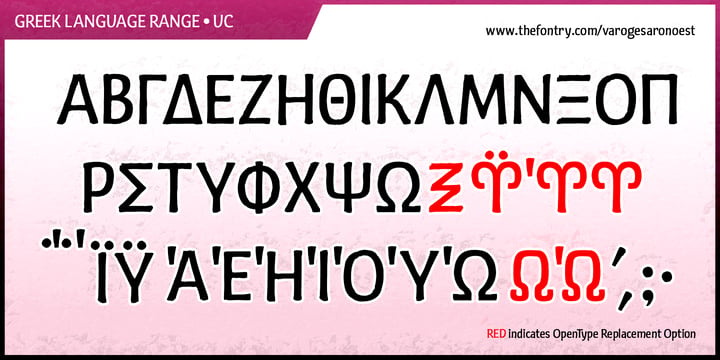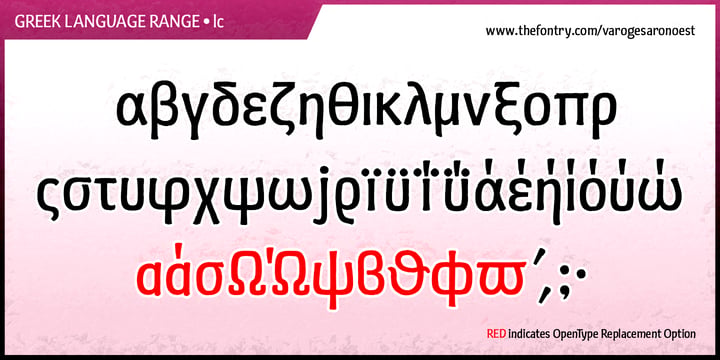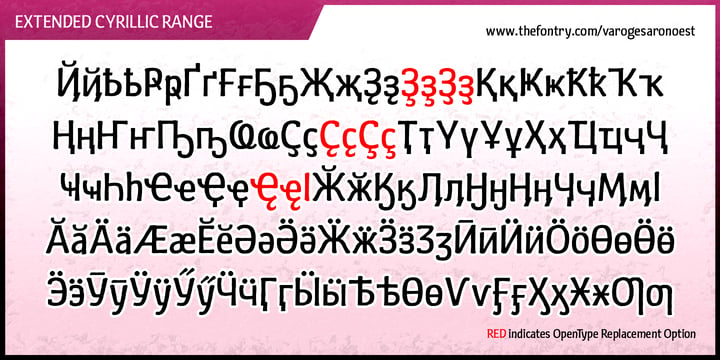 About FTY Varoge Saro Noest Font Family
---
VAROGE SARO NOEST arrives on your computer with OpenType replacement features standard, along with extended language support for Central European, Greek, Cyrillic and Extended Cyrillic. We've even included some nice character options for our German-speaking customers with the uppercase Eszett and a number of alternatives to the standard lowercase eszett. Also included is the new Turkish Lira. VAROGE SARO NOEST is a font with a very funny name. Sometimes it can be a funny font. Or a font that is fun. It looks kinda casual, but also a little bit handwritten--freeform and freehand. Or a form of block lettering with a rough edge. Not too rough. Just enough to break up the visual rigidity. But this is not a face in distress. It's mostly at ease in its surroundings. If it's in text mode, it handles the job comfortably. In headline mode it does well too. It's quite flexible and looking for a home. Give this font a home. See if you can figure out what to use it for. See if you see what we saw when we made it. We saw a font that's cool and elegant with a bit of a tantrum driving the node count. We also found it's impossible to look away from it. Anyone can see that. That's why you're here. That's why you're reading this. And VAROGE will do you a favor if you let it. Revisit your typographic beliefs and head over to the one persistent constant in life: your font list. Is VAROGE SARO NOEST on it? If it were to set up headquarters there, you might discover something ideal. That's the favor I was promising.
FTY Varoge Saro Noest
About The Fontry
When foundry's were making steel and fonts were but a molten dream ... well, we don't go that far back! But that's how we came up with the name for The Fontry. Spun into existence in 1992 by James L. Stirling and Michael Gene Adkins, The Fontry owes its origins to lots and lots of years working around screenprint shops and the signmaking business, influences that translate clearly into our font designs. It stands to reason then that many of our typographic efforts reflect the needs of those industries. Not ones to wimp around with frilly type, many of our fonts exude the strength you've come to expect from any font that dares to call itself a display face. No typesetting lots of tiny text with any of our fonts! And our inspiration covers the gamut, from full-on customs to period revivals. But no matter the origins, we pride ourselves on taking care of the details, from the nudge-fussiest node positioning to the single-digit kerning adjustments. Every Fontry font has over 40 hours of work in it, and we like to think it shows. At least we hope it shows--really! So for fonts that really fill the space, we're the foundry guys you wanna try!
Choosing a selection results in a full page refresh.