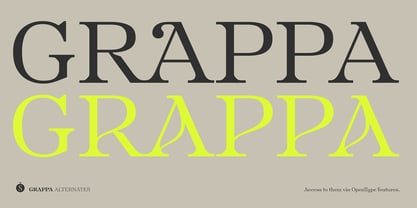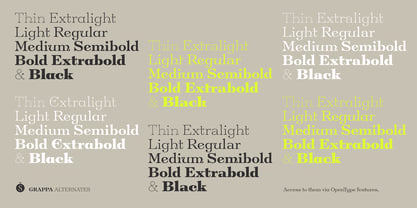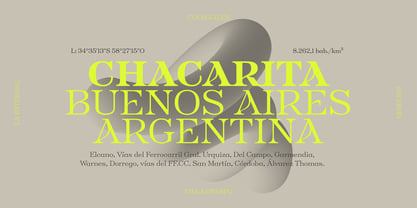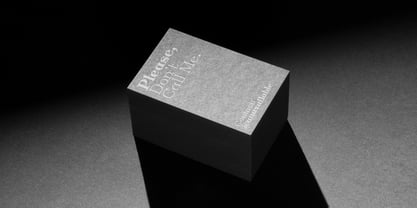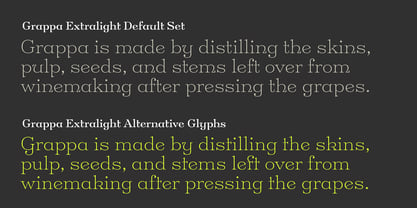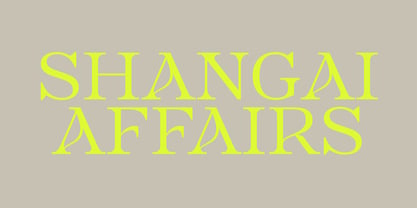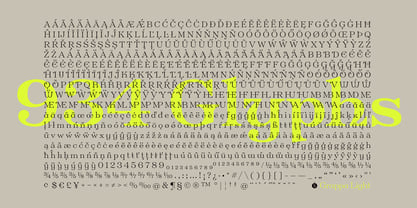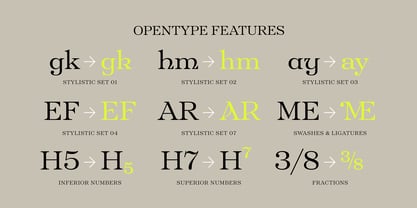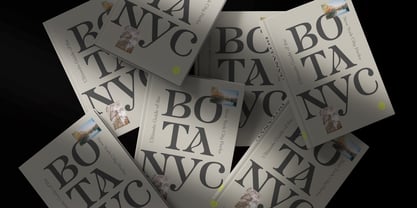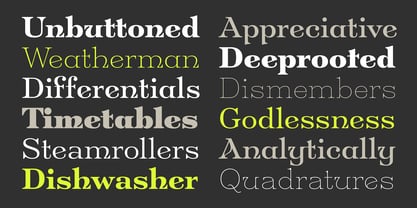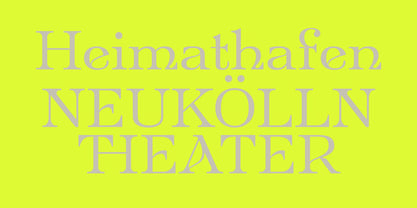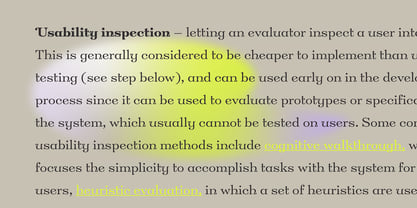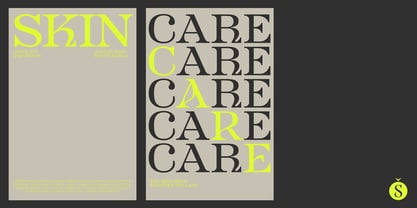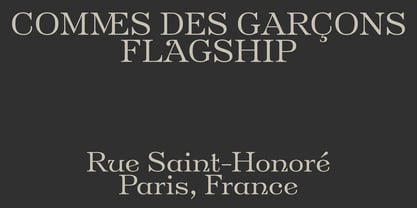 Per style:
$20.38
Pack of 10 styles:
$203.89
Per style:
$20.38
Pack of 10 styles:
$203.89
About Grappa Font Family
---
Grappa, a traditional Italian spirit with a rich history, shares much in common with typefaces - both embody cultural heritage, craftsmanship, and a sensory experience. Grappa is distilled from the skins, pulp, seeds, and stems left over from winemaking, resulting in a strong and aromatic drink that varies in flavor based on the grape and distillation process. Similarly, typefaces are designed characters that convey a unique style, weight, and form, communicating messages and expressing ideas through text.
We are thrilled to introduce Grappa, a stunning new font based on the classic "Invitation" typeface by Morris Fuller Benton, a renowned American designer. Grappa features nine weights and a variable font that offers greater customization, with unique triangle serifs that give it a distinct edge. The font also comes with a variety of alternates and swash characters, including a second version with modified alternate characters for even more design flexibility.
Like Grappa, typefaces evoke emotions and cultural associations, often associated with specific historical periods, artistic movements, and contexts. Whether used in stationery, packaging, editorial design, or branding, Grappa is a versatile and timeless font that can add elegance and sophistication to any project.
In conclusion, Grappa is an excellent addition to any designer's toolkit, offering a perfect blend of tradition and modernity. The font's distinctive personality and cultural connotations make it a beloved drink in Italy, and a font that can effectively communicate messages and ideas through text.
Grappa
About
Sudtipos
Sudtipos is a new collective Argentinian type foundry. New blood, new attitude. A joint venture of four professional designers with lots of expertise in different areas like branding, packaging design, corporate identity, television and new media. "The foundry, or collective as we prefer to designate it, started because of that — packaging, editorial or brand designers making fonts for real designers" Alejandro Paul, one of the company's founders, said in his Creative Characters interview. Alejandro "Ale" Paul made a name for himself drawing and programming some of the most intricate script fonts ever digitized. "My experience in branding product packaging was a natural catalyst for me to be interested in scripts and seek like-minded people for the collective." The collective's bestselling scripts include Bowling Script, Horizontes Script and Hipster Script Pro, which was named one of MyFonts' most popular fonts of 2012, and was recognized by both Typographica and Type Directors Club that same year. "Our aim is to always be graphic designers making typefaces for graphic designers," Ale said. "We try not to lose that particular focus. We're always thinking about how to make a graphic designer's work easier when it comes to using the type element in his or her design." The Premium Foundry Page can be viewed at: https://www.myfonts.com/a/font/premium-font-collections/Sudtipos