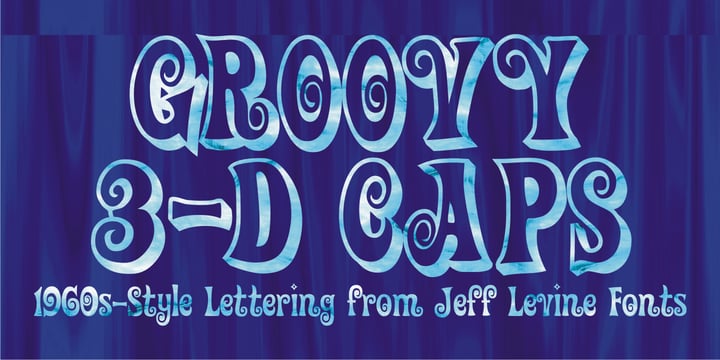 About Groovy 3D Caps JNL Font Family
---
It all started with a simple idea back in 1998: do a digital version of a "lost" 70's typeface, and make up the missing letters that were not present in the only available example Jeff Levine had to work with. Jeff wasn't yet doing his own digital font creation, so he hooked up with Brad Nelson who owns a small foundry called Brain Eaters Fonts. Together, they collaborated on "Action Is"- a freeware font named after the source of the type example. This was a title page for a commemorative photo album of images from the 60's TV music show "Where the Action Is", formerly hosted by Jeff's employer at the time, singer-writer-producer Steve Alaimo. The free font took off like a rocket, being released just at the peak of the 60's/70's retro craze in the late 1990's, and it was EVERYWHERE! It showed up on TV shows, packaging and web design -- and was even spotted on signage used on the side of a major amusement resort's retro-themed hotel. From that point on, Jeff kept getting requests for a version with a lower case. Although they shared the copyright in the freeware version, Brad Nelson gave Jeff his blessing to re-work and take Action Is into the realm of commercial type. Newly improved and re-released as Groovy Happening JNL, it became one of Jeff's better selling type designs. A simplified, yet similar font was issued called Groovy Summer JNL. Now, after about a decade, Jeff had decided to clean up the 3-D (drop shadow) version that was originally freeware with many minute design flaws and re-release it commercially. Groovy 3D Caps JNL is an all-caps, limited character set font which ties in well with the previous releases, yet retains itís 1960s-1970s era charm. The font flag art is courtesy of Barbara D. Berney and is used by permission.
Groovy 3D Caps JNL
About Jeff Levine
Jeff Levine has been in love with lettering since the third grade, when a schoolmate brought a lettering stencil into class. He has worked in both the graphics and music industries, and began his work with digital type via his own site, which hosted over one hundred free dingbat fonts until its retirement in 2009. Although these fonts were experimental at best, Jeff received "thank you" letters from points all over the world for making his designs available. Encouraged by these responses, Jeff decided to set his sights on creating interesting and commercially viable type fonts.
Choosing a selection results in a full page refresh.