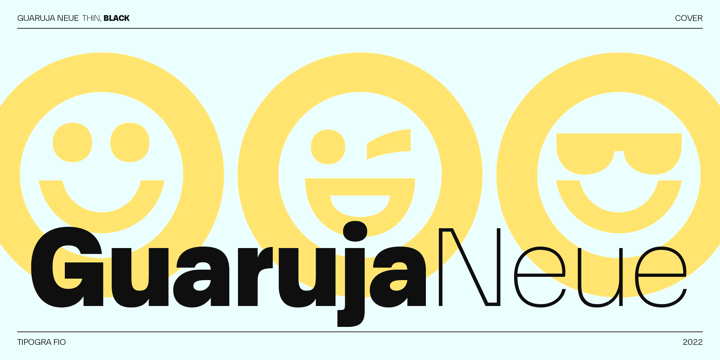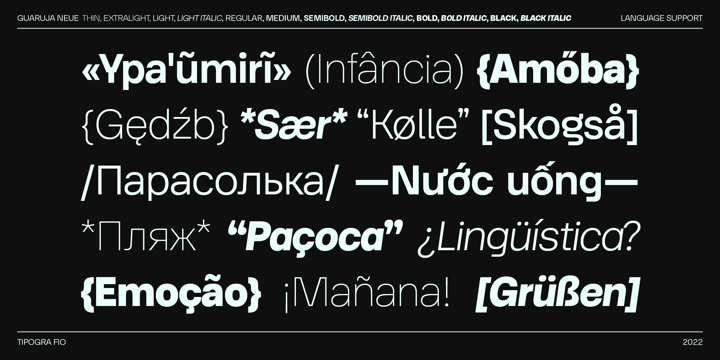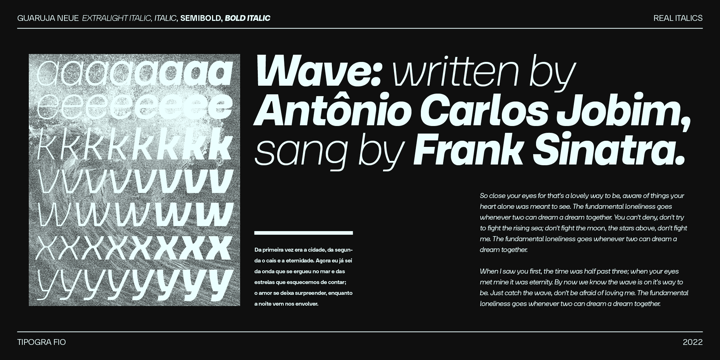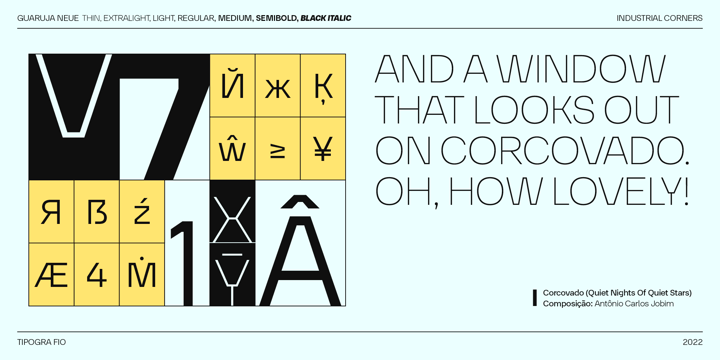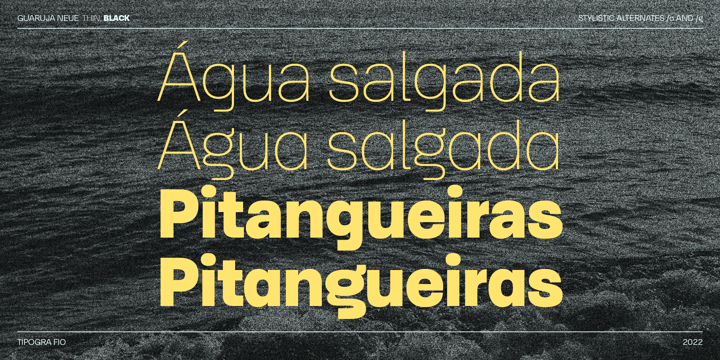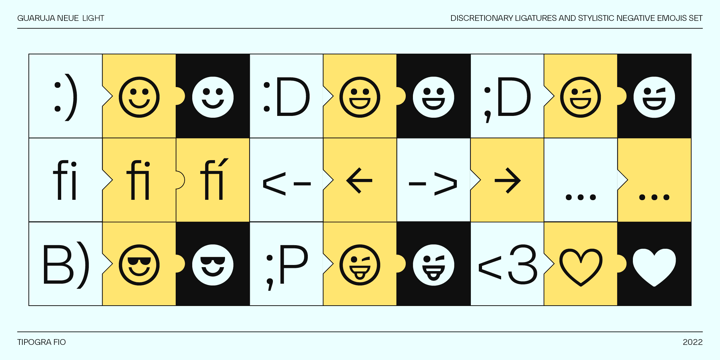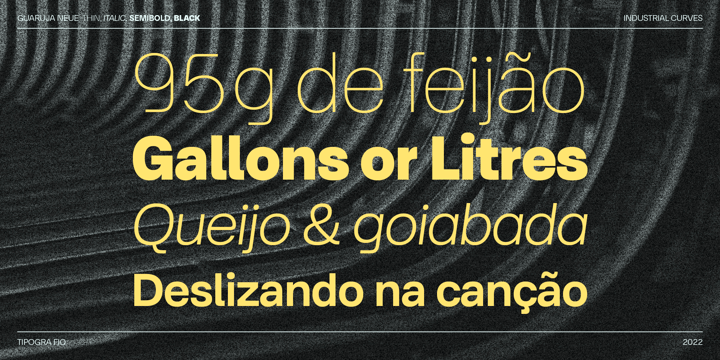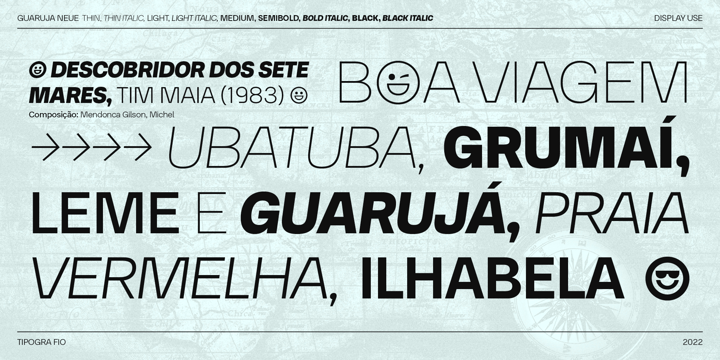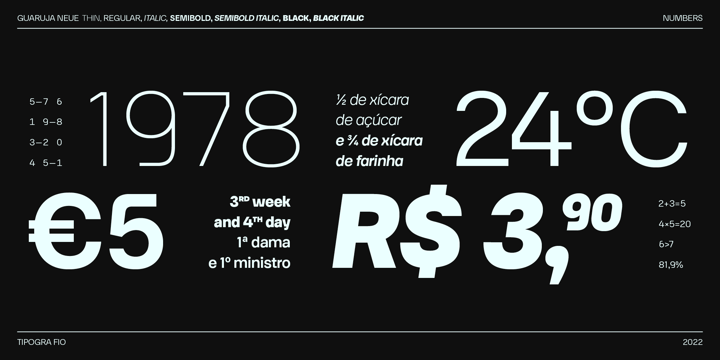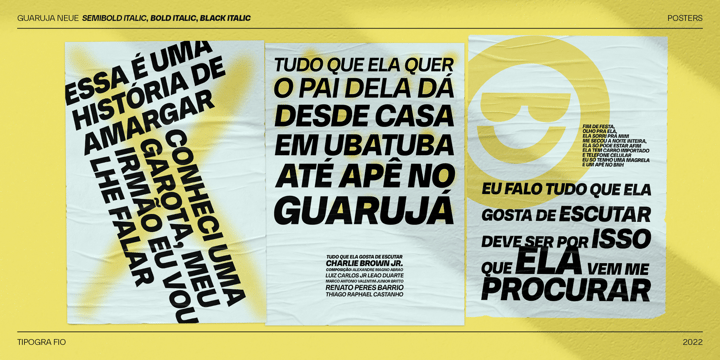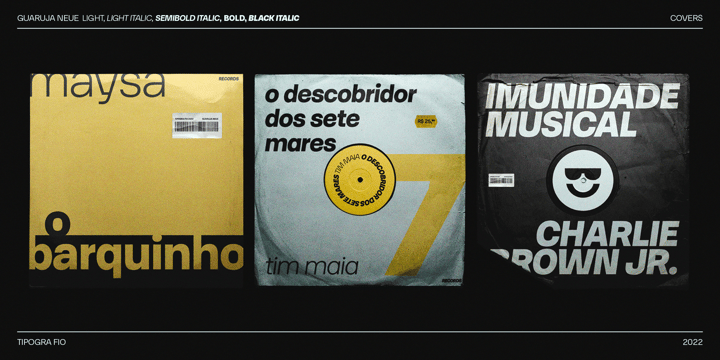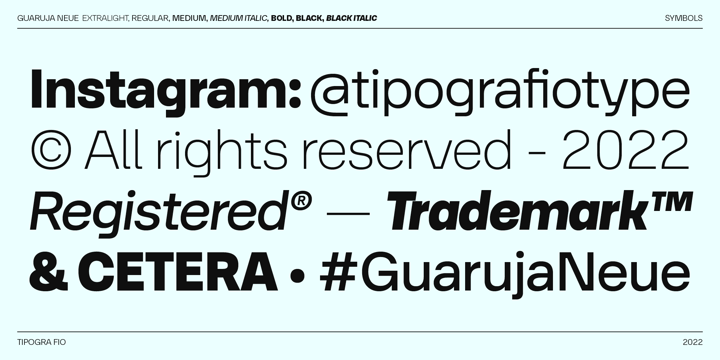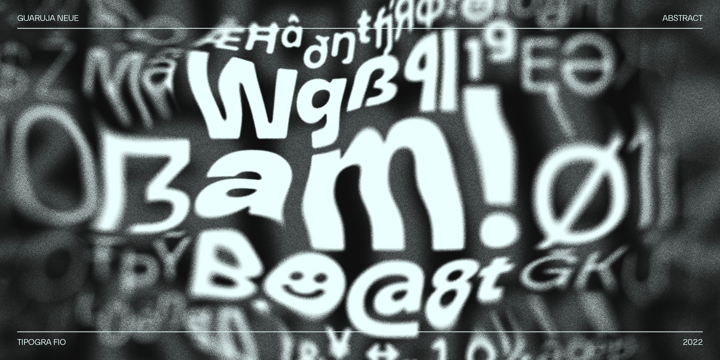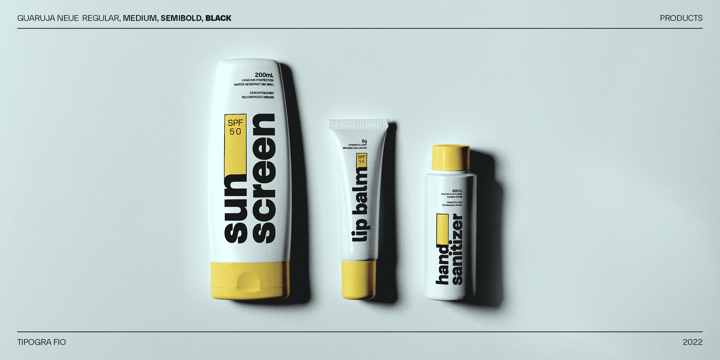 Per Style: $6.12
Pack of 8 : $49.00
Per Style: $7.37
Pack of 8 : $59.00
About Guaruja Neue Font Family
---
Get in touch with Tipogra Fio and get inspired by Guaruja Neue specimens.
Guaruja Neue is a neo-grotesque typeface with additional industrial traits to it, such as open corners in diagonal glyphs and short curves. The semi-cursive italics shapes, more than an orthographic matter, give sea waves for the headlines and copies that Guaruja Neue will compose, since it is named after a city on the coast of São Paulo, Brazil. Stylistic alternates, ligatures, ordinals, arrows and emojis give extra personality for texts that cross millennial and modernist concepts, going from a comprehensive Latin script, including Vietnamese support, until a basic Cyrillic set.
Brazilian music tells the graphic story of Guaruja Neue specimens, songs that speak about beaches and the city of Guarujá, as well as the inspiration of 50's and 60's modernist design and the music movement of Bossa Nova.
This family is also an evolution of Guaruja Grotesk (2021), a typeface with four fonts —Regular, Italic, Bold and Bold Italic— developed as part of a design school project, that now in Neue gains professionalism, refinement and knowledge. Guaruja Grotesk took 18 months to make, and Neue took additional 12 months of redrawing and rethinking, as design as processes.
Part of the project got feedback from the typeface designer Ulrike Raush, under the Alphabettes mentorship program.
Overview and features:
8 weights and 8 italics;
2 free fonts: Guaruja Neue Regular and Guaruja Neue Italic;
Extended Latin and basic Cyrillic;
800+ glyphs;
Numbers: proportional, tabular, superscripts, subscripts, denominators, numerators and fractions;
Greek for math;
Case-Sensitive forms;
Arrows;
Standard and discretionary ligatures;
SS01: one story a and SS02: two story g;
Emojis and SS03: negative alternate emojis;
Ligatures for English ordinals;
Guaruja Neue
About Tipogra Fio
I'm Fio. I created Tipogra Fio yet in graphic design school (FAAC-UNESP, in Bauru São Paulo) for my final project. I started with some display types and before graduation. I started making a grotesque family, intending to give a good performance with type families for the font market and brand identities and logotypes. Tipogra Fio has eyes for design students and type designs from graduation.
Choosing a selection results in a full page refresh.