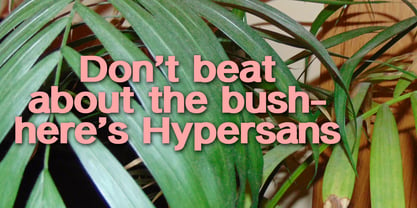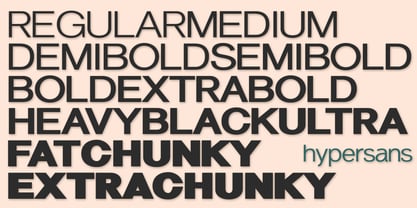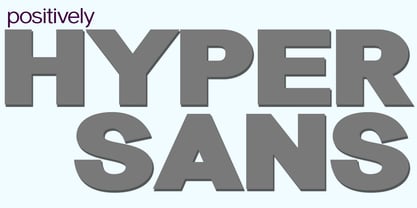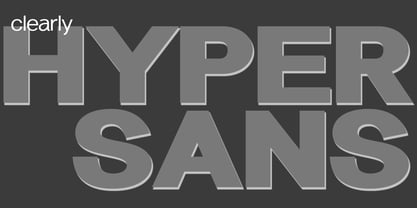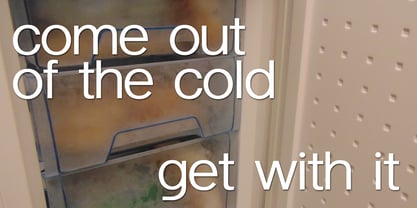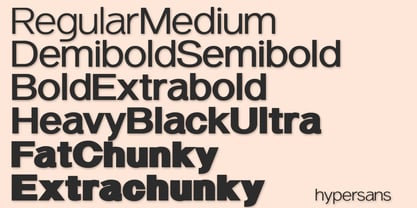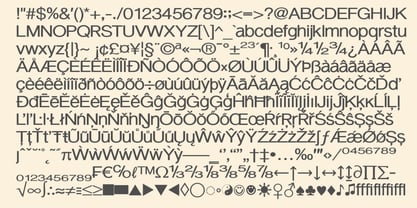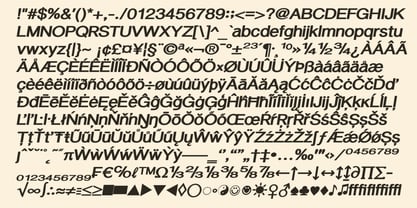 Start your FREE TRIAL of Monotype Fonts to get over 40,000 fonts from more than 25 type foundries.
Start free trial
Start free trial
About Hypersans Font Family
---
Hypersans is an easy-to-read sans typeface with 12 weights - giving a wide choice of weight, for text at the lighter end and for headlines and posters at the heavier end. The change in weight at the lighter end is quite subtle, with tiny increments, which can help you get just the right look for your project. Legibility has been the main design feature, with a fairly generous x-height, but there has also been a primary concern with making it an attractive face for the reader. There are plenty of images in the gallery to give some idea of the font's features. There's all the accented characters you'd expect for Western and Central European Languages, plus other languages, and a host of Open-Type features. These Open-Type features are described in more detail in the Instructions PDF in the Gallery, which can be viewed and downloaded. These include the normal Standard Ligatures plus fu and ffu and c/o; fractions to sixteenths in Fractions and Discretionary Ligatures, (i.e. halves, thirds, quarters, eighths, sixteenths); Superscript and Subscript numbers; Bullet Numbers in Ornamental Forms; long s in Historical Forms; Ordinals; a Slashed Zero in Zero; and in Stylistic Alternates there's alternative characters for: percent / numbers to bullet numbers / Pounds Sterling sign / greater / less / logical not / underscore / hyphen / asciitilde / sun / and a different U-dieresis ‹ with the dots right above the 2 uprights. Not all programs will recognise all these different Open-Type features though, and some will be enabled by default and with others you may have to enable them yourself in the program.
Hypersans™ is a trademark of Aah Yes.
About
Aah Yes
Aah Yes Fonts presents 10 brand-new and original font families, including Dascari, a funky and informal yet highly-readable font that would suit a large variety of modern graphics situations; and Cabragio which is a curvy font which flows attractively and dynamically, especially in its lower case letters, and is a quite distinct font. Deltarbo is a conventional medium-heavy sans-serif that has modern clean lines and a slightly "rounded-rectangle" feel for great legibility. There are two handwriting fonts in this new selection - Write is a fairly neat (perhaps even formal) handwriting font or print, useable for both display and text with clear and well-defined characters, and Dorkihand is genuinely left-handed writing, and veers more towards the grunge style of handwriting. Tuzonie, Crockstomp and Rappica fall into the "misprinted, degraded or distressed" category, and give varying degrees of degradation to different block types, with internal and external letter-distress being available. Smeethe manages to look almost out of focus while being both degraded and yet smooth, but not so degraded as to impair its legibility. Meltifex puts at the user's disposal a full set of melting letters, which drip away at the bottom. Dascari and Write have been created in an extensive variety of weights and styles. All Aah Yes's Fonts' font packages contain both TTF or OTF formats, (i.e. both formats are included in the same zip file) and all the fonts are - as you would expect - comprehensively kerned, and contain an extensive selection of accented and non-English characters. As far as the Font Authors are aware, the invented font names are all quite meaningless, none of them is something unspeakable in Etruscan or Hittite. (But if they are, please let us know.)