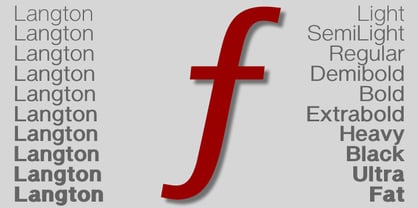 Start your FREE TRIAL of Monotype Fonts to get over 40,000 fonts from more than 25 type foundries.
Start free trial
Start free trial
About Langton Font Family
---
Langton is an attractive workaday sans-serif with the emphasis on a variety of lighter weights, with 10 weights in total. This choice is especially useful when a subtle weight change can make a huge presentational difference. The weights in Langton are named - unconventionally but helpfully we think - in ascending order from 0 Light, 1 SemiLight, 2 Regular up to 9 Fat - which we believe makes it easier when going through the menu. However the weight naming is relative to each other rather than absolute - they're mostly quite a bit lighter or thinner than the name might suggest (for instance Bold isn't all that bold, nor is Heavy particularly heavy) but this is intentional - to give extra weights and greater subtlety of choice at the lighter end of the typeface when creating large bodies of text, or for short headlines in adverts and features. (The difference between the thinner weights is actually half the difference between the heavier weights.) All the fonts are full of Open Type features and a few extras, including of course Class Kerning and Ligatures, a few useful pictorial/dingbat characters, bullet numbers as ligature replacements, alternative fractions, stylistic alternatives and so on. A more complete list is in the text file in the zips. In full the weights are 0 Light, 1 SemiLight, 2 Regular, 3 Demibold, 4 Bold, 5 Extrabold, 6 Heavy, 7 Black, 8 Ultra, 9 Fat. There are 2 combined packs available: the 5 lighter fonts together, and the whole family. The zip files contain both the OTF and TTF versions of the font. Install only one version, either the OTF or TTF, but not both - otherwise you will get all sorts of incompatibility issues and problems.
Langton™ is a trademark of Aah Yes.
About
Aah Yes
Aah Yes Fonts presents 10 brand-new and original font families, including Dascari, a funky and informal yet highly-readable font that would suit a large variety of modern graphics situations; and Cabragio which is a curvy font which flows attractively and dynamically, especially in its lower case letters, and is a quite distinct font. Deltarbo is a conventional medium-heavy sans-serif that has modern clean lines and a slightly "rounded-rectangle" feel for great legibility. There are two handwriting fonts in this new selection - Write is a fairly neat (perhaps even formal) handwriting font or print, useable for both display and text with clear and well-defined characters, and Dorkihand is genuinely left-handed writing, and veers more towards the grunge style of handwriting. Tuzonie, Crockstomp and Rappica fall into the "misprinted, degraded or distressed" category, and give varying degrees of degradation to different block types, with internal and external letter-distress being available. Smeethe manages to look almost out of focus while being both degraded and yet smooth, but not so degraded as to impair its legibility. Meltifex puts at the user's disposal a full set of melting letters, which drip away at the bottom. Dascari and Write have been created in an extensive variety of weights and styles. All Aah Yes's Fonts' font packages contain both TTF or OTF formats, (i.e. both formats are included in the same zip file) and all the fonts are - as you would expect - comprehensively kerned, and contain an extensive selection of accented and non-English characters. As far as the Font Authors are aware, the invented font names are all quite meaningless, none of them is something unspeakable in Etruscan or Hittite. (But if they are, please let us know.)