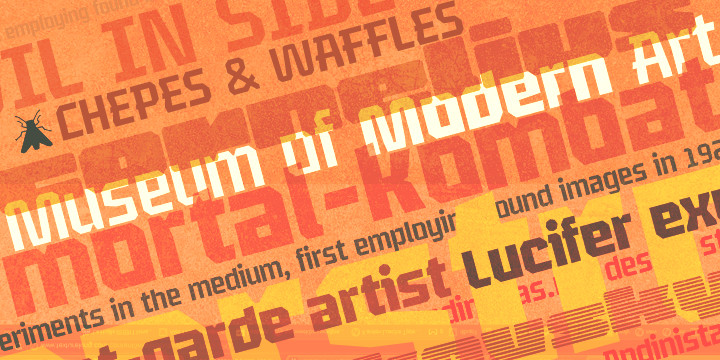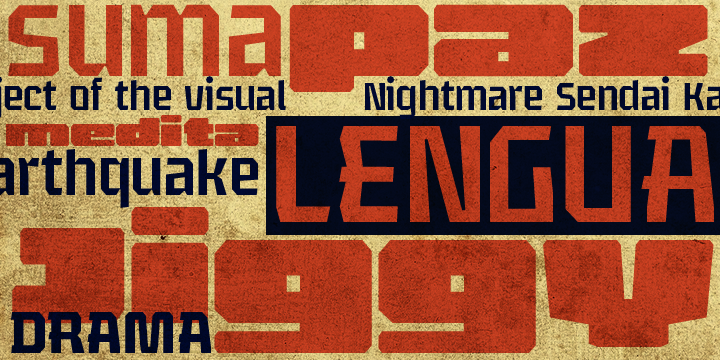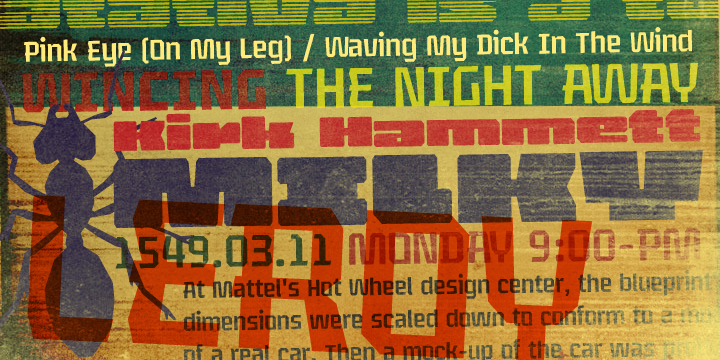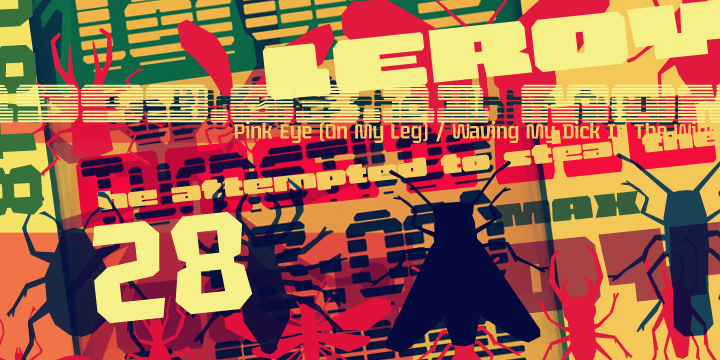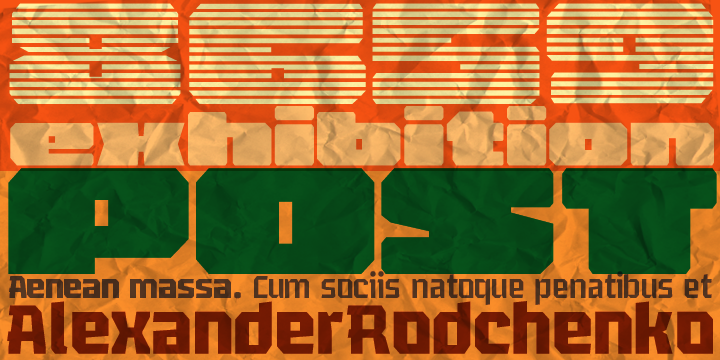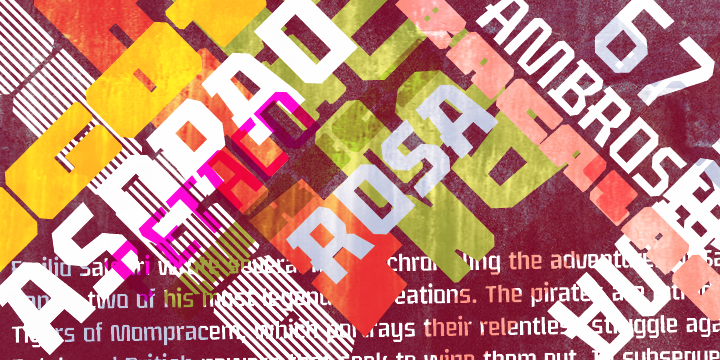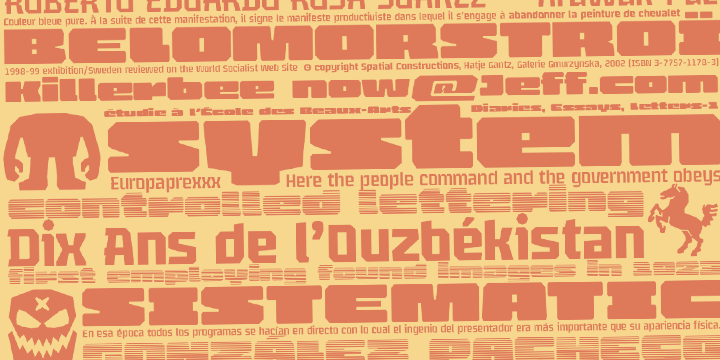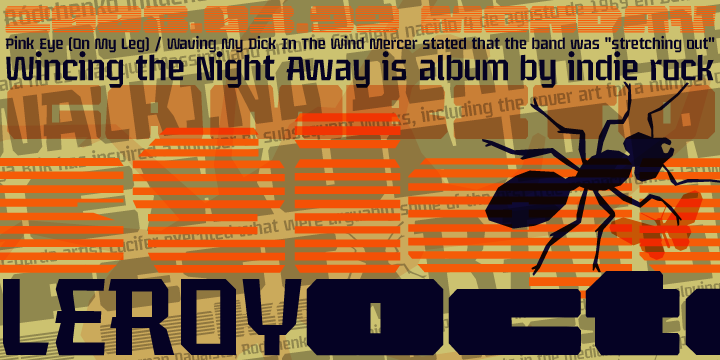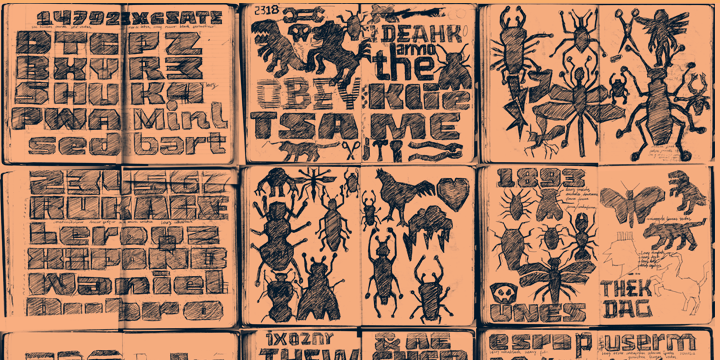 About Leroy Font Family
---
Leroy is a font family of 5 members designed from geometrizing Roman and Gothic skeletons. Its purpose is to provide optimal reading of titles and paragraphs with strong mechanical flavor. Because of this, its variables are designed to sort information in media such as labels, signs and industrial atmosphere packaging related with the Soviet Union's fonts in 1920. This idea matured white horizontal lines superimposed on alphabets drawn with an ancient architectural team known as "Leroy K & E Controlled Lettering System". Then that evolved into a family concept unifying its proportion to the same X height for its members, resulting in a versatile type system. Therefore, Regular and Bold variables have low contrast between thick and thin strokes. Its upstream and downstream are extremely short, generating a suitable interline that clogs the vertical area. Its overall width equal to its X height, supports its tight spacing that compacts the horizontal area. Therefore, the variant with black caliber has plenty of contrast between thick and thin strokes. The light variable has a "blind" effect radiating light halos, ideal to propose hierarchies and combinations with orthogonal projection. In that sense, Leroy's modular character reminds constructivist ideology merged with typographical variants suitable for graphic design with geometric look. To achieve this, I studied the softening of forms and counter blocks into a typographical system specially designed for composing useful information to attract attention. In that sense, the dingbats were obtained through a careful process of research and testings done with drawings that provided full and empty visual strategies that with the passage of time helped to forge the major decisions of a metamorphosis from industrial tools, birds and humans from pictogram mixing various genres.
Leroy™ is a trademark of Andinistas.
About Andinistas
The word "Andinistas" roughly translates to "people devoted to the Andes." In Venezuela, it is the word used to describe the people who climb the slopes of Pico Bolívar, the country's highest mountain. "We found it an interesting name because of its resonance and relationship with the unknown," Andinistas' founder Carlos Fabián Camargo Guerrero said in his Creative Characters interview. One of the first designers from Colombia or Venezuela to be able to make it as a full-time type designer, Carlos' experience of living in both places has allowed him to tap into their colorful visual cultures and bring aspects of each of them into his designs. "I am proud of both countries — they have been an inexhaustible source of ideas to me." He joined MyFonts in 2006, and since then, his designs have graduated from a streetwise, sassy grunge style into a series of energetic and personable scripts and display fonts. Of his professional style evolution he says, "In typeface design we can never say we have learned enough, because when looking at old classics we realize that what we need to learn is inexhaustible. We never get anything definitively." "Today I feel that the word Andinistas also has a valuable meaning for me personally. It's taken long years of experience before I slowly received some recognition for my foundry, and it's required profound conviction and the will to surpass oneself. So the word combined concepts like spectacular beauty and adventure with the idea of overcoming challenges and getting to the top with work and creative effort."
Choosing a selection results in a full page refresh.