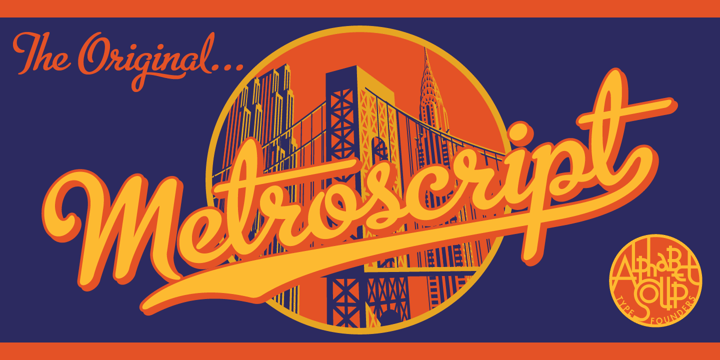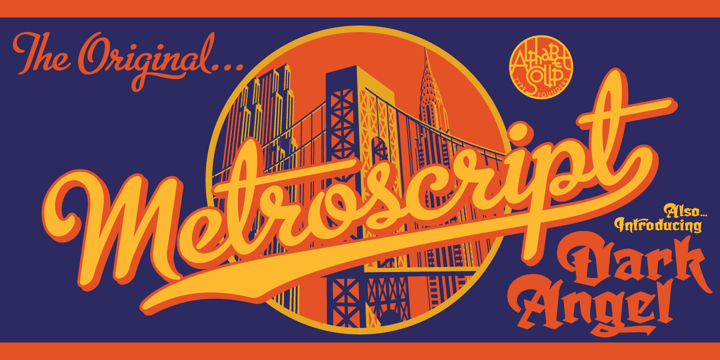 Select style to display all glyphs:
- Glyph Count:
This is a listing of all glyphs contained in the font, including OpenType variants that may only be accessible via OpenType-aware applications.
Each basic character ("A") is followed by Unicode variants of the same character (Á, Ä…), then OpenType variants (small caps, alternates, ligatures…). This way you can see all the variations on a single character in one place.
Metroscript

Metroscript Swash

Metroscript Alt

Metroscript Tails

Metroscript Lig
See more...
See less
Metroscript

Metroscript Swash

Metroscript Alt

Metroscript Tails

Metroscript Lig
Per Style: $19.80
Pack of 5: $99.00
Select style to display tech specs:
Licensing Options
You can use this font in any of the following places. Read the full EULA text for details about each license. If you have a usage in mind that's not covered by these licenses, contact us and we'll see what we can do.
About Metroscript Font Family
---
Michael Doret had been doing lettering in styles similar to Metroscript in his design work for many years, but with the advent of OpenType technology he realized that he could actually put together a script font that would finally do justice to this style, and be almost indistinguishable from hand-lettering. There was no one single inspiration for Metroscript: rather it is an amalgam of many different scripts that were popular hand-lettered styles between the 1920s and the 1950s. Metroscript is suggestive of vintage sports ephemera—especially when tails are added to words—but is also appropriate in virtually any context. Its many ligatures, swashes, alternates, foreign accented characters and tails—all of which connect seamlessly—set it apart from most other script fonts. For a better understanding of its unique features please download The Metroscript User Manual from the Gallery section. All the above features are accessible from Metroscript's OpenType font. Also included in the same package is a folder of five Metroscript fonts specifically designed for those who only have applications that are not OpenType compatible. By installing the fonts from this folder instead of the OpenType folder, anyone will be able to access all of Metroscript's unique features. If you like the Metroscript style, you're sure to love the recently released Dynascript. You also might want to check out the award-winning Deliscript, launched in 2009. PLEASE NOTE: When setting Metroscript one should ALWAYS select the "Standard Ligatures" and "Contextual Alternates" buttons in your OpenType palette. See the "Read Me First!" file in the Gallery section.
Metroscript™ is a trademark of Alphabet Soup.
Choosing a selection results in a full page refresh.