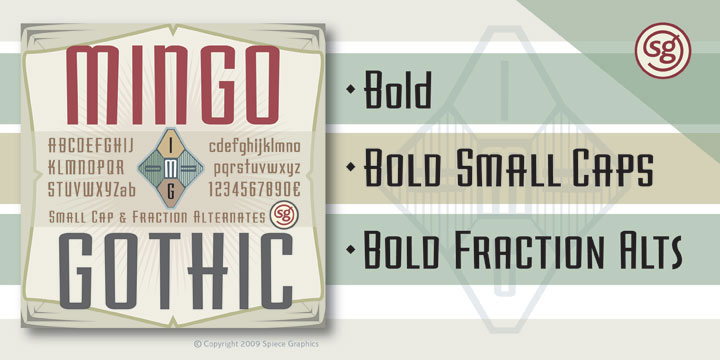 About Mingo Gothic SG Font Family
---
This typeface appears to be straight out of a science fiction movie thriller. Mingo is a slightly condensed, somewhat vain gothic with thick vertical strokes proudly tapering downward. Capitals which are normally completely round are now square inside with curving outside corners. Lowercase letters carry the same design traits. And, in the capital A and H, crossbars extend on both sides helping give the face a pronounced retro look. Mingo Gothic is a close cousin to Raleigh Gothic and is an excellent choice for book covers and large display settings. Small caps, fractions, and alternate characters have also been developed for greater layout versatility. Mingo Gothic Bold is now available in the OpenType format. Some new characters have been added to this OpenType version as stylistic alternates, historical forms, small caps, oldstyle figures, ornaments, and f-ligatures. These advanced features work in current versions of Adobe Creative Suite InDesign, Creative Suite Illustrator, and Quark XPress. Check for OpenType advanced feature support in other applications as it gradually becomes available with upgrades.
Mingo Gothic SG™ is a trademark of Spiece Graphics.
About Spiece Graphics
Jim Spiece enjoyed resurrecting old typefaces. And finding a complete set of characters could often be a challenging task. It took him down into the musty basements of public libraries and out into the world of flea markets and hole-in-the-wall bookstores. After careful scanning and hand-outlining, he would occasionally dig deeper for a missing punctuation mark or double f-ligature. Jim chuckled, "These are all minor inconveniences when you consider you've brought these faces back from obscurity and found them new homes. Besides, it's fun. In one sense, my own designs are a lot easier because they never had a previous life!" You can check out Jim's revival of the Bernhard Gothic SG Family offered by FontHaus or his popular ITC Blair Family. If you're interested in Spiece Graphics custom logo, lettering, or illustration work, try Theispot.
Choosing a selection results in a full page refresh.