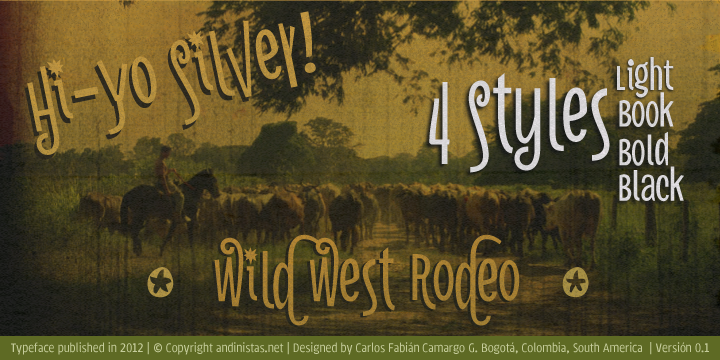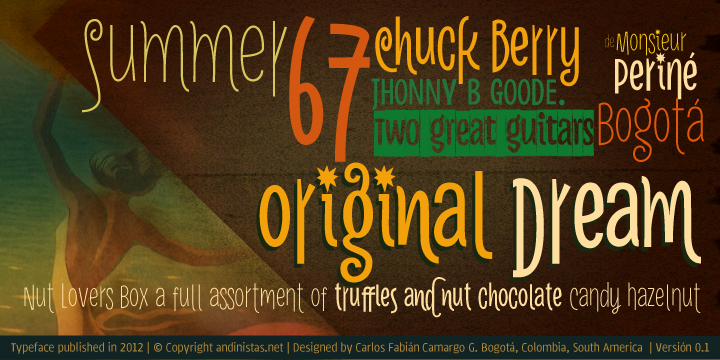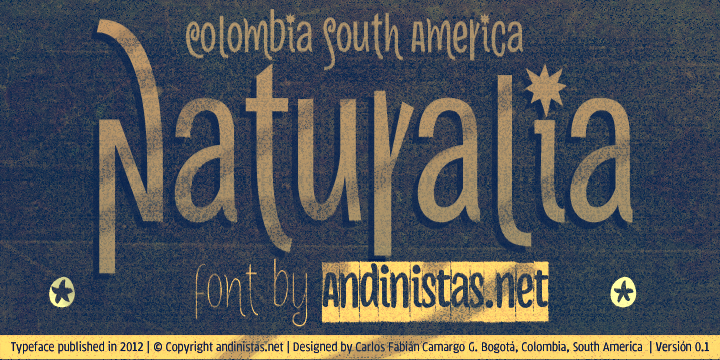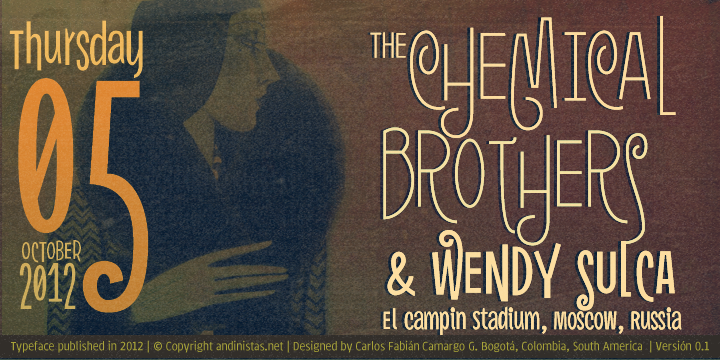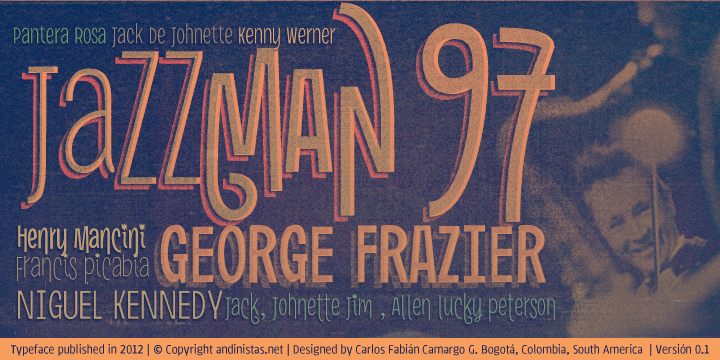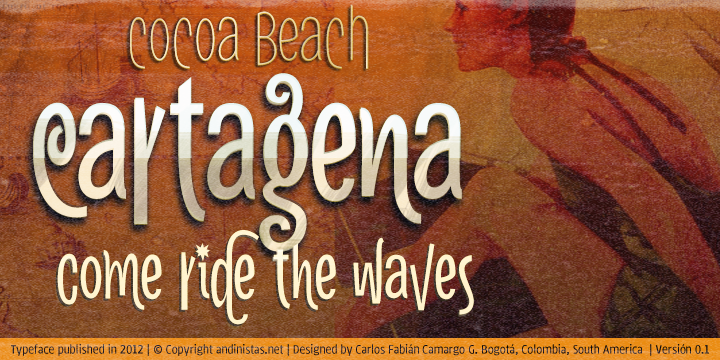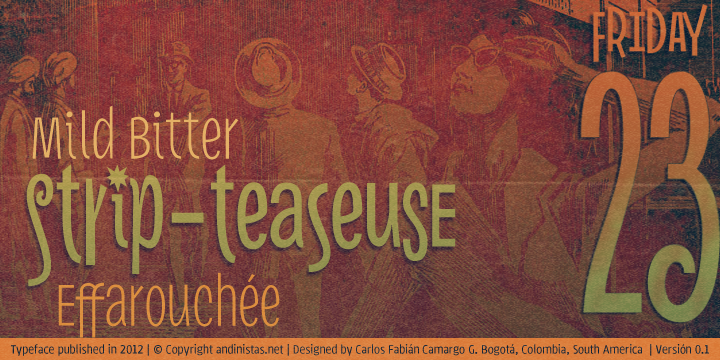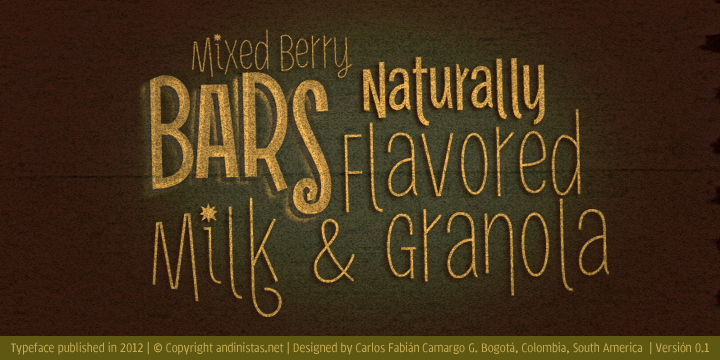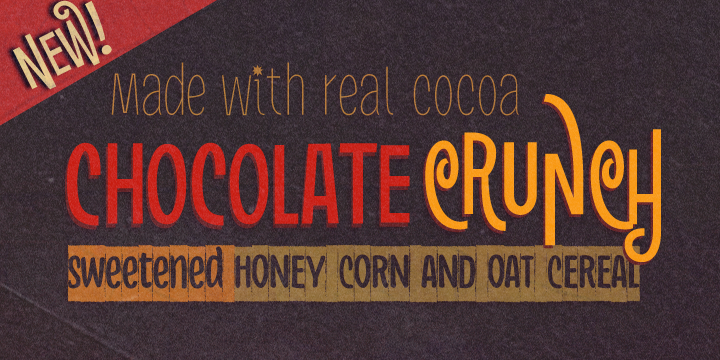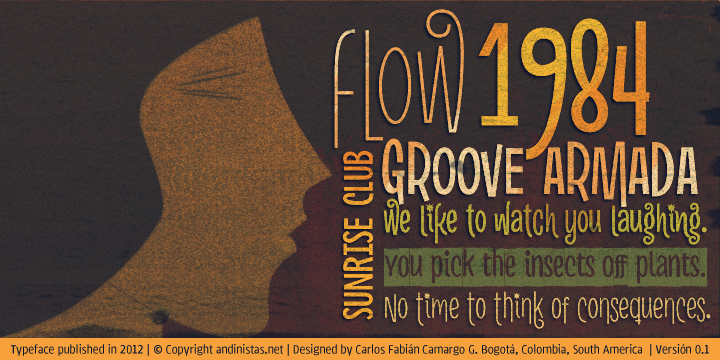 About Naturalia Font Family
---
Naturalia font was designed by Carlos Fabián Camargo in 2012 and suggests an ultra-narrow, spontaneous and winding handwriting lettering, it is great for composing short and striking sentences. His idea behind not only alludes asymmetrical shapes but simple glyphs that compact vertical and tight proportions between lower case and upper case letters. Indeed, lower case letters have ascendant and descendant strokes shorter than the "x" height and width is generally condensed, saving horizontal space and supporting monolinear amount of contrast between thick and thin strokes accompanied by their sans serif endings. Most importantly, its full and empty arrhythmic areas consolidated variety of thicknesses simulating strokes that seem naive letters freehand draw.This lack of homogeneity is very useful for ranking words and phrases in eye-catching graphic design advertising events, culture, fun and entertainment. In that sense, his spontaneity is enhanced by OpenType features, "Swash" and "Titling" with decorated letters that move your baseline up and down as carousel. Finally, typographical and naif fusion holding Naturalia concept generates galloping reading useful for ranking short and folk sentences with calibers: Light, Book, Bold and Black. Thus, each "Pro" version has 350 glyphs with some features OpenType Swash, titling and Standard Ligatures. Naturalia also works in software without full OpenType functionality, for that it is recommended to use the remaining options. In order to emphasize the degree of hierarchy and as a special and distinctive feature, the variable Naturalia Black was designed with roundness and slight deterioration contours and also coated frames with zigzag edges that give the impression of black paper cutouts with white letters.
Naturalia™ is a trademark of Andinistas.
About Andinistas
The word "Andinistas" roughly translates to "people devoted to the Andes." In Venezuela, it is the word used to describe the people who climb the slopes of Pico Bolívar, the country's highest mountain. "We found it an interesting name because of its resonance and relationship with the unknown," Andinistas' founder Carlos Fabián Camargo Guerrero said in his Creative Characters interview. One of the first designers from Colombia or Venezuela to be able to make it as a full-time type designer, Carlos' experience of living in both places has allowed him to tap into their colorful visual cultures and bring aspects of each of them into his designs. "I am proud of both countries — they have been an inexhaustible source of ideas to me." He joined MyFonts in 2006, and since then, his designs have graduated from a streetwise, sassy grunge style into a series of energetic and personable scripts and display fonts. Of his professional style evolution he says, "In typeface design we can never say we have learned enough, because when looking at old classics we realize that what we need to learn is inexhaustible. We never get anything definitively." "Today I feel that the word Andinistas also has a valuable meaning for me personally. It's taken long years of experience before I slowly received some recognition for my foundry, and it's required profound conviction and the will to surpass oneself. So the word combined concepts like spectacular beauty and adventure with the idea of overcoming challenges and getting to the top with work and creative effort."
Choosing a selection results in a full page refresh.