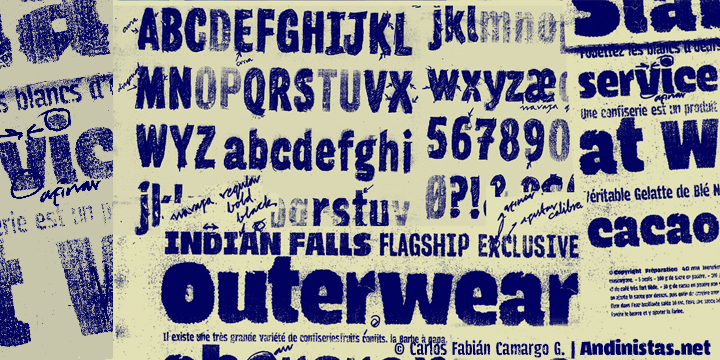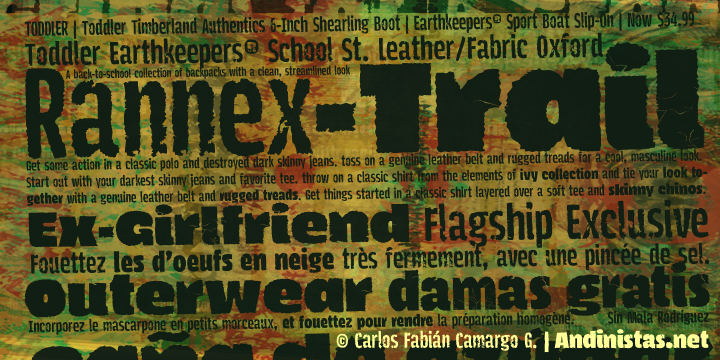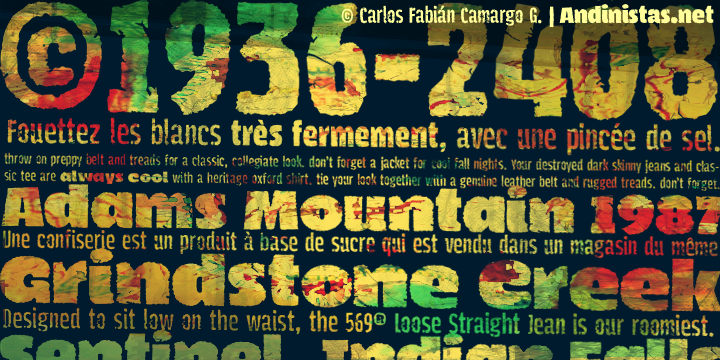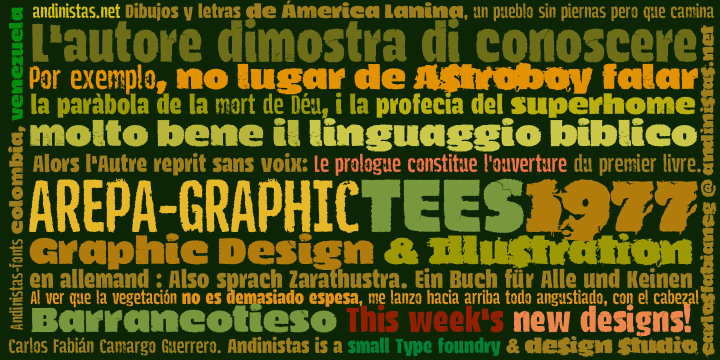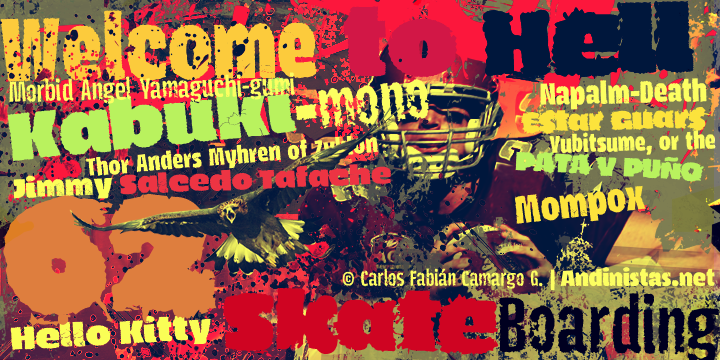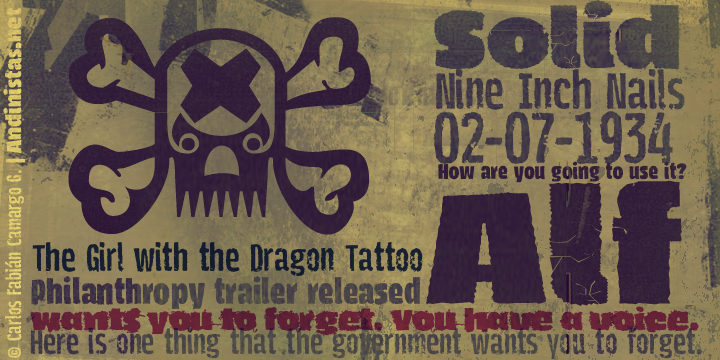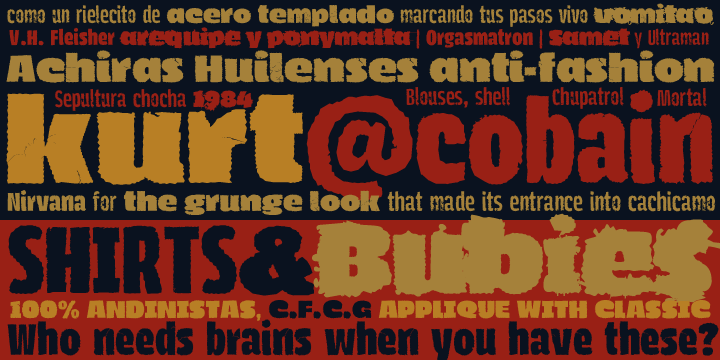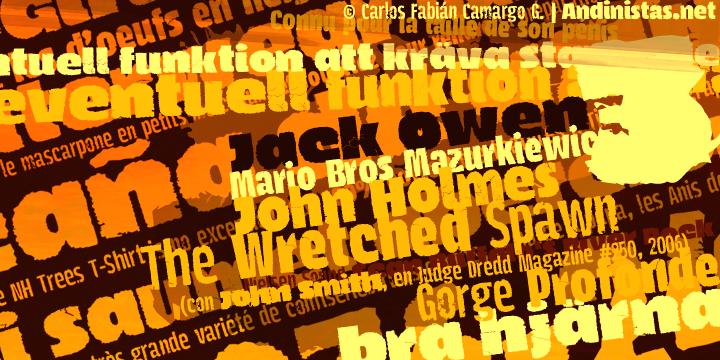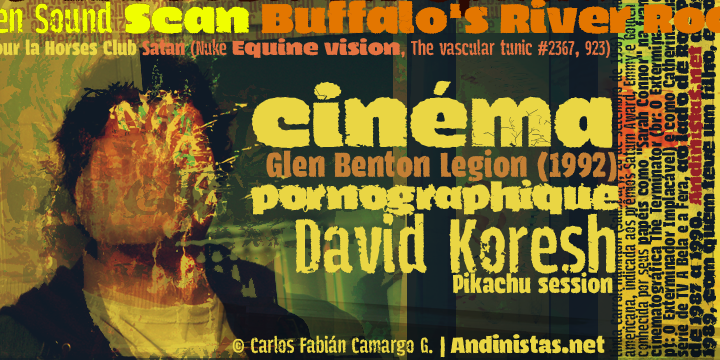 About Navaja Font Family
---
Very few letter types with the context of grunge style fonts offer hierarchies to differentiate words in sentences or paragraphs. With Navaja I developed a font family that meets this need. This family is useful to organize the information into a hierarchy with an eroded look. Its central idea mixes grotesque, geometric and humanistic letter conventions. This way, Navaja is a grunge-sans with dense proportions to make graphic design with eroded character. Its main purpose appeared when one of my customers asked me for a t-shirt design for a fan club of an important football player. For this reason its starting point were stained and muddy letters characterizing the toughness and coldness of the sport. Over time their glyphs began to imitate the robustness of "wood type & Tuscan Type" widely used in posters in the late nineteenth century. Its purpose was strengthened in a family with 6 members that when mixed they produce mind catching contrast levels ideal for designing T-shirts, stickers, flyers, brochures, posters, billboards, cinema or TV. Therefore its variants are short up and down height X combined with different widths that by working together produce information that radiates outstanding apparently destroyed controlled violence. Navaja Dingbats consists of 52 illustrations useful for frames and textures. In that vein, the origin of each member comes from skeletons of Roman and Italic calligraphy. The low amount of contrast between thick and thin lines matching the contours apparently gnawed but strictly regulated by optical adjustments equating the sum between full and empty areas. Factors such as finishes, shapes and counter internal and external forms are meticulously planned although its scruffy look which strategic arrangements are offset to provide color typographical homogeneous. And in conclusion, I have plans to continue expanding the family with more complete versions in the future.
Navaja™ is a trademark of Andinistas.
About Andinistas
The word "Andinistas" roughly translates to "people devoted to the Andes." In Venezuela, it is the word used to describe the people who climb the slopes of Pico Bolívar, the country's highest mountain. "We found it an interesting name because of its resonance and relationship with the unknown," Andinistas' founder Carlos Fabián Camargo Guerrero said in his Creative Characters interview. One of the first designers from Colombia or Venezuela to be able to make it as a full-time type designer, Carlos' experience of living in both places has allowed him to tap into their colorful visual cultures and bring aspects of each of them into his designs. "I am proud of both countries — they have been an inexhaustible source of ideas to me." He joined MyFonts in 2006, and since then, his designs have graduated from a streetwise, sassy grunge style into a series of energetic and personable scripts and display fonts. Of his professional style evolution he says, "In typeface design we can never say we have learned enough, because when looking at old classics we realize that what we need to learn is inexhaustible. We never get anything definitively." "Today I feel that the word Andinistas also has a valuable meaning for me personally. It's taken long years of experience before I slowly received some recognition for my foundry, and it's required profound conviction and the will to surpass oneself. So the word combined concepts like spectacular beauty and adventure with the idea of overcoming challenges and getting to the top with work and creative effort."
Choosing a selection results in a full page refresh.