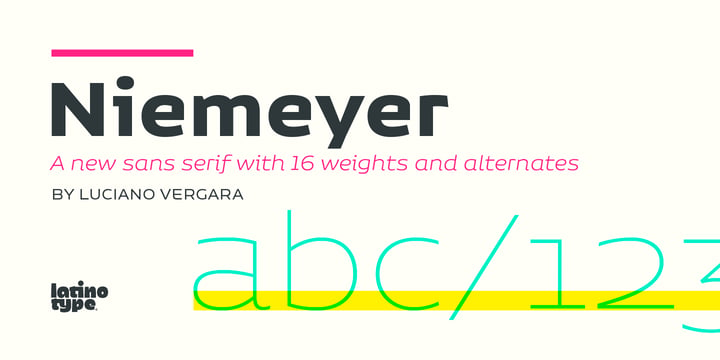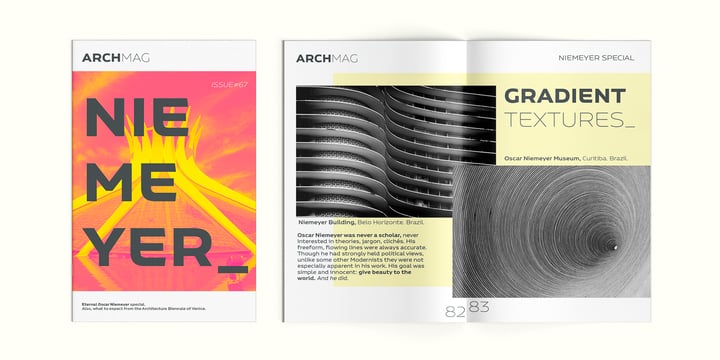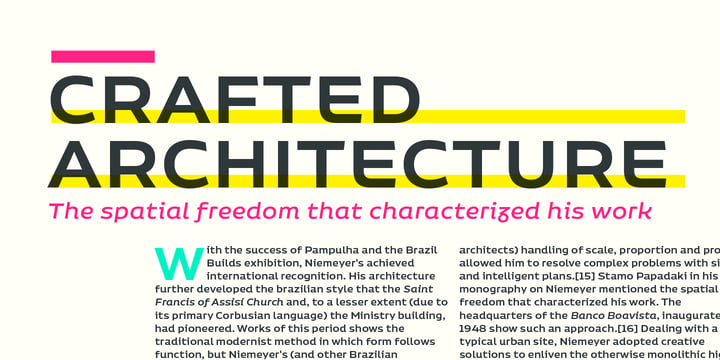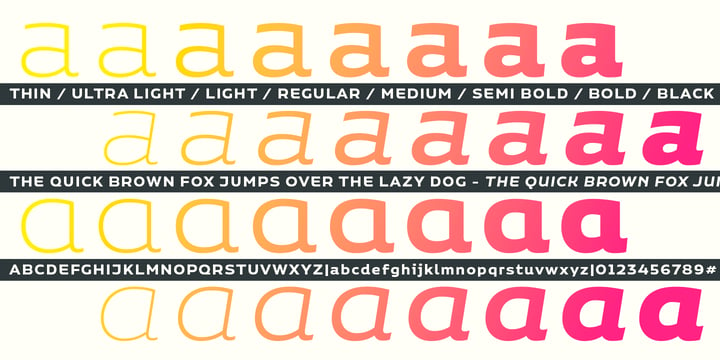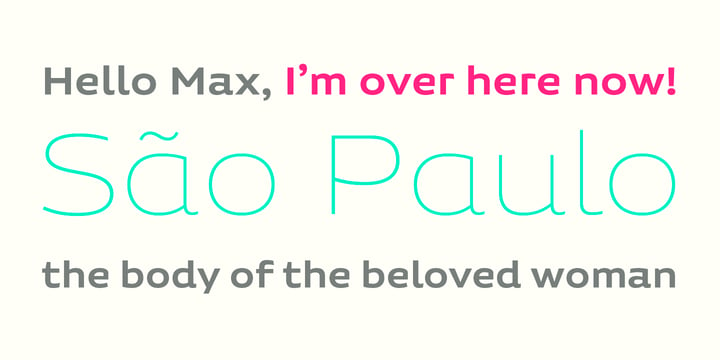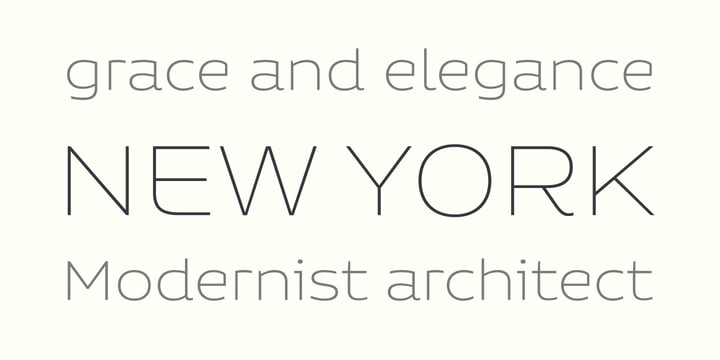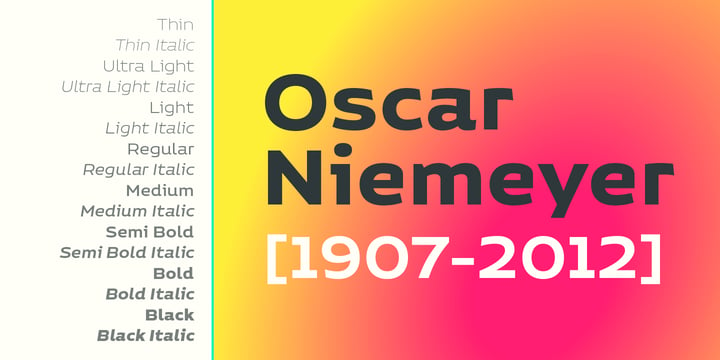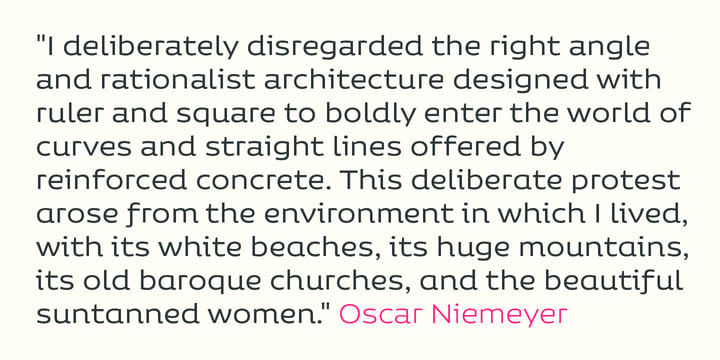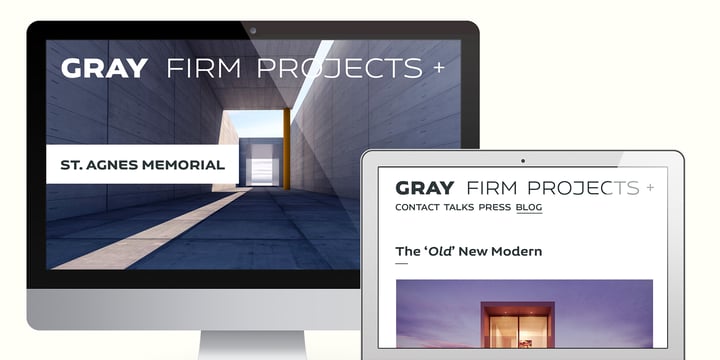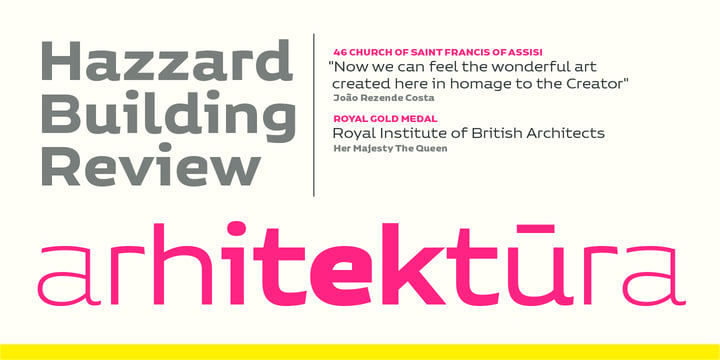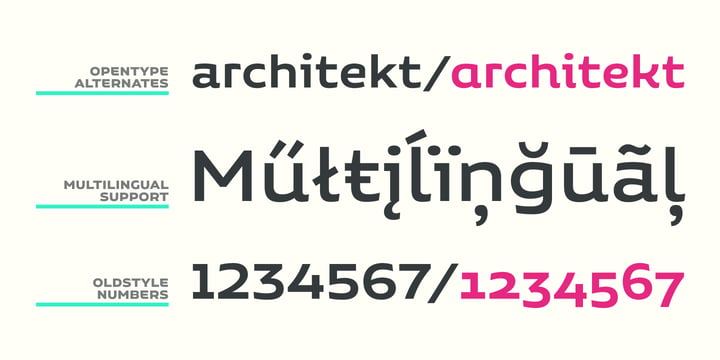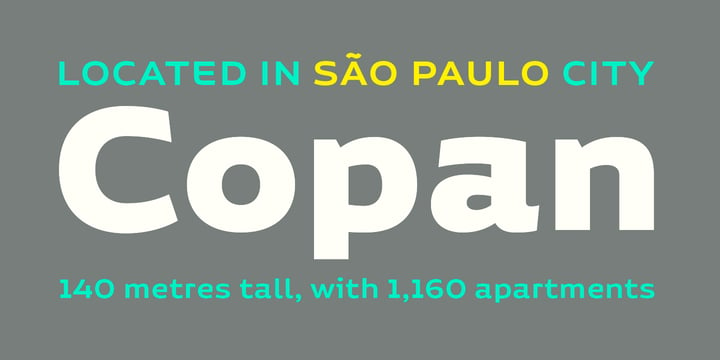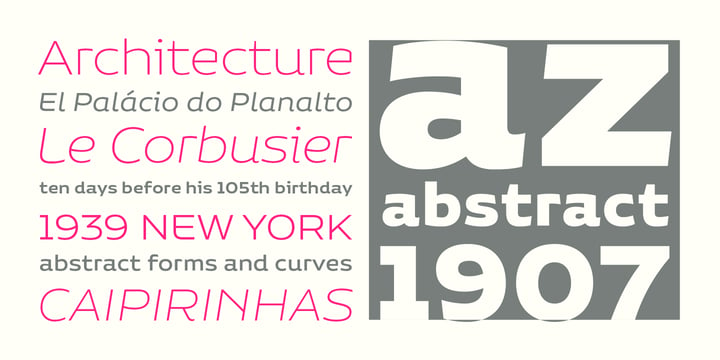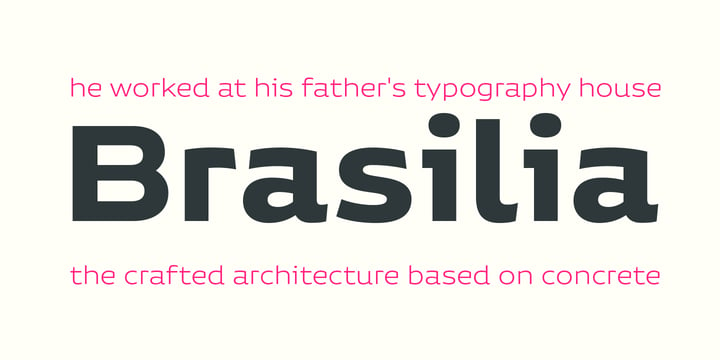 About Niemeyer Font Family
---
Oscar Niemeyer is one of the greatest architects of our time—his unique way of mixing straight lines and abstract curves gives rise to an unmistakable and characteristic style. This typeface is my own tribute to Brazilian architect Oscar Niemeyer. The design process started when my wife and I visited Brazil while she was running a series of workshops on calligraphy. In my spare time, I would walk through the streets of beautiful cities like Rio de Janeiro or São Paulo, enjoying the local architecture and urban life. I had also the opportunity to attend to some of the workshops during which I was able to observe the organic of calligraphy and people. Then, I started to draw some shapes that reflected everything about this beautiful place: Niemeyer's architecture and work and, in his own words 'the curves on the body of the beloved woman'. This versatile typeface comes in 8 weights with matching italics, alternative characters, oldstyle figures and much more! Niemeyer is well-suited for logotypes, advertising, publishing, branding and corporate use. Special thanks to everyone in the Latinotype Team (especially to César Araya) for their support, help with corrections and digital editing.
Niemeyer
About Latinotype
Based in Concepción and Santiago, Chile, Latinotype's founders say, "Our goal is to design new typefaces remixing diverse influences related to our South American identity with high quality products for the contemporary design industry." And the duo have been doing just that since their foundry's creation in 2007. One of the most successful foundries on MyFonts in recent years, Luciano Vergara and Daniel Hernández , have put together a rapidly growing collection of typefaces in a wide array of genres. Specializing in colorful display and script faces, the group's name "Latinotype" emphasizes the strong tie they feel to their cultural identity. "It is clear to us," they said in their Creative Characters interview, "that Latin America does not have a typographic tradition in the way it exists in Europe or the United States; in fact, until recently all the fonts used here came from those places." They see this as a good thing, adding that "not having a long-time tradition in type design implies that we can work without the burden of the past — very freely, with no fixed paradigms and without fear." And work without fear they have. Chile's first digital foundry, they began selling their typefaces on MyFonts in 2011.Working with young designers and creative directors in mind, they say, "We design for graphic designers, not for other type designers, and generally do not seek prestige. This work is our passion, but it is also our job and we understand it as such." Many of the foundry's best selling fonts have been recognized as some of the design industry's most popular fonts such as Showcase, Arquitecta, and Trend; a MyFonts Most Popular Fonts of 2013 pick. They've produced everything from elegant,sophisticated scripts like Ragazza Script to popular, whimsical fonts such as Ride my Bike (featured in MyFonts Most Popular Fonts of 2012) and Four Seasons. The men of Latinotype's mantra: "As Picasso said, 'Inspiration exists, but it has to find you working.' In our case: if we manage to set a trend, it is by working hard."
Choosing a selection results in a full page refresh.