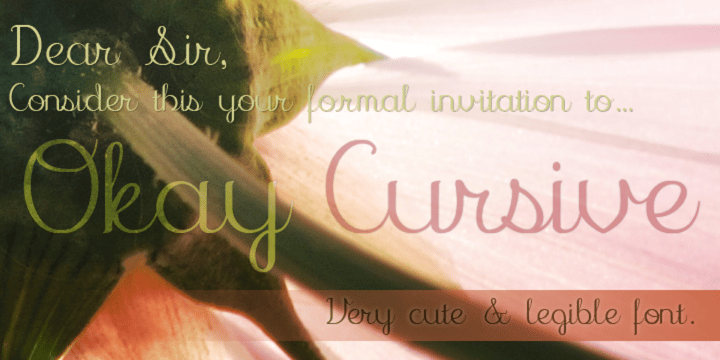 About OkayCursive Font Family
---
OkayCursive began over coffee, in a local flower shop, where my wife takes a floral arrangement class. I discovered a book there, with old photographs from Paris of flower shop displays. What caught my eye in the background of one of these photos, was the hand-painted lettering on a sign. Inspired, I quickly sketched some of the letters on a napkin and stuck it in my pocket. I began to sketch more over the next few days, looking to construct a full-out cursive font with this distinct French look. I wanted my design to be creative & free flowing, but I also wanted it to be at least somewhat proper. So, I consulted some schoolbooks for reference on the correct cursive forms. After more drawing, I began to create the final vector art. Gradually, these ideas -- plus many hours of careful kerning and metrics -- came together to form OkayCursive. Use OkayCursive any time you want fancy, legible, and luxurious text. Works great if you are designing a logo, or use it to create some beautiful titling. Use it for advertisement copy, or even for short to medium-length bodies of text -- go ahead and have fun with it. OkayCursive is extended, containing the full West European diacritics & a full set of ligatures, making it suitable for multilingual environments & publications.
OkayCursive
About Okaycat
Okaycat designs software & was originally established in Japan in 2006. We are now based in Vancouver, B.C., Canada, developing a range of digital products including fonts, games & more! We at Okaycat believe in creating a revolution in fonts, breaking new ground through innovative design. Our aim is to create beauty everyday through our letter styles, adding a refreshing twist to the world's daily communications.
Choosing a selection results in a full page refresh.