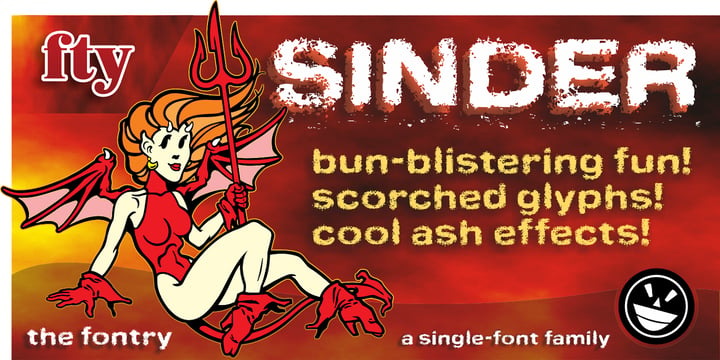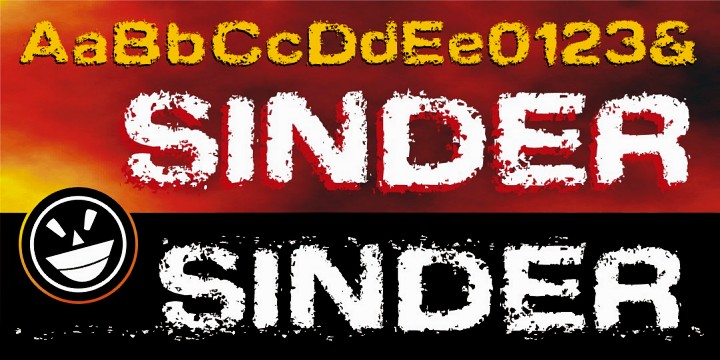 About Sinder Font Family
---
It's extended. Somewhat. It's got all the characters. There's a plus. It's fully kerned. That's awesome! And it is rubbed down to the nub. Whuh??? That means it's highly distressed, manually eroded on my work bench. Tortured further to open the wounds using my bitmap editor. Tweaked lovingly and built up to even higher standards of distortion in my vector program. The end result is a font called Sinder. I've even included an "ash" effect. Using the bracket or brace left gives you ashes from left to right as you type your text. Finish your text with ash terminals by typing the bracket or brace right. But be careful. This font is a heavy duty downloader. Make sure all your programs are up to the task, especially before you go converting to vectors.
Sinder™ is a trademark of The Fontry.
About The Fontry
When foundry's were making steel and fonts were but a molten dream ... well, we don't go that far back! But that's how we came up with the name for The Fontry. Spun into existence in 1992 by James L. Stirling and Michael Gene Adkins, The Fontry owes its origins to lots and lots of years working around screenprint shops and the signmaking business, influences that translate clearly into our font designs. It stands to reason then that many of our typographic efforts reflect the needs of those industries. Not ones to wimp around with frilly type, many of our fonts exude the strength you've come to expect from any font that dares to call itself a display face. No typesetting lots of tiny text with any of our fonts! And our inspiration covers the gamut, from full-on customs to period revivals. But no matter the origins, we pride ourselves on taking care of the details, from the nudge-fussiest node positioning to the single-digit kerning adjustments. Every Fontry font has over 40 hours of work in it, and we like to think it shows. At least we hope it shows--really! So for fonts that really fill the space, we're the foundry guys you wanna try!
Choosing a selection results in a full page refresh.