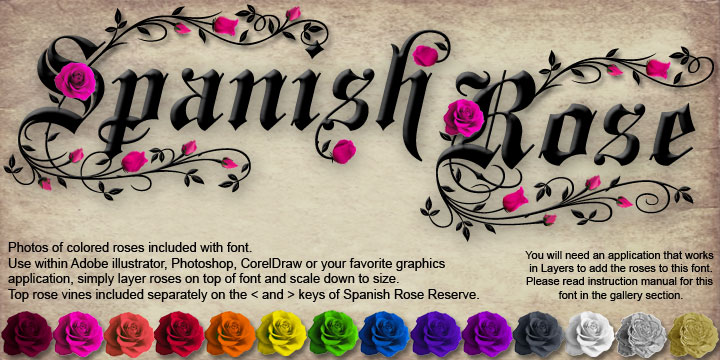 Select style to display all glyphs:
- Glyph Count:
This is a listing of all glyphs contained in the font, including OpenType variants that may only be accessible via OpenType-aware applications.
Each basic character ("A") is followed by Unicode variants of the same character (Á, Ä…), then OpenType variants (small caps, alternates, ligatures…). This way you can see all the variations on a single character in one place.
Spanish Rose Alternates

Spanish Rose Reserve

Spanish Rose
See more...
See less
Spanish Rose Alternates

Spanish Rose Reserve

Spanish Rose
Per Style: $16.65
Pack of 3: $49.95
Spanish Rose Alternates

Spanish Rose Reserve

Spanish Rose
Per Style: $16.65
Pack of 3: $49.95
Select style to display tech specs:
Licensing Options
You can use this font in any of the following places. Read the full EULA text for details about each license. If you have a usage in mind that's not covered by these licenses, contact us and we'll see what we can do.
About Spanish Rose Font Family
---
Spanish Rose is a combination of photographic images and fonts layered together to create a final image that's sure to get the individual viewer's attention. The vivid color roses, included with the font, adds more beauty, depth and impact to what ever project you decide to use it on. Spanish Rose may be used with or with out the rose photos, the basic font comes with an illustrated rose incorporated into the letters. To add the rose photos to the letters you will need an application that works in layers such as Adobe Illustrator, Photoshop or CorelDraw. Word processor's do not work in layers, however you may create and save an image of rose letters in Photoshop then place the image file into your Word document. The rose photos are supplied as PNG files with the background set as transparent, the photos are large in size and set to 300dpi. You will need to scale down the roses to fit the size of your project, rotating some of the roses will also be necessary for alignment on the rose vines. A set of alternate lowercase letters, additional parts and a rose border are in the Spanish Rose Alternates font, please refer to the instruction manual showing you which keys the alternate characters are on. Combining photos and fonts isn't a new idea, adding the roses to the letters and placing them into a Photofont plug-in was a possibility, however keeping the roses and font separate allows you to apply many different textures, colors or special effects to the letters while the roses remain unchanged. Spanish Rose was built upon the FontMesa Spanish Main font where under the name Spanish Main you will find the plain version of this font. Bella Rose was the first font I designed with roses, after completing the Bella Rose font family I was so pleased with the finished product that I decided to create Spanish Rose using the same rose design and images.
Spanish Rose™ is a trademark of FontMesa.
Choosing a selection results in a full page refresh.