Individual Styles from $1.00
Complete family of 3 fonts: $19.00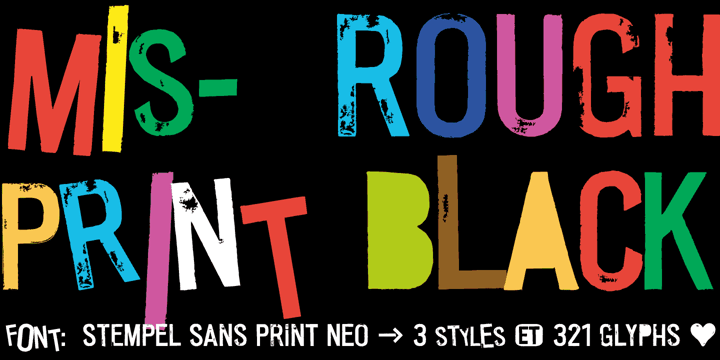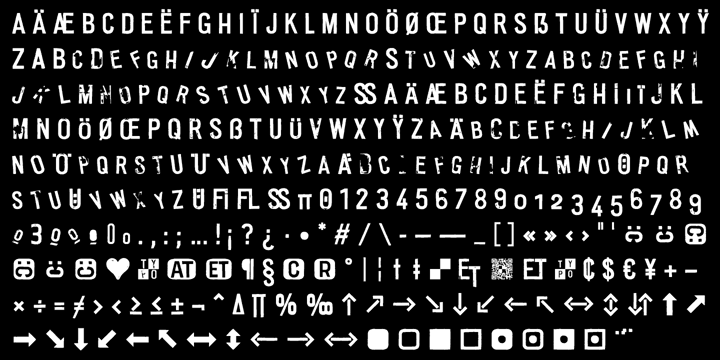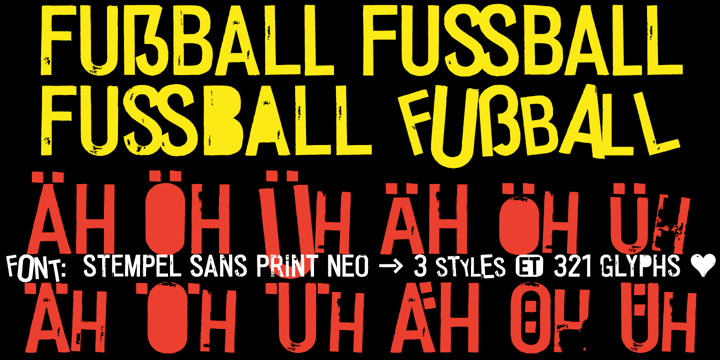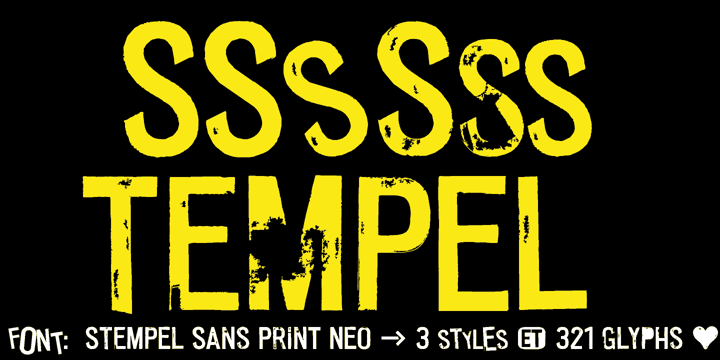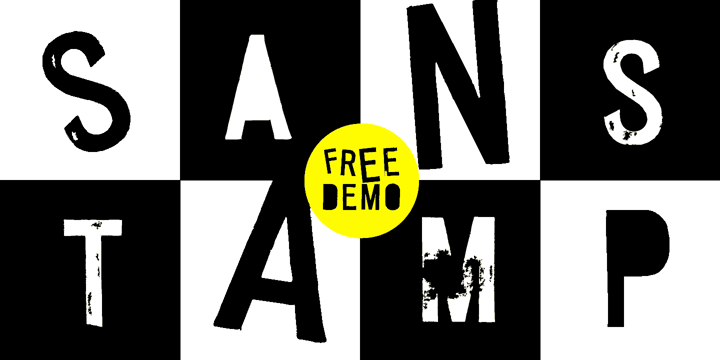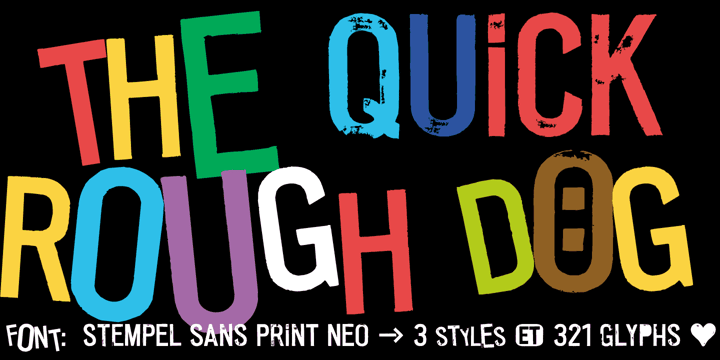 Per Style: $3.80
Pack of 5 : $19.00
About Stempel Sans Print Neo Font Family
---
The typeface Stempel Sans Print Neo is designed from 2022 for the font foundry Typo Graphic Design by Manuel Viergutz.
The display font based on a original set of 29 old rubber stamps (6 cm height). Digitized via hand-stamped, a scanner and Glyphs app.
3 font-styles (Rough, Misprint, Black) with 321 glyphs incl. decorative extras like icons, arrows, dingbats, emojis, symbols, geometric shapes (type the word #LOVE for ♥︎or #SMILE for ☻ as OpenType-Feature dlig) and stylistic alternates (6 stylistic sets).
For use in logos, magazines, posters, advertisement plus as webfont for decorative headlines. The font works best for display size.
Have fun with this font & use the DEMO-FONT (with reduced glyph-set) FOR FREE!
Font Spe­ci­fi­ca­ti­ons
■ Font Name: Stempel Sans Print Neo
■ Font Styles: 3 font styles (Rough, Misprint, Black) + DEMO (with reduced glyph-set)
■ Font Cate­gory: Dis­play Script for head­line size
■ Glyph Set: 321 glyphs (incl. decorative extras)
■ Lan­guage Sup­port (36 languages): Asu Bemba Bena Chiga Cornish English German Gusii Indonesian Kalenjin Kinyarwanda Luo Luyia Machame Makhuwa-Meetto Makonde Morisyen North Ndebele Nyankole Oromo Rombo Rundi Rwa Samburu Sangu Shambala Shona Soga Somali Swahili Swiss German Taita Teso Uzbek (Latin) Vunjo Zulu
■ OpenType features (16): aalt calt case ccmp dlig liga lnum onum ss01 ss02 ss03 ss04 ss05 ss06 mark mkmk
■ Design Date: 2022
■ Type Desi­gner: Manuel Viergutz
Stempel Sans Print Neo
About TypoGraphicDesign
Typo Gra­phic Design ■ Graphic Design & Type Design A young and inde­pen­dent font foundry from Manuel Vier­gutz based in Ger­many, Ber­lin. Design of digi­tal type­face in the form of deco­ra­tive industrial display fonts for play­ful head­lines or exclu­sive type­faces as a cor­po­rate font for bran­ding. Catchy, indi­vi­dual type­faces with per­so­nal, strong cha­rac­ter. From strictly geo­me­tri­cally con­struc­ted over rouge & dirty to free, hand­made and expe­ri­men­tal type­faces. Fresh & sticky head­line fonts. The let­ters, num­bers and dingbats/symbols are plea­sed to supply gra­phic desi­gners, illus­tra­tors, prin­ters, web desi­gners and adver­ti­sing agen­cies with fonts world­wide. Using modern OpenType-Feature fun like con­text­ual alter­na­tes, con­text­ual liga­tures, dis­cre­tio­nary liga­tures and symbols/dingbats (arrows, orna­ments, pic­to­gram), thus the fonts are play­ful app­lica­ble and cover a high range of gly­phs. The design style of the Typo Gra­phic Design fonts is char­ming imper­fect & human.https://typographicdesign.de
Choosing a selection results in a full page refresh.