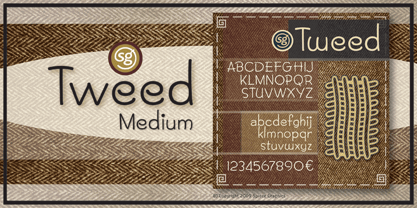 About Tweed SG Font Family
---
Tweed is a journey into the 1930s world of hand-lettering. The design looks very much like the personal scribblings of an old-fashioned cartoon animator. It's the sort of sketch-style you might find describing a goofy caterpillar or laughing willyworm. Tweed is fun and light-hearted with open and rounded letters of a somewhat musical quality. Derived from old letterforms popularized by Carl Holmes in his wonderful book on the subject, Tweed is basically friendly in nature. This typeface is great for personal greeting cards and stationery - any kind of casual correspondence. It works well in display situations, too. And yes, there is an alternate to the funny-looking "w" character. Just press option l (el) on Mac. Or Alt 0172 on Windows. Tweed is now available in the OpenType Std format. Some new stylistic alternates have been added to this OpenType version. Advanced features work in current versions of Adobe Creative Suite InDesign, Creative Suite Illustrator, and Quark XPress. Check for OpenType advanced feature support in other applications as it gradually becomes available with upgrades.
Tweed SG™ is a trademark of Spiece Graphics.
About
Spiece Graphics
Jim Spiece enjoyed resurrecting old typefaces. And finding a complete set of characters could often be a challenging task. It took him down into the musty basements of public libraries and out into the world of flea markets and hole-in-the-wall bookstores. After careful scanning and hand-outlining, he would occasionally dig deeper for a missing punctuation mark or double f-ligature. Jim chuckled, "These are all minor inconveniences when you consider you've brought these faces back from obscurity and found them new homes. Besides, it's fun. In one sense, my own designs are a lot easier because they never had a previous life!" You can check out Jim's revival of the Bernhard Gothic SG Family offered by FontHaus or his popular ITC Blair Family. If you're interested in Spiece Graphics custom logo, lettering, or illustration work, try Theispot.
Read more
Read less
Choosing a selection results in a full page refresh.