Individual Styles from $0.00
Complete family of 5 fonts: $53.80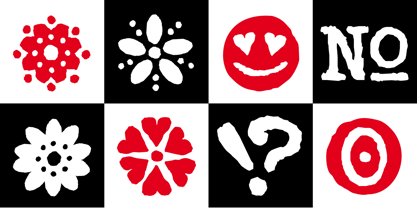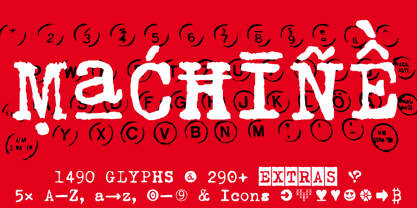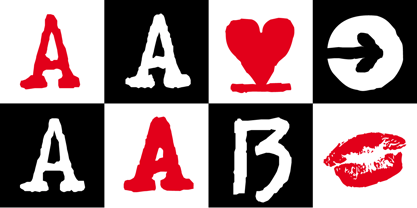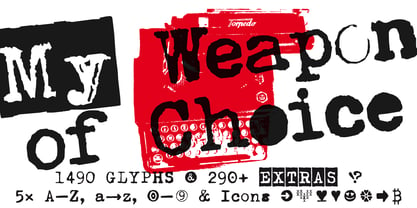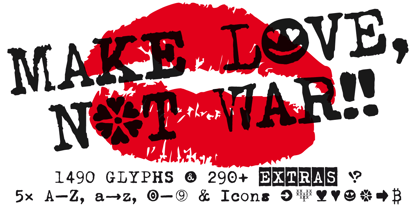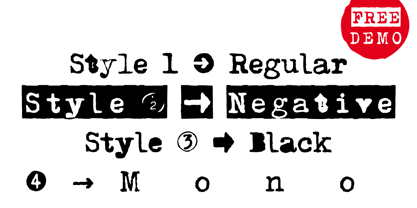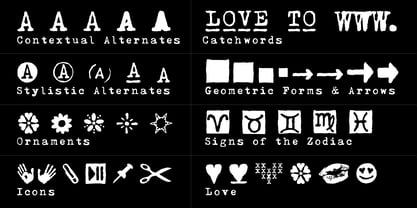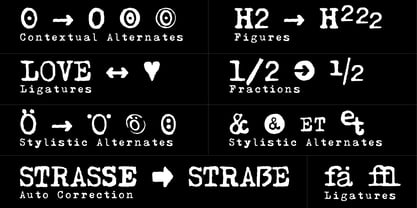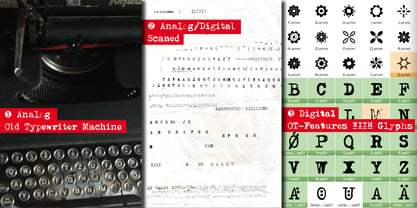 Start your FREE TRIAL of Monotype Fonts to get over 40,000 fonts from more than 25 type foundries.
Start free trial
Start free trial
Per style:
$10.76
Pack of 5 styles:
$53.80
About Typewriter 1950 Tech Mono Font Family
---
The typeface Typewriter 1950 Tech Mono is designed for the Typo Graphic Design font foundry in 2017 by Manuel Viergutz. A display slab serif type for headlines. Based on an old typewriter machine from 1950. Plus state-of-the-art OpenType-features like contextual alternates (calt), decorative ligatures e. g. type the word "LOVE" for ❤ and the word "SMILE" for ☺ and Versal Eszett (German Capital Sharp S). For use in magazines, posters, headlines and advertisement, plus as webfont for decorative headlines. Character Set: Latin Extended (Adobe Latin 3). 1490 glyphs with 5× A–Z, 5× a–z, 5× 0–9 and 290+ extra icons like arrows, dingbats, symbols, geomatric shapes, catchwords and many alternative letters. Have fun with this font & use the DEMO-FONT (with reduced glyph-set) FOR FREE! How To Use – OpenType-Features ■ In Adobe Photoshop and Adobe InDesign, font feature controls are within the Character panel sub-menu → OpenType → Discretionary Ligatures … Checked features are applied/on. Unchecked features are off. ■ In Adobe Illustrator, font feature controls are within the OpenType panel. Icons at the bottom of the panel are button controls. Darker 'pressed' buttons are applied/on. ■ Additionally in Adobe InDesign and Adobe Illustrator, alternate glyphs can manually be inserted into a text frame by using the glyphs panel. The panel can be opened by selecting Window from the menu bar → Type → Glyphs. Or use sign-overview of your operating system. ■ For a overview of OpenType-Feature compatibility for common applications, follow the myfonts-help http://www.myfonts.com/help/#looks-different ■ Font Name: Typewriter 1950 Tech Mono ■ Font Weights: Regu­lar + Negative + Black + Mono + Icons + DEMO (with redu­ced glyph-set) ■ Font Cate­gory: Slab Serif Dis­play for Head­line Size ■ Font For­mat: .otf (Open­Type Font for Mac + Win) + .ttf (True­Type Font) ■ Glyph Set: 1490 glyphs ■ Lan­guage Sup­port: 28+ for Latin Exten­ded (Adobe Latin 3). Afri­kaans, Alba­nian, Cata­lan, Croa­tian, Czech, Danish, Dutch, English, Esto­nian, Fin­nish, French, Ger­man, Hun­ga­rian, Ice­lan­dic, Ita­lian, Lat­vian, Lithua­nian, Mal­tese, Nor­we­gian, Polish, Por­tu­gese, Roma­nian, Slovak, Slove­nian, Spa­nisch, Swe­dish, Tur­kish, Zulu ■ Spe­cials: 290+ deco­ra­tive extras like icons for arrows, ding­bats, emo­jis, sym­bols, geo­me­tric shapes, catch­words + Ger­man Capi­tal Eszett. ■ Open Type Fea­tures: Kerning (kern), Sty­listic Set 1 (ss01) … Sty­listic Set 6 (ss06), Ornaments (ornm), Titling (titl), Loca­li­zed Forms (locl), Sub­script (subs) Super­script (sups), Ordi­nals (ordn), Old­style Figu­res (onum), Lining Figu­res (lnum), Frac­tions (frac), Deno­mi­na­tors (dnom), Nume­ra­tors (numr), Stan­dard Liga­tures (liga), Con­text­ual Alter­na­tes (calt) e. g. Sty­listic Set-Loop and Deco­ra­tive Liga­tures (dlig) e. g. type the word "LOVE" for ❤ or "SMILE" for ☺ ■ Design Date: 2017–2018 ■ Type Desi­gner: Manuel Vier­gutz
Typewriter 1950 Tech Mono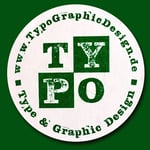 About
TypoGraphicDesign
Typo Gra­phic Design | Graphic Design & Type DesignA font foundry from Manuel Vier­gutz based in Ger­many, Ber­lin. Retail Fonts & Custom Type for … your ad, branding, corporate design, DIY, editorial, future, goodies, headline, icons, journal, kids, logo, music cover, nft, old fashioned, packaging, quality, roughness, script, tv, unique, vintage, website, xmas, yummy, zodiac …We create Fonts, Icons & Pattern Retail fonts (for everybody), custom fonts (exclusive corporate font) and font adjustments (more language support or alternative characters).We create Corporate Design (Logo, Business Card), Editorial Design (Book, Magazine), Flyer, Poster …We offer limited prints like riso poster, hand-stamped postcards, sticker & type specimens as design gifts.