Individual Styles from $0.00
Complete family of 9 fonts: $54.95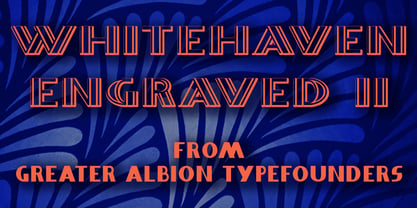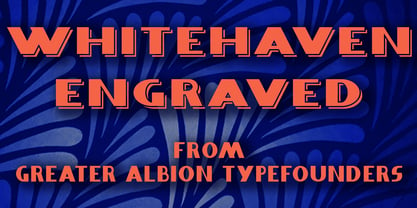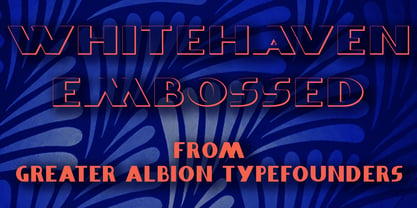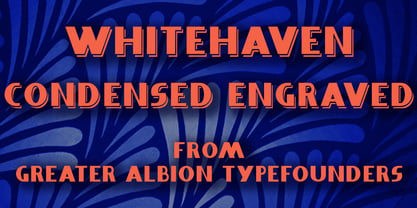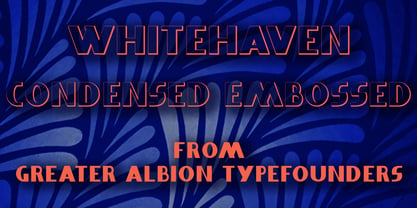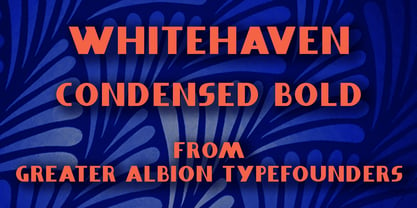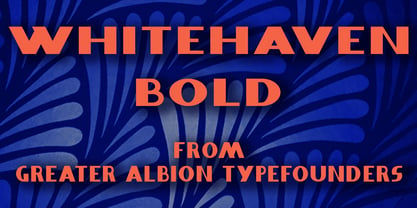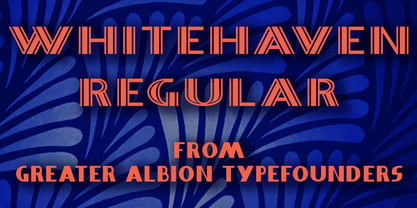 About Whitehaven Font Family
---
Whitehaven is the spirit of the Art Deco movement made into a very solid and blocky Sans Serif font. The name owes its inspiration to Whitehaven Mansions, a block of flats where that greatest of 1930s detectives, Hercule Poirot lived. Use this to make bold statements, to give posters and designs a taste of thee 30s, and wherever you want to be clear and definitive. Whitehaven is offered in two widths and a range of embossed and engraved styles for flexibility in design work.
Whitehaven
About
Greater Albion Typefounders
Whither elegance in this modern world? Greater Albion Typefounders has been established to do a little bit to overcome one of the many crises facing the world today. We (The Typefounders) can't make a dent in global warming; we don't know where to start with the Global Financial Crisis, but we thought we'd 'have a bash at our own little bit of the crisis in design. To us, modern design all seems so bland. Sure, it works, sometimes it even works well. But there's seldom a sense of style, seldom a hint of elegance unless you call severe blandness '[elegant simplicity', which isn't a line of thinking that ever impressed us. So we decided to do something about it- we decided to bring you new Typefaces that honor the spirit and style of the past. Want to be right up to date with a brand new typeface, but right in tune with the spirit of designers trained in classical ascetic values? Then why not try us and see what we have to offer. What we will offer is new designs, replete with Edwardian Fun, Victorian distinction, or any other piece of elegance we can manage. Come along for the ride!