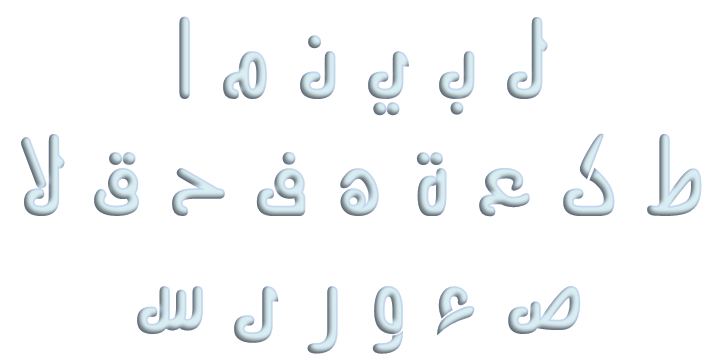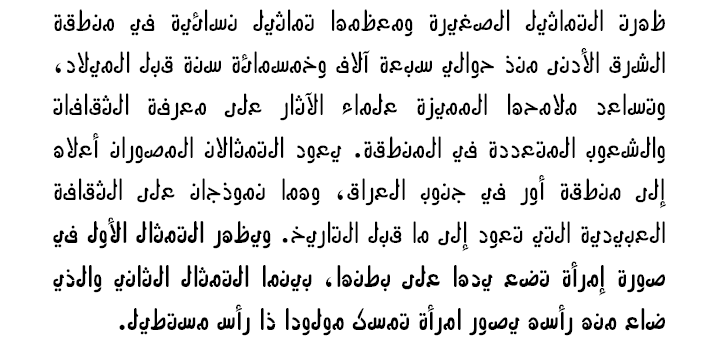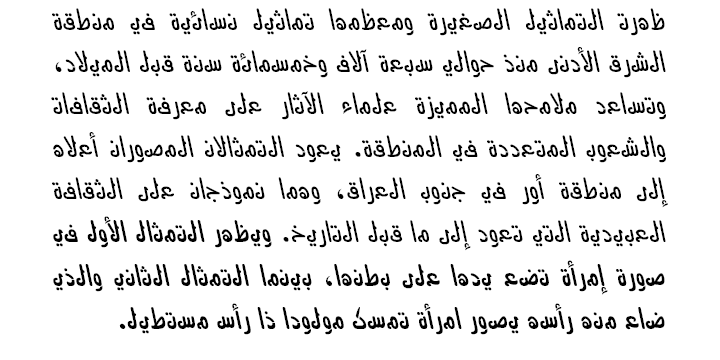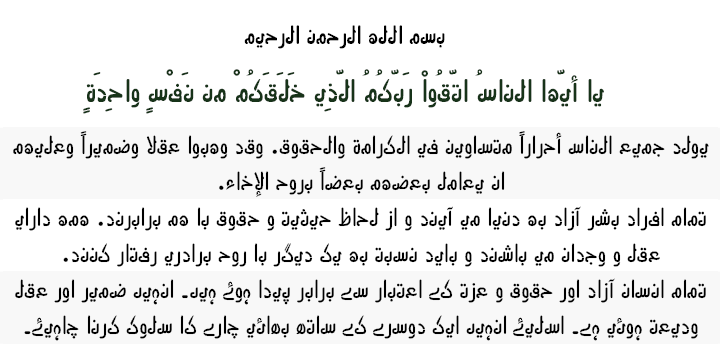 Per Style: $29.75
Pack of 4 : $119.00
About Yasmine Mutamathil Font Family
---
The Yasmine Mutamathil type family follows the guidelines of the Mutamathil type style. It has only one glyph for every basic Arabic Unicode character or letter. The Yasmine Mutamathil family includes all required Lam-Alif ligatures and selected marks positioning so it does use limited glyph substitutions or forming. Yasmine Mutamathil employs four fixed x-height values, two above and two below the x-axis. Values are high to give a slight vertical overall look. Its design uses full curves with equally distributed weight. Text strings composed using types of this family are non-cursive with stand- alone isolated glyphs. The Yasmine Mutamathil family includes both Arabic and Arabic-Indic numerals, all required diacritic marks, Allah ligature, in addition to all standard English keyboard punctuations and major currency symbols. It is available in regular, italic, bold, and bold italic styles.
Yasmine Mutamathil
About Arabetics
Operating as arabetics.com, Arabetics is New York based private foundry and consulting firm specializing in Arabic fonts and lettering design, and related Arabic typography software solutions. It is best known for producing innovative, and inspiring non-traditional simplified fonts. Arabetics prime mission is to produce quality fonts to support Arabetic scripts computing and typography needs. It was founded in 2003, by type designer Saad D. Abulhab who introduced earlier the US Utility Patent awarded Mutamathil Type Style, the underlying design template behind most of Arabetics fonts. The Mutamathil design philosophy aims at producing extended Arabic fonts that would diversify and enrich users typographic options and address the scripts challenges of literacy, education, economics, technology, global competition, as well as style and legibility. Mr. Abulhab is an IT Electrical Engineer and a librarian. His involvement in Arabic type design and computing goes back to 1992.
Choosing a selection results in a full page refresh.