Artifex Hand CF Font Field Guide
Best Practices
Artifex Hand CF is built for use at small to medium sizes, in print and digital environments. Its Book weight is designed for use in longform text, articles, books, footnotes, and documents, while the thicker weights can double as headlines, subheadlines, and captions. Artifex Hand includes a wide range of language support, including extended Latin, Cyrillic, Greek, and the International Phonetic Alphabet. Also supported are romanization options for Arabic, Pinyin, and Sanskrit, making Artifex Hand an excellent choice for research papers, international reports, and scientific writing.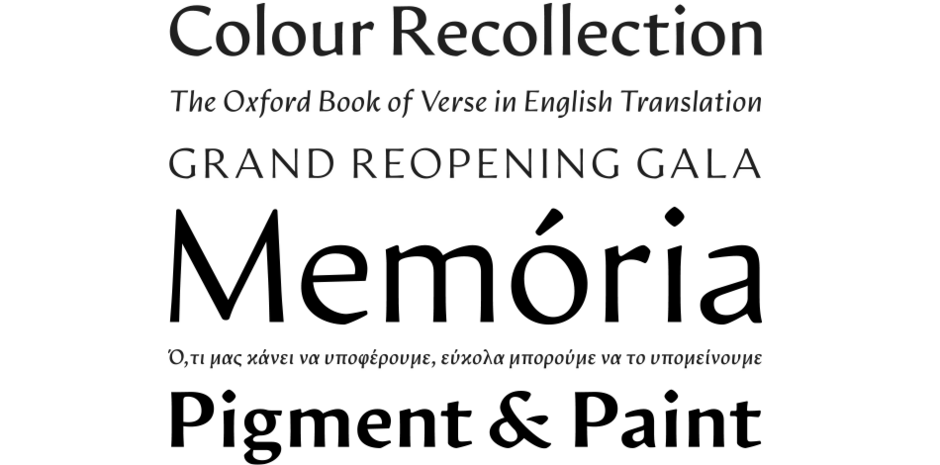 Family
Eight weights of roman designs, each with a complementary italic, for a total of 16 styles.
Font Facts
Artifex Hand CF has a sister typeface, Artifex CF, an oldstyle serifed font family built on the same foundation and with the same focus on legibility.
The name "Artifex" is Latin for artist or craftsperson, chosen to evoke a sense of history and refinement. The "Hand" in the name is a reference to calligraphy and hand lettering, and helps distinguish it from the original Artifex CF typeface.
Roots
Artifex Hand CF is an original design by Connary Fagen created in 2018. The project's goal was to carry over the elegance and ease-of-use of the original Artifex CF to a sans-serif design that would excel as a text face. Artifex's serifs were filed down to graceful, subtle flares that lend a humanist touch. Updates and enhancements were released in 2019, 2021 and 2022, greatly expanding language support.

Legibility
Artifex Hand CF was designed for text use, and reads well at small to medium sizes. A low contrast design built with a tall x-height keeps counters open and shapes distinct, even in less than ideal conditions.
How to spot Artifex Hand CF

Alternate Choices




Perfect Pairing




More Font Field Guides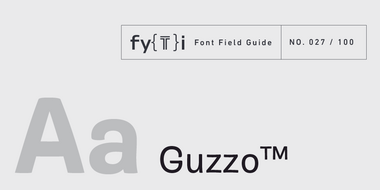 Guzzo™ Font Field Guide
Guzzo is a left of center design, that performs well in a wide range of sizes and application. It is not, however, a design that you would bring home to your mother. Well, maybe for a quirky Mother's Day Card. Learn more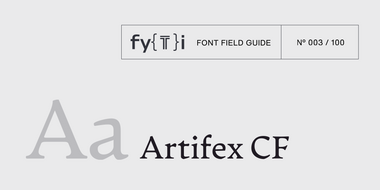 Artifex CF Font Field Guide
Artifex CF is built for use at small to medium sizes, in print and digital environments. Its Book weight is designed for use in longform text, articles, books, footnotes, and documents, while the thicker weights can double as headlines, subheadlines, and captions. Learn more