Best Practices
Guzzo is a left of center design, that performs well in a wide range of sizes and application. It is not, however, a design that you would bring home to your mother. Well, maybe for a quirky Mother's Day Card.
Family
Six weights, from Thin to Black in regular, condensed and extended proportions, provide fonts for a wide range of applications.
Font Facts
Guzzo was originally called "Eggs Grotesque", relating to Jeremy "Guzzo" Pinc's paintings - many which are tagged with the word EGGS. You can see the upside-down egg shape subtly throughout the typeface, especially the round letters.
The Condensed and Extended fonts were originally called "Slim" and "Wide."
Jim Ford is particularly fond of the figures in Guzzo. He thinks they amplify the personality of the typeface.
Roots
Guzzo is a playful caricature of a midcentury grotesque. Somewhat eccentric, and full of surprises, its unmistakable quirk stems from details influenced by informal brush lettering and calligraphy.

Legibility
An ample lowercase x-height, large counters, generous apertures and moderate contrast in character stroke thickness, combine to give Guzzo high levels of legibility – but we're not talking long form text. Think: Helvetica® in sweatpants.
How to spot Guzzo

Alternate Choices



Perfect Pairing




More Font Field Guides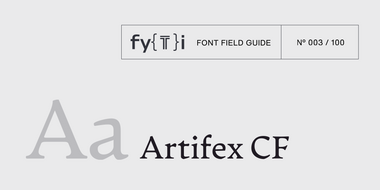 Artifex CF Font Field Guide
Artifex CF is built for use at small to medium sizes, in print and digital environments. Its Book weight is designed for use in longform text, articles, books, footnotes, and documents, while the thicker weights can double as headlines, subheadlines, and captions. Learn more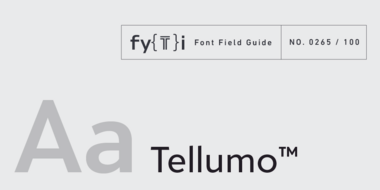 Tellumo™ Font Field Guide
Tellumo melds a clear personality with legibility characteristics, making it ideal for display copy as well as modest blocks of running text. Learn more