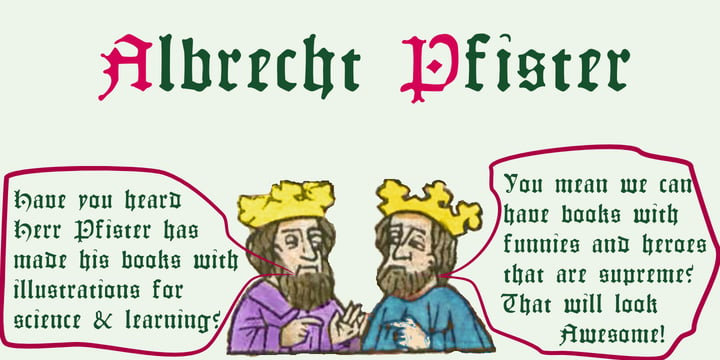 About Albrecht Pfister Font Family
---
Herr Pfister was a printer in the city of Bamberg Bavaria. He is known to have published nine works. And it has been contentiously argued that he printed the "36 line Bible." He was responsible for two innovations. The first was printing in his native German language and the second was the use of woodblock prints to add illustrations to the text. These were both first with the use of movable type. He was heavily influenced by Gutenberg's typefaces but there are a range of notable and also subtle differences between the two men's output. He was known to be active in the industry from about 1460 to his death in 1466. This font was specifically based on his "Biblia Paperum."
Albrecht Pfister™ is a trademark of Proportional Lime Type Foundry.
About Proportional Lime
Proportional Lime Type Foundry is a second floor operation that is overrun with a bird, cats, and unpleasant levels of heat, some of which is generated by the obsolescent machinery, and the rest enforced by the laws of thermodynamics. The bird owns the cats. And the cats own the humans. However, even considering the aggressive nature of the bird's endless commentary, and the cat's intermittent proofreading sessions, work is still routinely accomplished, and the goal of creating historically influenced typefaces achieved. We at PLTF desire to create typefaces that accurately recreate the feel of the old printing technologies for use in the modern world and also to explore novel designs.
Choosing a selection results in a full page refresh.