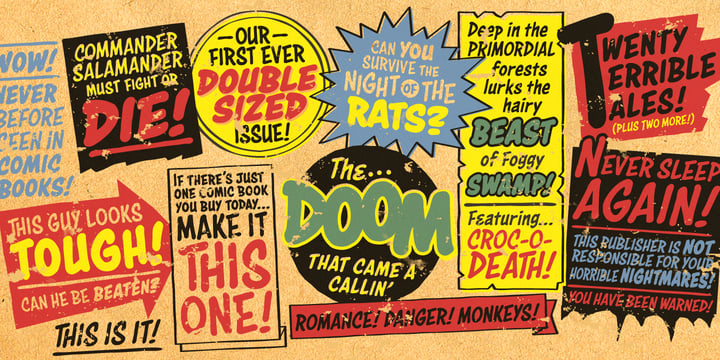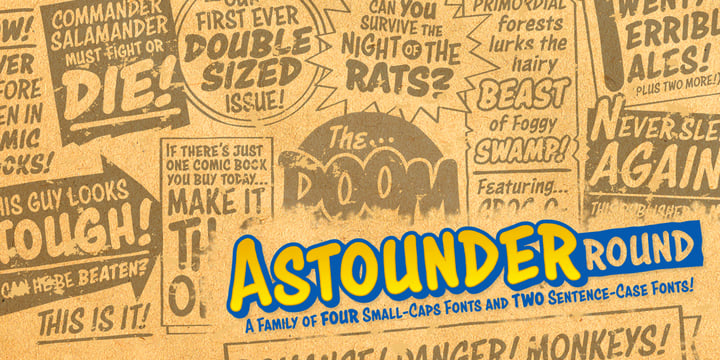 Astounder Round BB Bold

Astounder Round BB Bold Italic

Astounder Round LC BB Italic

Astounder Round BB Italic

Astounder Round LC BB

Astounder Round BB
Per Style: $4.16
Pack of 6 : $25.00
Astounder Round BB Bold

Astounder Round BB Bold Italic

Astounder Round BB

Astounder Round BB Italic

Astounder Round LC BB

Astounder Round LC BB Italic
Per Style: $4.16
Pack of 6 : $25.00
About Astounder Round BB Font Family
---
Astounder Round BB is a family of four small caps fonts and two sentence-case fonts inspired by comic book cover lettering of the 70s, using a B5 pen tip. The set comes with European characters and some interesting opentype autoligatures: In the small caps versions you can type TH+ and th+ to get an H that scoots under the T, and you can type ?+ or !+ to get shorter punctuation to match the height of the lowercase caps. In the sentence-case versions, you can type E+ or e+ to get a script E. The companion set to Astounder Round BB is Astounder Squared BB …collect 'em all! Notes: A font family on MyFonts.com can contain an unlimited number of styles.
Astounder Round BB
About Blambot
Blambot is a world-class collection of fonts created by award-winning comic book letterer and graphic designer, Nate Piekos. For nearly twenty years, Blambot has been serving the independent and professional world of graphic design and comic book publishing with typography uniquely tailored to both traditional print and digital media. Blambot's client list includes virtually every major comic book publisher, movies, television, novels, and merchandising of all kinds. Blambot is not only where you go to get top-notch fonts, but logo design, lettering, and custom typefaces, too!
Choosing a selection results in a full page refresh.