Complete family of 2 fonts: $20.00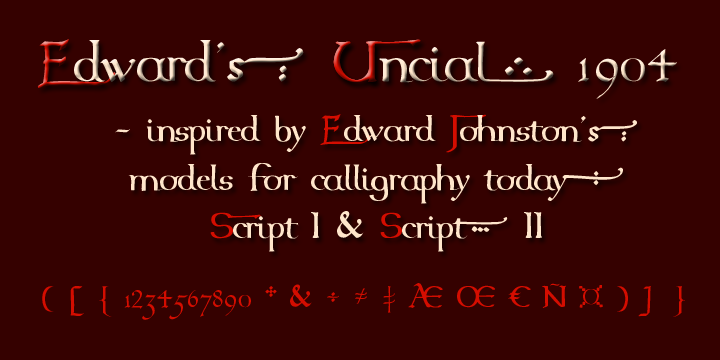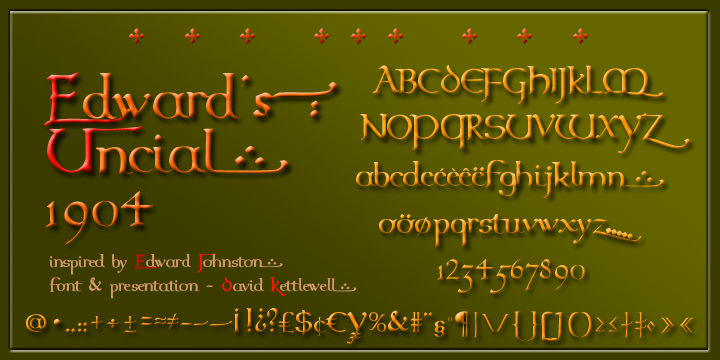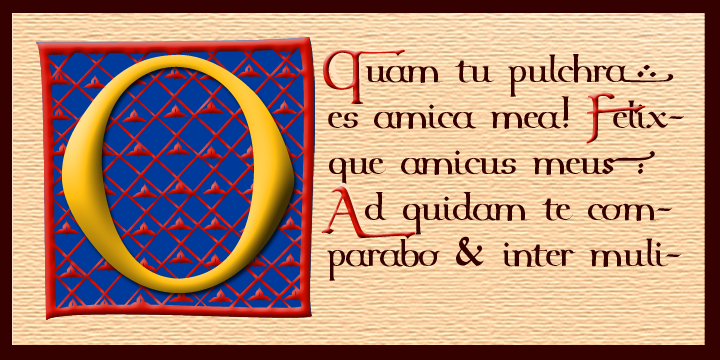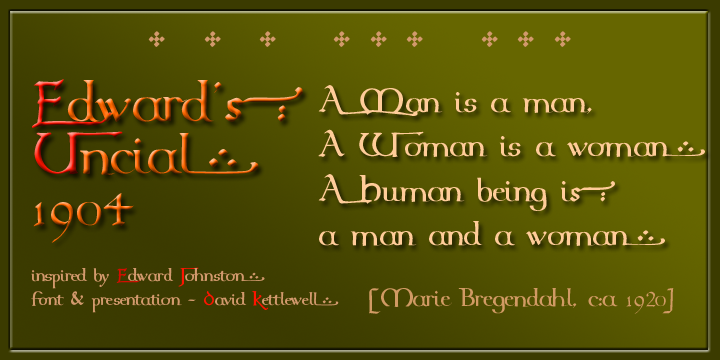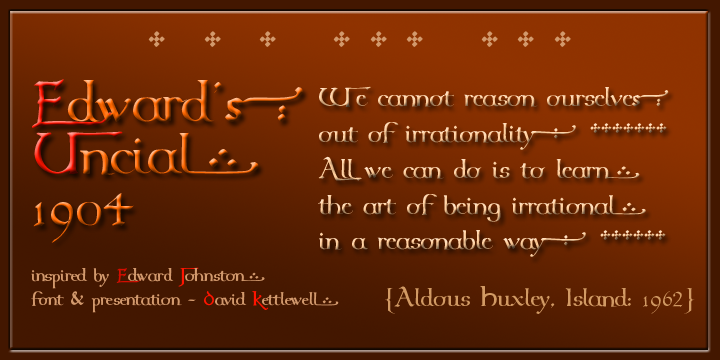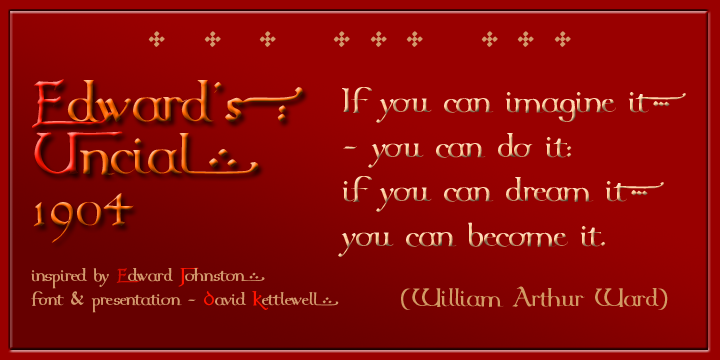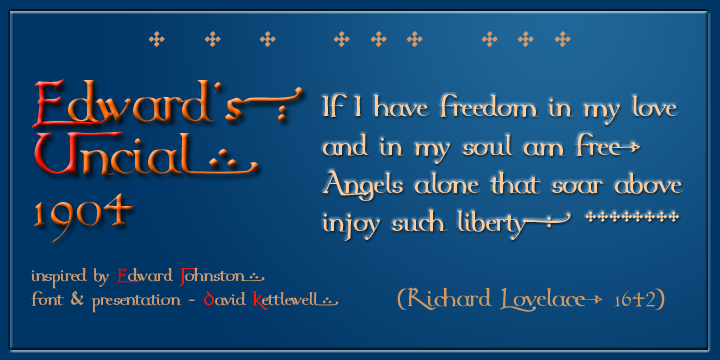 Edward's Uncial 1904

Edward's Uncial 1904 Italic
Per Style: $10.00
Pack of 2 : $20.00
Edward's Uncial 1904

Edward's Uncial 1904 Italic
Per Style: $10.00
Pack of 2 : $20.00
About Edward's Uncial 1904 Font Family
---
It's 100 years since Edward Johnston proposed the two mediaeval styles uncial and half-uncial to reintroduce handwriting as an enjoyable experience of beauty - calligraphy. Here his hand-written forms are adapted for print and screen, and extended for other languages; there are swash forms of beginning capitals and final small letters: and ornaments coming in a separate font soon! In the greater world of today, Edward Johnston is perhaps known mostly for his highly effective but perhaps rather unexciting font for the London Underground; but in calligraphic circles he is given the credit for having more-or-less single-handedly started the 20thC movement for Italic hand-writing, with one book, which was first published in 1906, reprinted dozens of times, and indeed is still in print today - Writing and Illuminating, and Lettering. He gives there two alphabets which he proposes should be used together as a model for a basic repertoire - an uncial and half-uncial used together as a modern upper and lower case respectively: of course, it was the renaissance alphabets which later became the basis for 20thC calligraphy, rather than these early mediaeval models, but they introduced the idea of a broad nib generating thick and thin strokes, rather than the point used for copperplate. Edward Johnston drew the proofs of the two script on different plates, and they are printed on different pages in the book, as models for handwriting: they are really too different from one another to use them together as a font just as they are. But with some adjusting, the result is rather delightful alternative to, on the one hand, historically-authentic uncials, and on the other, the ultra-smooth and regular modern interpretations which most fonts today offer. Alongside the regular font, there is a version with swash capitals to start words off with, and swash lower-cases, mostly to end short lines with, though b f k p q can work with letters after them too: to appear under Windows as a single family, this is called 'Italic' in the font menu. One interesting detail concerns the numbers, for which Edward Johnston suggests that - after a 0 and a 1 which are as high and low as an 'x', neither ascending nor descending - the even numbers might ascend while the odd numbers descend. This makes for a refreshing contrast with today's implementation of these 'old-style numbers', where 2 is 'x'-height like 0 and 1, and 4 descends with its neighbours 3 and 5, rather than ascends like the other even numbers 6 and 8. Edward Johnston gave a model of a decorated capital O with a patterned background: here the two elements are separated, so you can use the background with various colours and with any of the capitals. Or indeed capitals from other fonts.
Edward's Uncial 1904
About New Renaissance Fonts
New Renaissance: The reclaiming of one baby that got thrown out with the bath water in today's technological revolution – the good aspects of yesterday's ways of doing things, how things that work well can also be beautiful and feel good, how a rich variety of different skills can illuminate one another, how the arts can achieve amazing effects on the way people behave, how musical and artistic harmony can be a model for human harmony... David Kettlewell is a harper, renaissance musicologist and conductor to illuminate his work with text and type. As his early inspirations, he quotes poring over facsimiles of Books of Hours, singing from renaissance music manuscripts, and an old and dog-eared Letraset catalogue that was his constant companion. "We're anyway surrounded by an awful lot of stuff we've written, and it doesn't take much more time to make sure that it's something you feel good looking at, and it makes the quality of life so much greater." David's work with digital type started with the enchanted discovery of the programme Fontographer hidden away inside the Freehand Graphic Studio, and has lately been delighted to progress to the empowering world surrounding its successor, FontLab Studio. Richard Bradley, already an established name in the world of fonts (Bradley Hand, Calligraphic Ornaments, Fine Hand, Bible Script in the Linotype, ITC and Letraset catalogues), encouraged David to publish his own work and to develop digitally Rick's new paper designs; and so New Renaissance Fonts was formed. The emphasis is on original calligraphic and decorative fonts, firmly rooted in the Renaissance tradition of hand-measured beauty and human balance, but completely up to date for today's needs. The initial designs are by Rick, David and others in his circle, while the creation of the digital fonts is done by David. The New Renaissance Fonts web-site gives examples of these fonts in use, as well as offering two dozen other fonts for free download as long as they're still not quite ready for commercial release: as a complement to it, the Fontografia web-site provides stories and hints about ways of using fonts, ways of making fonts, ways of enjoying fonts.
Choosing a selection results in a full page refresh.