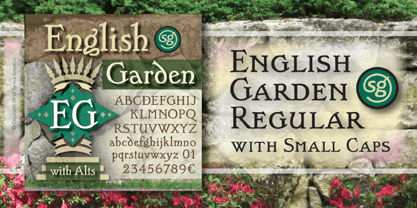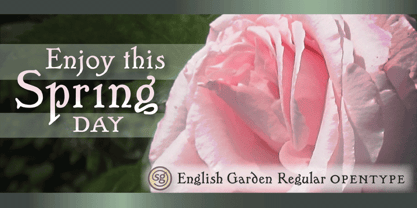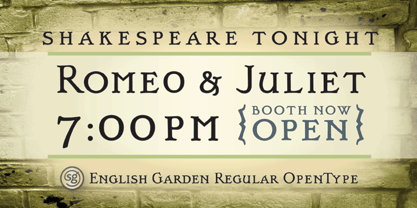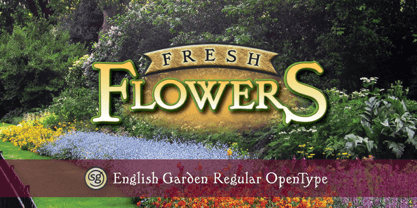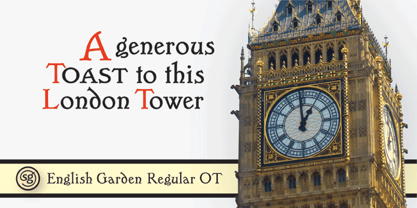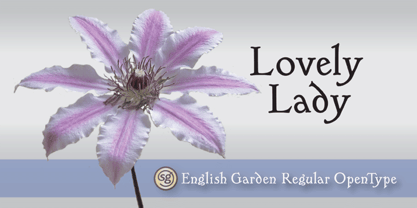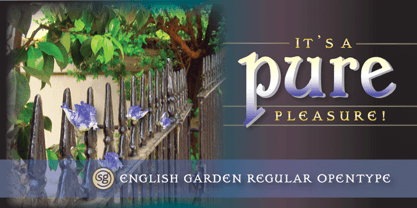 About English Garden SG Font Family
---
Here is a wonderfully charming typeface similar in style to the folklore lettering created by Walter Crane, the prolific children's book illustrator. This English artist created many beautiful, flower-decorated works during the Arts and Crafts movement that flourished between 1860 and 1910. English Garden SG Regular contains many of Crane's original whimsical and quirky characters. Note the inclusion of a spurred capital G, a squat lowercase g, a bending floral lowercase d, and the quaint old style figures. All of which are a delight to use when casting a medieval storybook tone to your project. You might also take advantage of the enchanting small capitals when setting logos, headlines, and decks. English Garden SG Regular is now available in the OpenType format. Some new characters have been added to this OpenType version including stylistic alternates, discretionary ligatures, historical forms, and petite figures. Advanced features currently work in Adobe Creative Suite InDesign, Creative Suite Illustrator, and Quark XPress 8. Check for OpenType advanced feature support in other applications as it gradually becomes available with upgrades.
English Garden SG
About
Spiece Graphics
Jim Spiece enjoyed resurrecting old typefaces. And finding a complete set of characters could often be a challenging task. It took him down into the musty basements of public libraries and out into the world of flea markets and hole-in-the-wall bookstores. After careful scanning and hand-outlining, he would occasionally dig deeper for a missing punctuation mark or double f-ligature. Jim chuckled, "These are all minor inconveniences when you consider you've brought these faces back from obscurity and found them new homes. Besides, it's fun. In one sense, my own designs are a lot easier because they never had a previous life!" You can check out Jim's revival of the Bernhard Gothic SG Family offered by FontHaus or his popular ITC Blair Family. If you're interested in Spiece Graphics custom logo, lettering, or illustration work, try Theispot.
Read more
Read less
Choosing a selection results in a full page refresh.