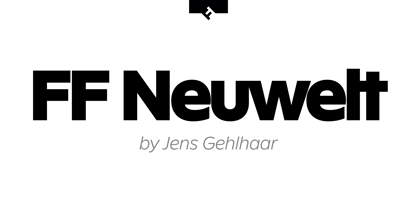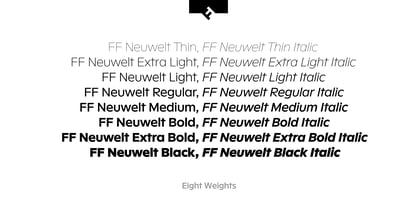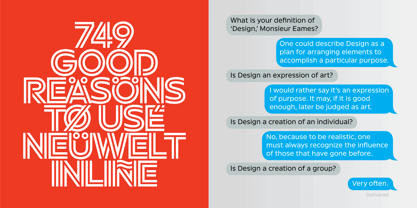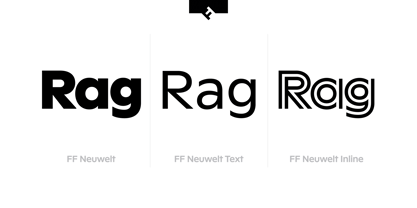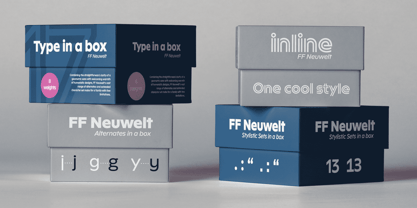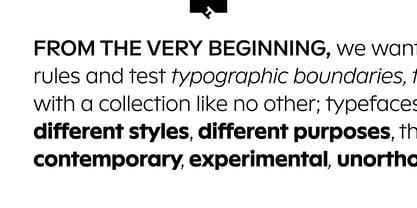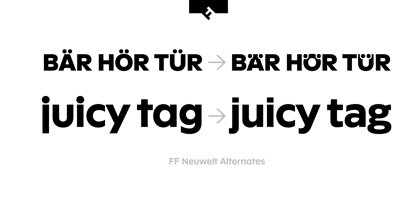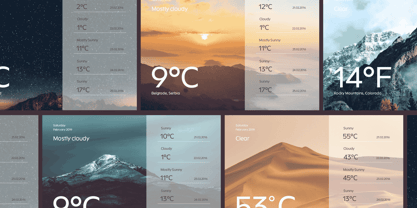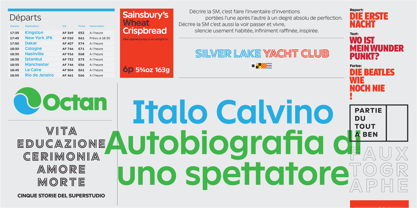 Unlock access to FF Neuwelt and over 40,000 fonts with Monotype Fonts.
Subscribe now
Subscribe now
About FF Neuwelt Font Family
---
FF Neuwelt™, from Jens Gehlhaar, is open, inviting, highly legible, and strikingly handsome. Combining the straightforward clarity of a geometric sans with a welcoming warmth, FF Neuwelt's eight display and text weights, vast range of alternates and extended character set, make for a family with few limitations. While grounded in a solid geometric sans serif foundation, Gehlhaar has drawn a large suite of alternate characters that infuses FF Neuwelt with softened, and ultimately easy on the eyes, humanistic shapes and proportions. Alternative cursive italic forms and a choice of round or square punctuation are also available at the click of a mouse. FF Neuwelt is spaced for sizes larger than 16 point, while FF Neuwelt Text has more open letterspacing to set perfectly at sizes smaller than 16 point. In addition, five key lowercase characters were drawn with more legible shapes. The result is that FF Neuwelt adapts from text to larger sizes and one stylistic mien to another with ease and grace. FF Neuwelt is a natural for interactive design, performing well on both large digital displays and small screens. Counters are generous and apertures are open, making them a perfect choice when setting text as microcopy or in short blocks where quick and accurate comprehension is the goal. Even the heaviest weights translate well to on-screen reading. FF Neuwelt also speaks with authority in large sizes on big screens. Equally at home in print environments, FF Neuwelt is a perfect choice for long-form text, captions, editorial, packaging, point-of-purchase design – as well as extensive branding projects. Its many choices of alternative characters make for a design that draws the reader in, without overpowering the message. Although he has drawn typefaces in addition to FF Neuwelt, Gehlhaar is primarily a filmmaker. Directing commercials with style and grace, his work includes spots for Nissan, Apple, Emirates Airlines and Microsoft. As a creative director, Gehlhaar has worked on a broad range of projects for Coca-Cola, MTV, EPSN, Volkswagen and more.
FF Neuwelt™ is a trademark of Monotype Imaging Inc. and may be registered in certain jurisdictions.
About FontFont
Based in the trendy district of Kreuzberg in Berlin, Germany, FontFont was established in 1990 when FontShop founder Erik Spiekermann and fellow type designer Neville Brody wanted to build a foundry where type was made for designers, by designers; a place where type designers were given a fair and friendly offer and where true type magic was made. "From the very beginning," representatives of the foundry say, "we wanted to bend the rules and test typographic boundaries, to build a library with a collection like no other; a range of typefaces that had different styles, different purposes, that was contemporary, experimental, unorthodox, and radical." With a collection of over 2,500 typefaces, FonFont has one of the largest libraries of original, contemporary fonts out there. It boasts both long-time bestsellers like FF Meta, FF DIN, FF DAX, FF Scala, FF Kievit, and remarkable newcomers such as FF Chartwell, FF Tisa, and FF Mark. Well known type-world celebrities have designed families for the foundry, including Erik Spiekermann, Hannes von Döhren, Martin Majoor, Albert-Jan Pool, Erik van Blokland, Mike Abbink, Xavier Dupré, and Lukasz Dziedzic. "At the heart of what we do is a heady mix of intuition, passion, a sprinkling of serendipity, an eye for detail, and a dash of attitude. From the first ever random font FF Beowolf to the release of our Web FontFonts in 2010, we place creativity at the forefront and pride ourselves on producing the highest quality typefaces that are technically robust and that continually innovate."
Choosing a selection results in a full page refresh.