Individual Styles from $9.00
Complete family of 3 fonts: $29.00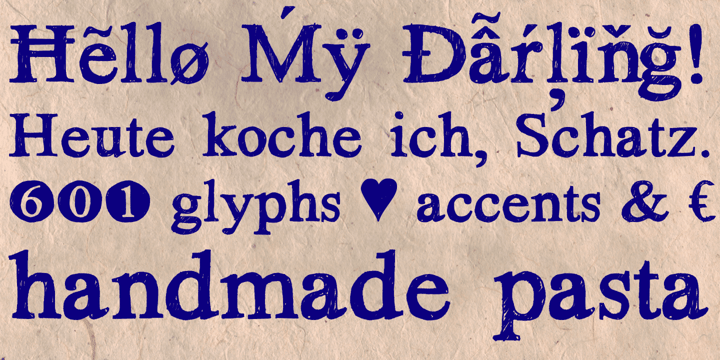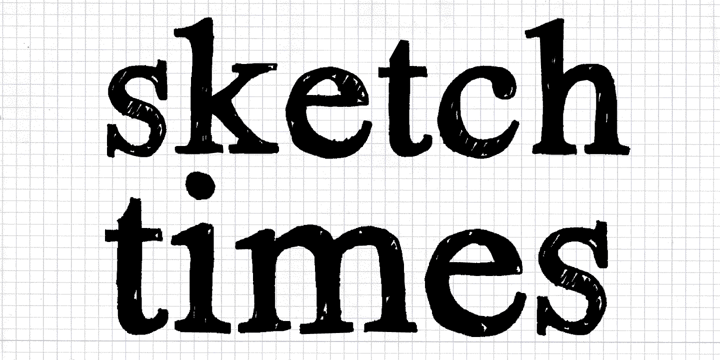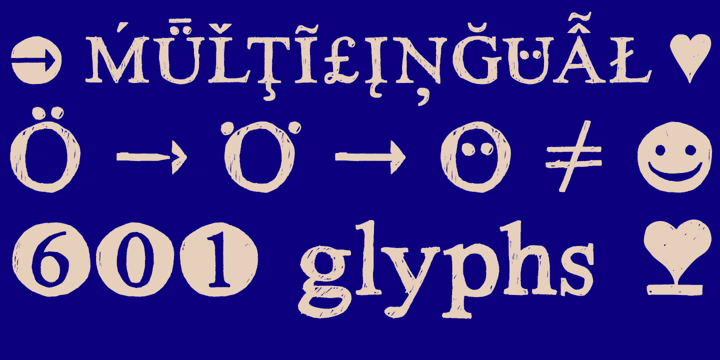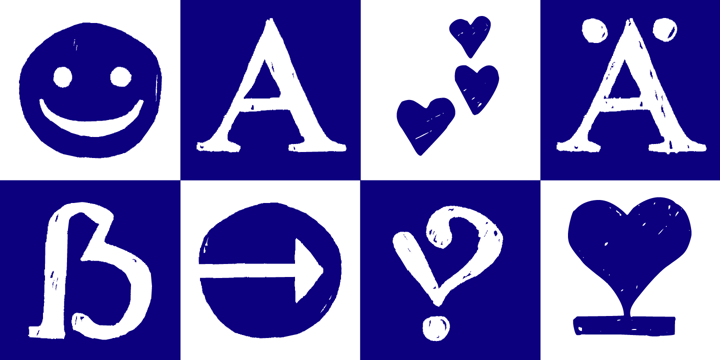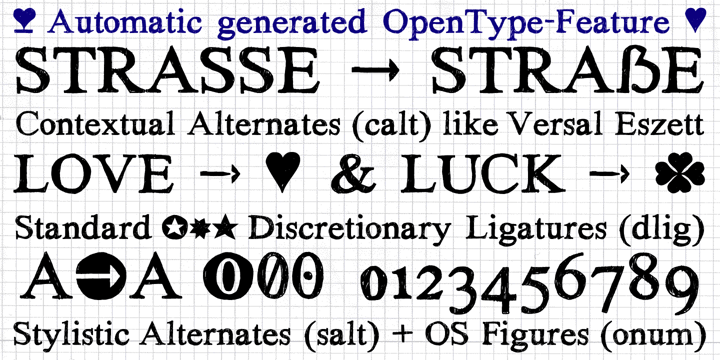 Per Style: $9.66
Pack of 3 : $29.00
About Hand Scribble Sketch Times Font Family
---
CHARACTERISTICS
A state-of-the-art OpenType-Feature (like Contextual Alternates (calt) and Stylistic Alternates (salt)) of "Hand Scribble Sketch Times" is, that each uppercase and each lowercase letter has automatically alternated two variations to bring humanly-random characteristics of handwriting to life. The cha­rac­ter of the rough, ruggend and raw hand­written classic serif type­face is a very uni­que warmly atmosphere. An pro-version of the font "Hand TIMES".
APPLICATION AREA
warmth, love, handmade. For support of human warmth. Of cooking recipes, menus in the restaurant across party flyer, music cover Art to logo (word marks), headings in magazines and websites.
TECHNICAL SPECIFICATIONS
? Font Name: Hand Scribble Sketch Times ? Font Weights: Regu­lar, Rough, Invert ? Font Cate­gory: Grunge Serif Dis­play for Head­line Size ? Font For­mat: OTF (Open­Type Font for Mac + Win) ? Glyph cover­age: 601 ? Lan­guage Sup­port: Basic Latin/English let­ters, Cen­tral Europe, West Euro­pean diacri­tics, Bal­tic, Roma­nian, Tur­kish ? Spe­cials: Alter­na­tive let­ters, Standard & Discretionary Ligatures, extras like sym­bols, ding­bats, Old-style Digits, Lining Figures, accents & €, incl. OpenType-Features like Con­text­ual Alter­na­tes (calt), Glyph Composition/Decomposition (ccmp), Dis­cre­tio­nary Liga­tures (dlig), Kerning (kern), Stan­dard Liga­tures (liga), Nume­ra­tors (onum), Ordi­nals (ordn), Sty­listic Alter­na­tes (salt), Stylistic Set 01 (ss01), Stylistic Set 02 (ss02), Stylistic Set 03 (ss03), Slas­hed Zero (zero), Lining Figures (lnum), Tabular Figures (tnum), Old Style Figures (onum), Proportional Figures (pnum) ? Design Date: 2013 ? Type Desi­gner: Manuel Vier­gutz
Hand Scribble Sketch Times
About TypoGraphicDesign
Typo Gra­phic Design ■ Graphic Design & Type Design A young and inde­pen­dent font foundry from Manuel Vier­gutz based in Ger­many, Ber­lin. Design of digi­tal type­face in the form of deco­ra­tive industrial display fonts for play­ful head­lines or exclu­sive type­faces as a cor­po­rate font for bran­ding. Catchy, indi­vi­dual type­faces with per­so­nal, strong cha­rac­ter. From strictly geo­me­tri­cally con­struc­ted over rouge & dirty to free, hand­made and expe­ri­men­tal type­faces. Fresh & sticky head­line fonts. The let­ters, num­bers and dingbats/symbols are plea­sed to supply gra­phic desi­gners, illus­tra­tors, prin­ters, web desi­gners and adver­ti­sing agen­cies with fonts world­wide. Using modern OpenType-Feature fun like con­text­ual alter­na­tes, con­text­ual liga­tures, dis­cre­tio­nary liga­tures and symbols/dingbats (arrows, orna­ments, pic­to­gram), thus the fonts are play­ful app­lica­ble and cover a high range of gly­phs. The design style of the Typo Gra­phic Design fonts is char­ming imper­fect & human.https://typographicdesign.de
Choosing a selection results in a full page refresh.