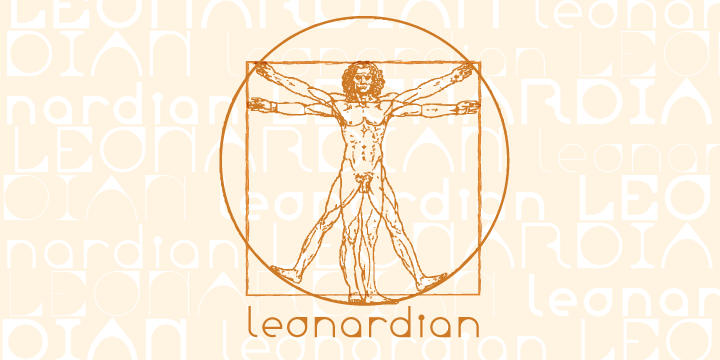 About Leonardian Font Family
---
The Vitruvian Man is a world-renowned drawing created by Leonardo da Vinci circa 1487. The drawing depicts a male figure in two superimposed positions with his arms and legs apart and simultaneously inscribed in a circle and square. The drawing and text are sometimes called the Canon of Proportions or, less often, Proportions of Man.The drawing is based on the correlations of ideal human proportions with geometry described by the ancient Roman architect Vitruvius in Book III of his treatise De Architectura. Vitruvius described the human figure as being the principal source of proportion among the Classical orders of architecture. That's how "Leonardian" was buid as well: a quest for ideal proportions, a harmonious design springing up from a geometric "collision", circle and square's intersections.
Leonardian
About Cubo Fonts
La Lettre est vivante ! Elle n'émet pas seulement un son, mais projette l'écho d'un lieu, d'une époque, d'un désir. Bienveillante, elle nous accompagne depuis l'éveil. Sensuelle, ses courbes excitent l'œil, et incitent à la connaissance. Instinctive, elle évolue avec les temps et les techniques. Elle disparait sous une forme, et renaît sous une autre. Pour nous, la typographie est au cœur de toute communication visuelle efficace. Chaque famille de caractères est en accord avec une tradition, une intention, une identité. La belle Lettre s'associe aux couleurs et aux symboles, pour délivrer des messages subtils, réveillant les émotions enfouies, agitant la mémoire collective. Depuis la fin de nos études rue d'Ulm, aux Arts Décoratifs de Paris, Nous avons chacun suivi notre chemin, au fil des expériences, développant des expertises complémentaires. Et nous nous retrouvons sur des projets graphiques passionnants, unis par l'amour de la Lettre. 
Choosing a selection results in a full page refresh.