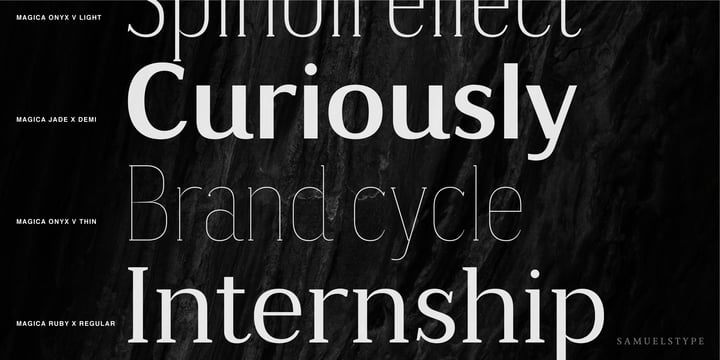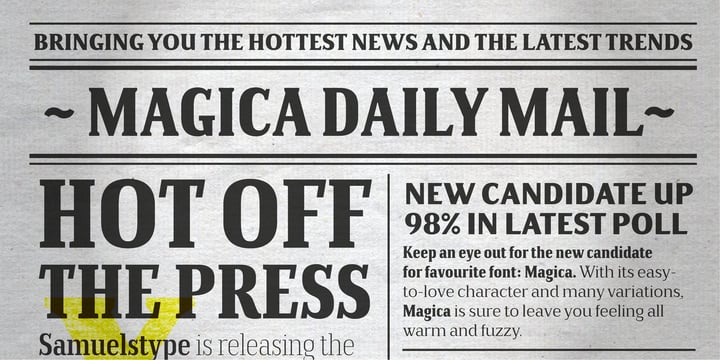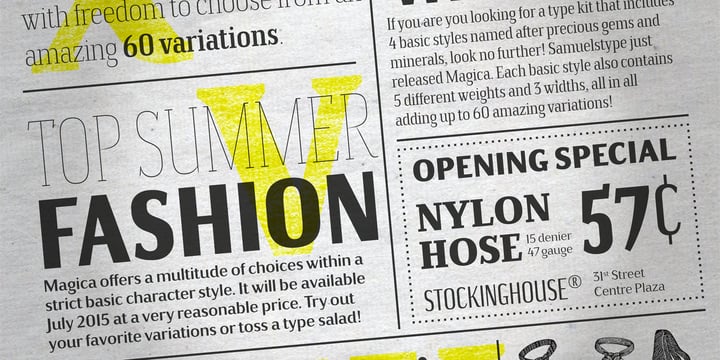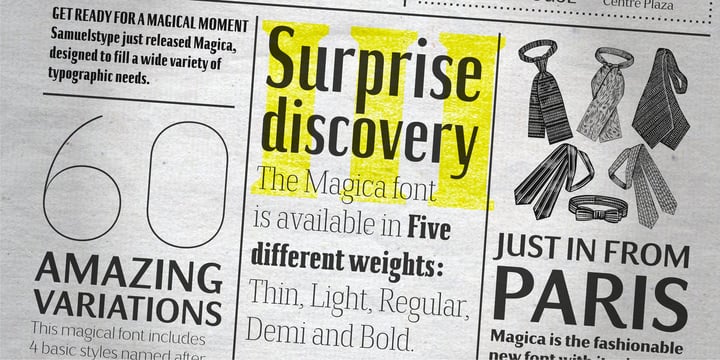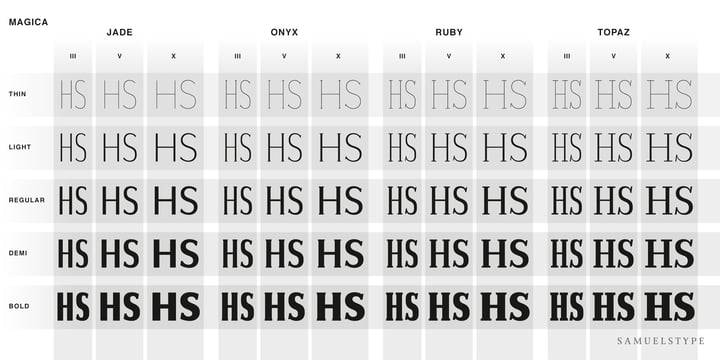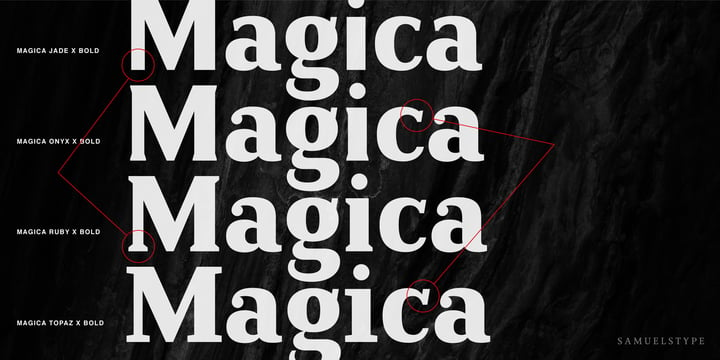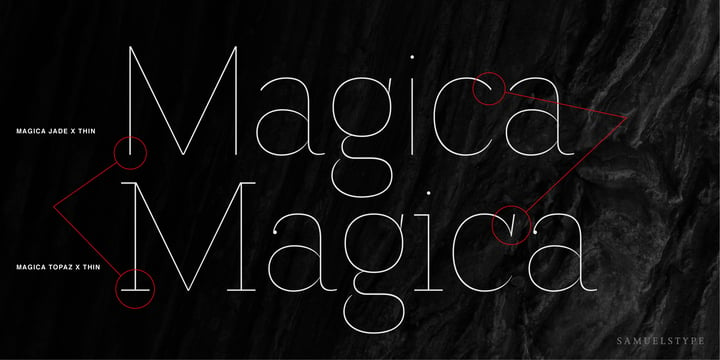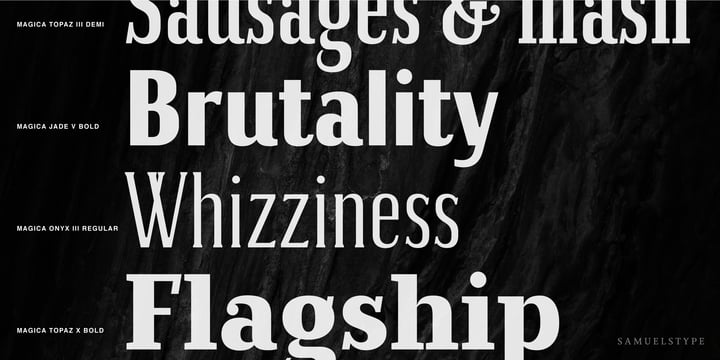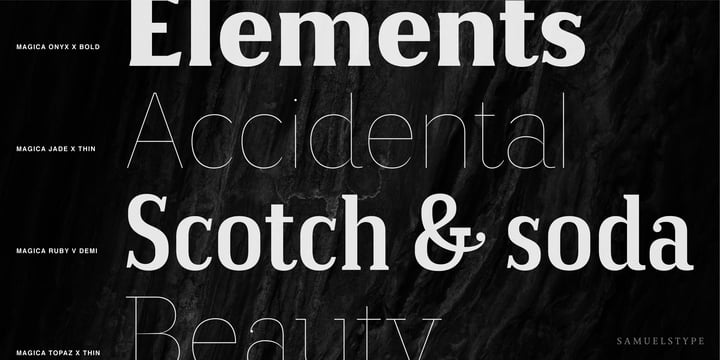 Select style to display all glyphs:
- Glyph Count:
This is a listing of all glyphs contained in the font, including OpenType variants that may only be accessible via OpenType-aware applications.
Each basic character ("A") is followed by Unicode variants of the same character (Á, Ä…), then OpenType variants (small caps, alternates, ligatures…). This way you can see all the variations on a single character in one place.
Magica Topaz III Bold

Magica Topaz III Demi

Magica Topaz III Light

Magica Topaz III Thin

Magica Topaz III Regular

Magica Topaz V Bold

Magica Topaz V Demi

Magica Topaz V Light

Magica Topaz V Regular

Magica Topaz V Thin

Magica Ruby X Bold

Magica Ruby X Demi

Magica Ruby X Light

Magica Ruby X Regular

Magica Ruby X Thin

Magica Topaz X Bold

Magica Topaz X Demi

Magica Topaz X Regular

Magica Topaz X Thin

Magica Topaz X Light

Magica Ruby III Bold

Magica Ruby III Demi

Magica Ruby III Light

Magica Ruby III Regular

Magica Ruby III Thin

Magica Onyx X Bold

Magica Onyx X Demi

Magica Onyx X Light

Magica Onyx X Thin

Magica Onyx X Regular

Magica Ruby V Demi

Magica Ruby V Light

Magica Ruby V Regular

Magica Ruby V Thin

Magica Ruby V Bold

Magica Onyx V Demi

Magica Onyx V Regular

Magica Onyx V Thin

Magica Onyx V Bold

Magica Onyx V Light

Magica Onyx III Bold

Magica Onyx III Demi

Magica Onyx III Light

Magica Onyx III Regular

Magica Onyx III Thin

Magica Jade X Bold

Magica Jade X Demi

Magica Jade X Light

Magica Jade X Regular

Magica Jade X Thin

Magica Jade V Bold

Magica Jade V demi

Magica Jade V Light

Magica Jade V Regular

Magica Jade V Thin

Magica Jade III Bold

Magica Jade III Demi

Magica Jade III Light

Magica Jade III Regular

Magica Jade III Thin
See more...
See less
Select style to display tech specs:
Licensing Options
You can use this font in any of the following places. Read the full EULA text for details about each license. If you have a usage in mind that's not covered by these licenses, contact us and we'll see what we can do.
About Magica Font Family
---
Samuelstype presents a new typographic system, intended to bring new versatility to any type-oriented project. The Magica family is generated from three basic interpolation premises; width, weight and serif. The presence of serif being a very prominent feature, this divides the family into four subfamilies; Jade (no serif), Onyx, Ruby and Topaz (full serif). In its present configuration the complete family counts 60 fonts, available in convenient packs at very reasonable price levels. Please note that at present Magica is only available in packs.
Magica™ is a trademark of Samuelstype.
Choosing a selection results in a full page refresh.