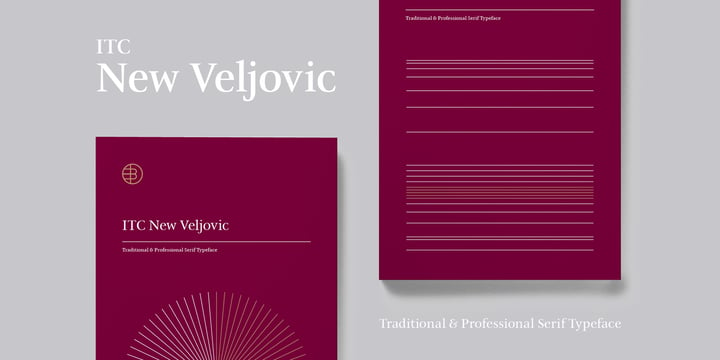 About ITC New Veljovic Font Family
---
Thirty years after its first appearance, Jovica Veljović has produced ITC New Veljovic Pro, a completely revised edition of his first typeface, ITC Veljovic (1984). Prof. Veljović has tapped into all the experience he has garnered over the past decades; by carefully adjusting the proportions of the characters he has provided the new typeface with a more harmonious presence. The serifs have been subtly curtailed and the letters made slightly more condensed. Some new features of ITC New Veljovic are the double-story "g" with its completely closed loop and the more open forms of the "c" and "e". In the italic variants, the latter is much rounder. Thanks to Veljović's outstanding work, the optimized ITC New Veljovic can now be used in all contemporary applications. The new Condensed style saves considerable space when it comes to setting longer texts. The Display versions show off the striking, crystal-clear shapes of the design at their best in larger point sizes.
ITC New Veljovic&reg is a trademark of Monotype ITC Inc. registered in the U.S. Patent and Trademark Office and which may be registered in certain other jurisdictions.
About ITC
An international leader in typeface design and marketing for over 30 years, ITC collaborates with world-class designers to provide a versatile selection classic typefaces and innovative new designs. ITC licenses its typeface library throughout the world to companies in the graphic design, computer, and printing technology fields.
Choosing a selection results in a full page refresh.