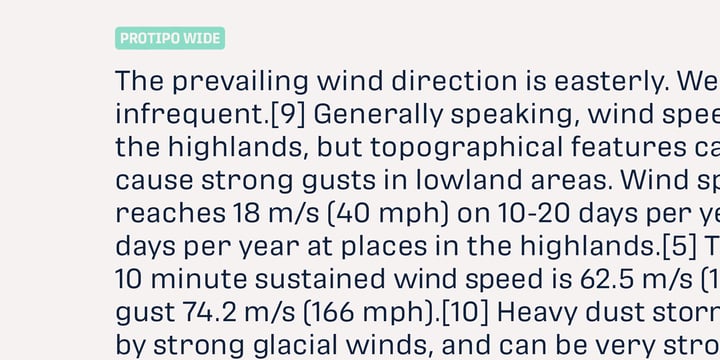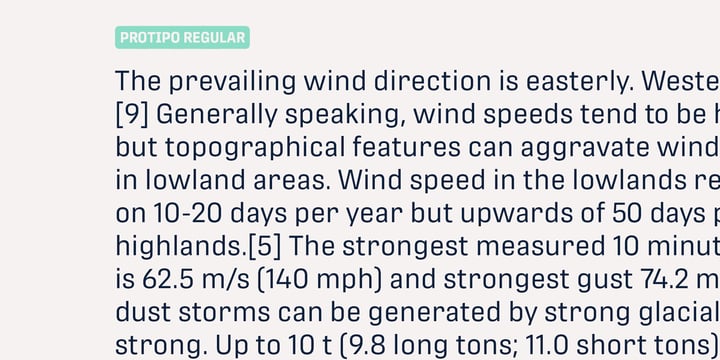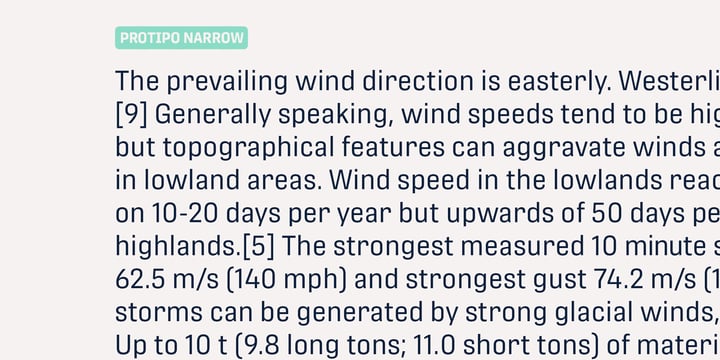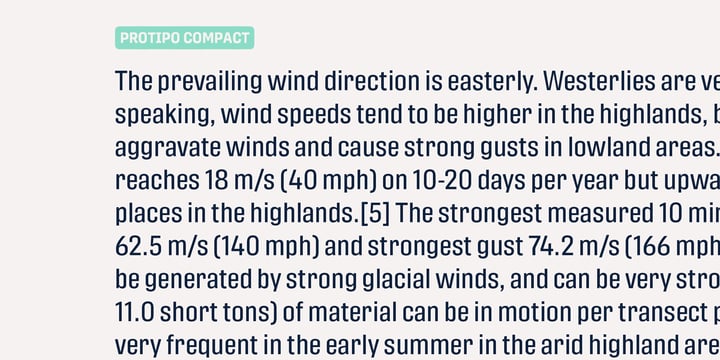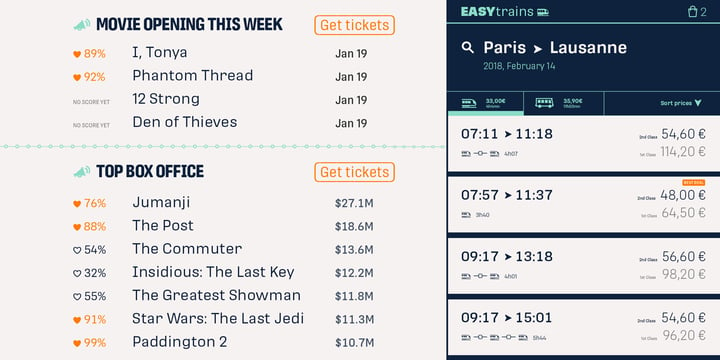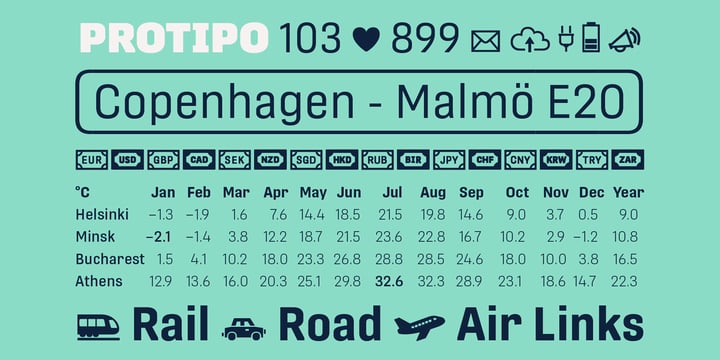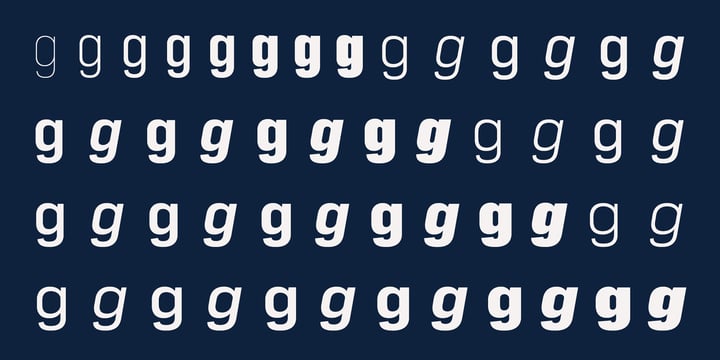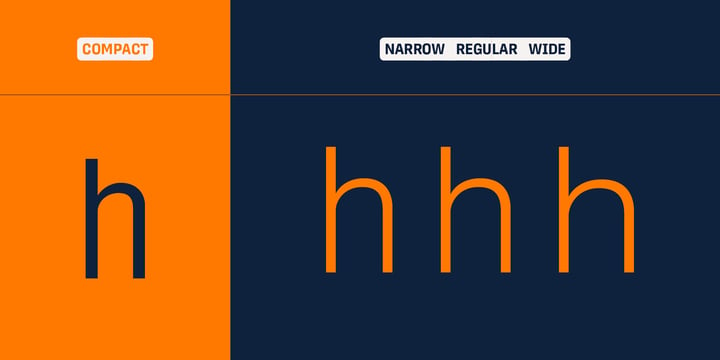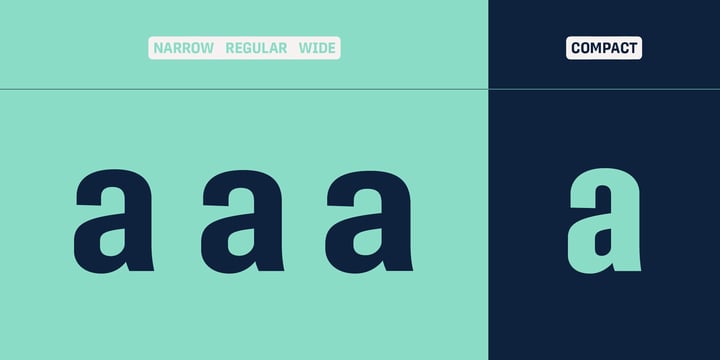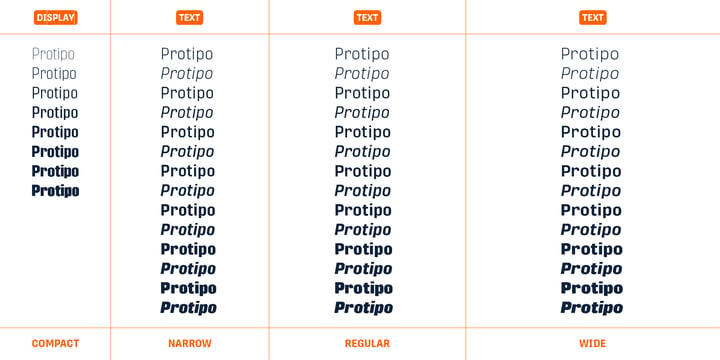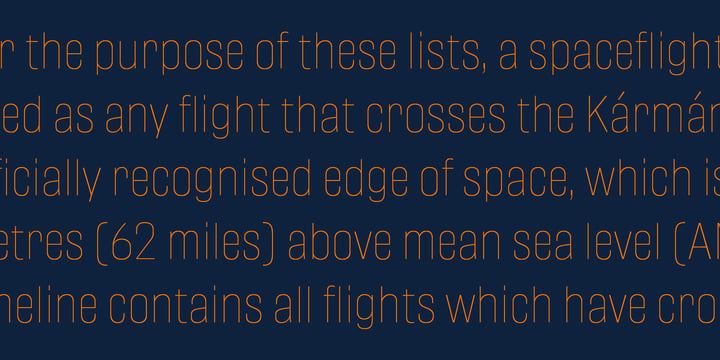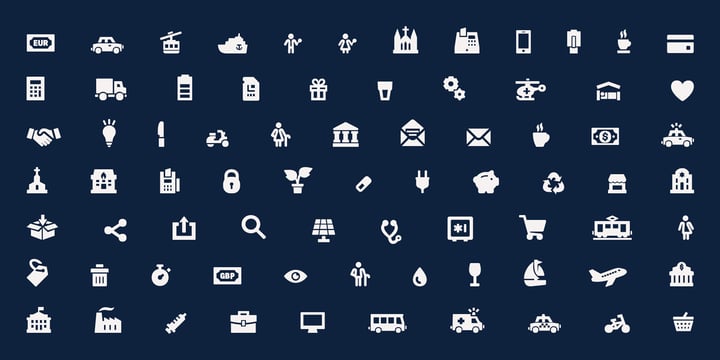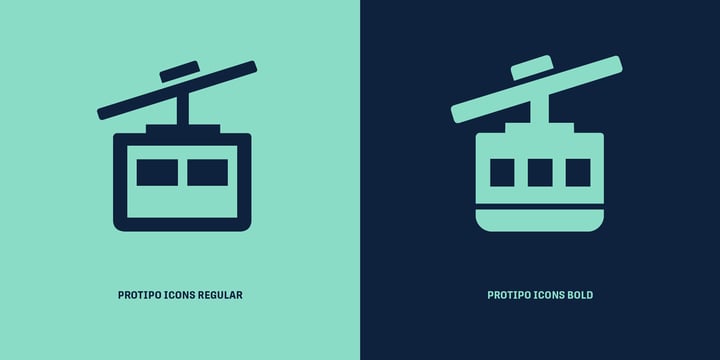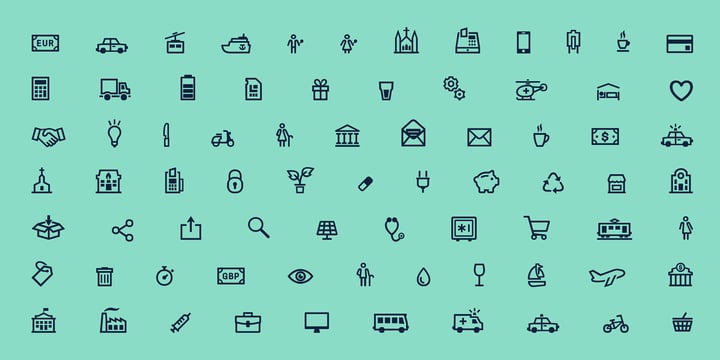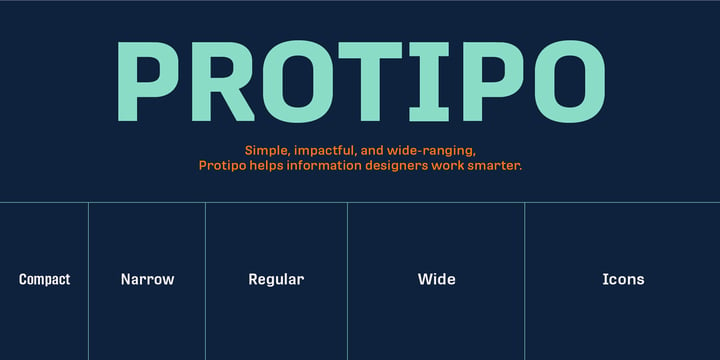 About Protipo Font Family
---
Protipo helps information designers work smarter. Veronika Burian and José Scaglione's Protipo type family is an information designer's toolbox: a low-contrast sans of three text widths with a separate headline family, accompanied by an impressive two-weight icon set, and working with the advanced variable (VAR) font format. From annual reports and wayfinding to front page infographics and poster use, designers consistently turn to the simplicity and starkness of grotesque sans fonts to get their point across. Protipo is made for such environments. When designing information you may start with the headline, which in the case of this family is called Protipo Compact and comes in eight weights. From Hairline to Black, set it large, overlap it, or let it run off the page. Protipo Compact was made to hit hard and attract attention with a different character set and different proportions than the three text fonts. It sets the stage for what's to come. Great information designers are aces at melding form and function, so we've stacked the Protipo family with Narrow, Regular, and Wide versions as a way of organising your information and directing the reader. Each width has seven distinct weights (light to bold) and italics, while maintaining the round-rect shapes of its DNA. Subtle details amplify its place in the typographic universe, like an 'a' and 'e' that go from solid to supple when italicising, an 'f' that gains an italic descender, two versions of the lowercase 'r' and 'l', and clipped corners on diagonals to keep the tight fit inherent to this kind of design work. Protipo is not meant to be loudmouthed, but stakes its claim through refinement, breadth, and impact. Some changes at first don't seem substantial, but the Protipo family doesn't handle text like most in its category. Protipo helps readers find and process data in a clear and unequivocal way and accounts for the complexity involved in rendering large amounts of information while still appealing to aesthetics. Protipo is ideal in all informative situations: apps, infographics, UI, wayfinding, transport, posters, display, and even internet memes. Add to all this the icon sets and upcoming variable font capability, and you're assured a level of creativity, productivity, and impact on a much greater scale.
Protipo
About TypeTogether
Veronika Burian and José Scaglionemet and developed a respectful kinship while completing their Master's degrees in type design at University of Reading, UK. Established in 2006, TypeTogether is an independent, cosmopolitan type foundry that creates text typography for intensive digital and print editorial use. We have grown into a core team living worldwide and invested in the daily work, networked with other type designers who intermittently cooperate on specific projects. Through our unique, diverse, curated font platform, TypeTogether creates innovative and stylish solutions to the greatest problems in the professional typography market. The advantage of being a small but highly specialized company is that we are able to work closely with our clients to accomplish their goals and to respond quickly to their requirements. To carry an organisation's unique voice across all communications, TypeTogether creates custom type solutions for discerning clients worldwide. Distinct advantages in your market can be gained through logotype creation, commissioning a brand new typeface, modifying existing typefaces, or extending language support. TypeTogether creates cross-platform OpenType fonts of recognised aesthetic and technical excellence and which perform well in continuous reading. Our internationally awarded catalogue — honoured for its high quality, usefulness, personality, and ability to grab attention — spans many languages and scripts and is diligently expanding each year.
Choosing a selection results in a full page refresh.