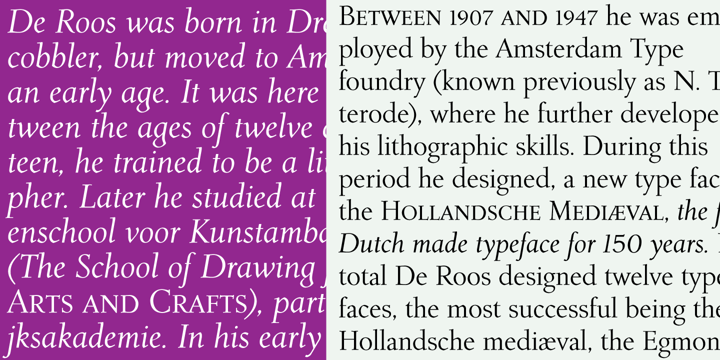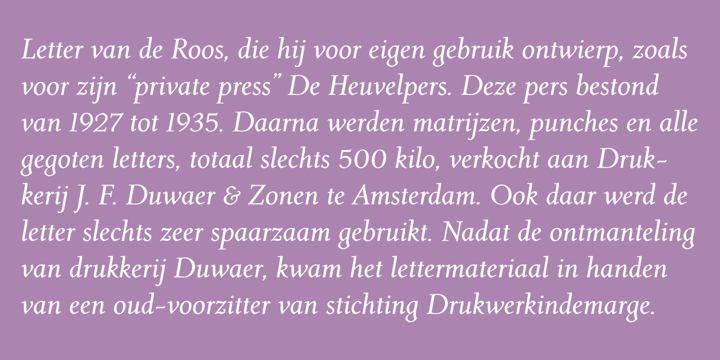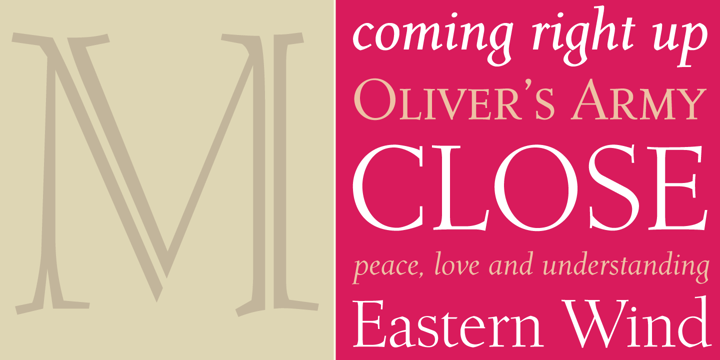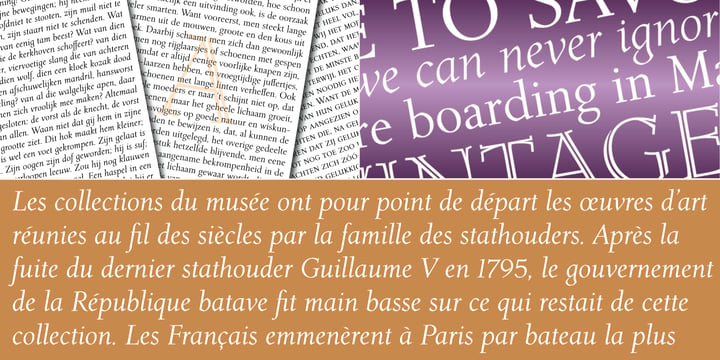 Per Style: $14.99
Pack of 10 : $149.95
About Roos Font Family
---
The Roos family is a digitization and expansion of the last typeface designed by Sjoerd Hendrik De Roos, called De Roos Romein (and Cursief). It was designed and produced during the years of the second World War, and unveiled in the summer of 1947 to celebrate De Roos's 70th birthday. In 1948, the first fonts produced were used for a special edition of the Dutch Constitution on which Juliana took the oath during her inauguration as the Queen of the Netherlands. To this day this typeface is widely regarded as De Roos's best design, with one of the most beautiful italics ever drawn. In contrast with all his previous roman faces, which were based on the Jenson model, De Roos's last type recalls the letter forms of the Renaissance, specifically those of Claude Garamont from around 1530, but with a much refined and elegant treatment, with stems sloping towards the ascending, slightly cupped serifs, a tall and distinguished lowercase, and an economic width that really shines in the spectacular italic, which harmonizes extremely well with its roman partner. The Roos family contains romans, italics and small caps in regular, semibold and display weights, as well as a magnificent set of initial caps. All the fonts contain extended language support, surpassing the usual Western Latin codepages to include characters for Central and Eastern European languages, as well as Baltic, Celtic/Welsh, Esperanto, Maltese, and Turkish.
Roos™ is a trademark of Canada Type.
About Canada Type
Canada Type is an independent digital lettering and font development studio based in Toronto. We were founded in 2004 by a couple of experienced designers who were not pleased with the quality and licensing terms of fonts around the turn of the century. Since then we have greatly expanded, built a versatile and popular retail catalogue, and helped many designers bring international attention to their talents in the constantly changing and increasingly competitive world of type design.While Canada Type offers a varied library of fonts, our bread and butter are really the bespoke services we've been providing to companies across many fields on local, national and global levels. Over the past 20 years, we have developed custom fonts for companies in a variety of sectors, ranging from the marketing, financial and service industries to major film studios, big software corporations, and telecom/broadcast outfits.This is what we love to do, and we're fortunate to do it on a daily basis. If you consider well-crafted typography essential to your brand's visual communication, we're here to help, so please reach out. The promise you get from us is one of care, quality and highly informed, satisfying results.https://canadatype.com
Choosing a selection results in a full page refresh.