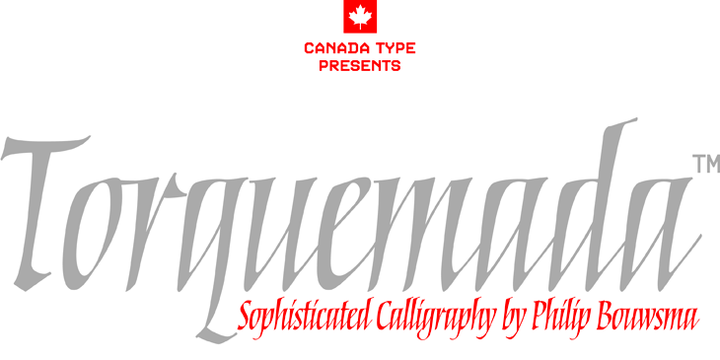 About Torquemada Font Family
---
The Torquemada family marks the return of eminent American calligrapher Philip Bouwsma to the type scene after almost 7 years of hiatus, and he is certainly coming back with a lot of bells and whistles! Torquemada offers the same kind of excitement that emanated from Bouwsma's work in 1970s and 1980s New York, when he was one of the most important leaders of the New Calligraphy movement that brought calligraphy forth as a mainstream art and craft, and spawned many of today's known calligraphers. Not only is this calligraphic art at its very digital finest, but it also introduces a completely new concept in drawing letters with a broad pen. Bouwsma's Torquemada Principle defines the harmony of weight, contrast, tension and space by consistently changing the angle of the broad pen between 0 and 80 degrees throughout all strokes. When the strokes become hairlines at the lowest angles, the paths made by the actual corners of the pen cross over one another, making the outline flat or slightly hollowed. This new calligraphic idea gives us the rare opportunity to quote an old Monty Python joke: Nobody expects the Spanish Inquisition! Torquemada comes in four variations: Torquemada One regular and bold, and Torquemada Two regular and bold. The difference between Torquemada One and Two is not just a simple change in vertical metrics. The stroke proportions of each variation were also optically adjusted for maximum readability at small sizes, as well as maximum aesthetics for display work. Check the PDF included in the MyFonts gallery section for further information on the Torquemada Principle, visual samples, and the differences between the font's four variations. Torquemada comes in all major font formats, in two separate packages priced affordably, or in one complete bundle, also priced very affordably. The OpenType version is two fonts, a regular and a bold, with the proportional alternates slotted as contextual substitutions in the programming of the font. A few alternates and random swashings are also included within the fonts. Torquemada's applications are virtually endless. This is a real calligraphic workhorse that has the power to elevate any design to higher levels of visual appeal. You can trust this work to be the perfect choice for book, film and music covers, titling, posters, signage, flyers, packaging and all kinds of branding. We'd like to think of the advent of Torquemada as the beginning of a new calligraphic Renaissance. And who is better to start it than a master of calligraphy like Philip Bouwsma?
Torquemada
About Canada Type
Canada Type is an independent digital lettering and font development studio based in Toronto. We were founded in 2004 by a couple of experienced designers who were not pleased with the quality and licensing terms of fonts around the turn of the century. Since then we have greatly expanded, built a versatile and popular retail catalogue, and helped many designers bring international attention to their talents in the constantly changing and increasingly competitive world of type design.While Canada Type offers a varied library of fonts, our bread and butter are really the bespoke services we've been providing to companies across many fields on local, national and global levels. Over the past 20 years, we have developed custom fonts for companies in a variety of sectors, ranging from the marketing, financial and service industries to major film studios, big software corporations, and telecom/broadcast outfits.This is what we love to do, and we're fortunate to do it on a daily basis. If you consider well-crafted typography essential to your brand's visual communication, we're here to help, so please reach out. The promise you get from us is one of care, quality and highly informed, satisfying results.https://canadatype.com
Choosing a selection results in a full page refresh.