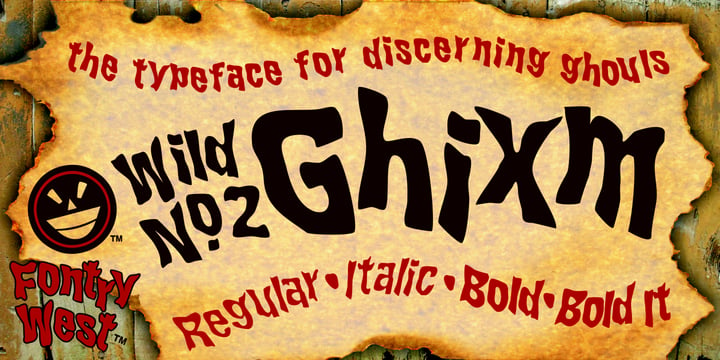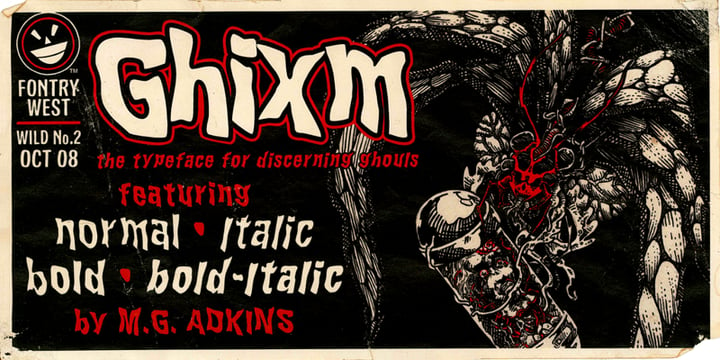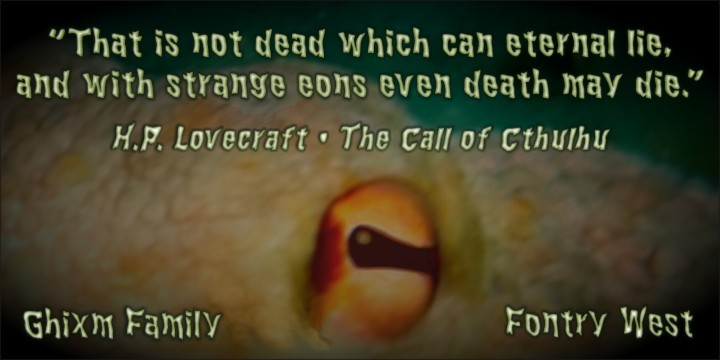 Select style to display all glyphs:
- Glyph Count:
This is a listing of all glyphs contained in the font, including OpenType variants that may only be accessible via OpenType-aware applications.
Each basic character ("A") is followed by Unicode variants of the same character (Á, Ä…), then OpenType variants (small caps, alternates, ligatures…). This way you can see all the variations on a single character in one place.
Select style to display tech specs:
Licensing Options
You can use this font in any of the following places. Read the full EULA text for details about each license. If you have a usage in mind that's not covered by these licenses, contact us and we'll see what we can do.
About WILD2 Ghixm Font Family
---
Accidents happen. Things go where they don't belong, get changed - remade. Something new crawls out of the murky depths. Ghixm is a retrospective of the horror comics and movie posters of the 1960s and the 1970s. It's fluid forms harken to watery graves and tentacled unnameable horrors. These twisted shapes are reminiscent of titles that will make your skin crawl. It's already warped and twisted, so don't hesitate to abuse it. This face can take it and still deliver its chaotic message.
WILD2 Ghixm™ is a trademark of Fontry West.
Choosing a selection results in a full page refresh.