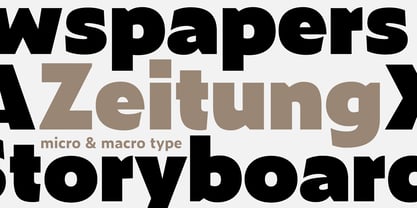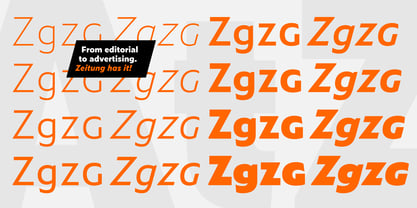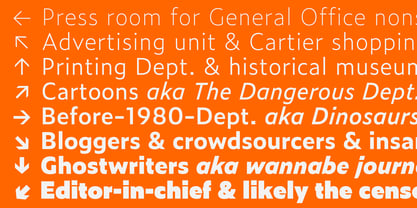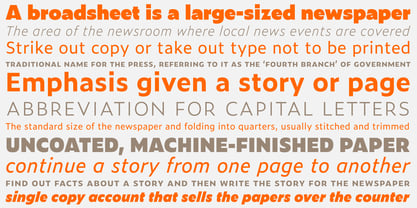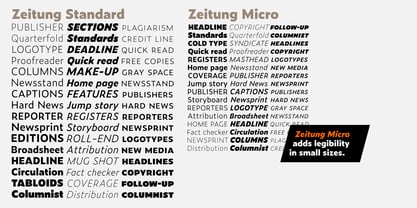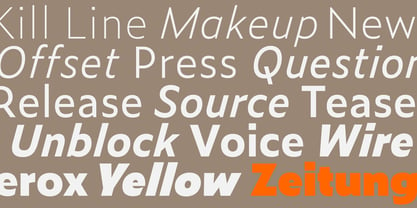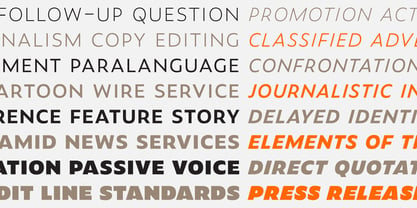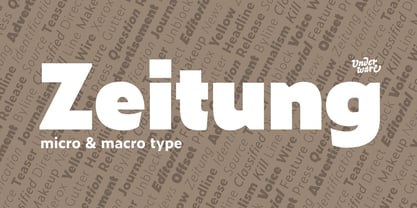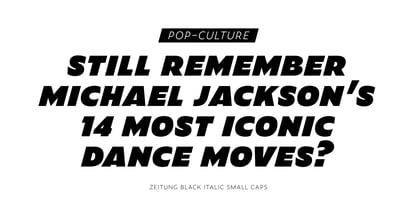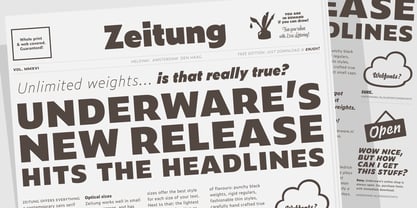 Start your FREE TRIAL of Monotype Fonts to get over 40,000 fonts from more than 25 type foundries.
Start free trial
Start free trial
About Zeitung Pro Font Family
---
Zeitung is a sans serif family which works equally well on print and web. First of all: Zeitung is a sans serif made according to contemporary standards: 8 weights, romans and italics, all equipped with small caps. Lots of OpenType features, like uppercase punctuation or 5 figure styles to make sure any of your mathematical or financial charts, tables and diagrams look cool. Zeitung's typographic palette focuses on utility and legibility, but in the farthest corners you'll discover a rich array of flavours: punchy black weights, fashionable thin styles, carefully hand crafted true italics, distinct small caps. But Zeitung has more to offer. Its optical sizes offer the best style for each size of your text. Zeitung fonts are devided to two optical families: Zeitung Standard and Zeitung Micro. Zeitung Standard works great in most sizes, while Zeitung Micro fonts are specially made for very small sizes in print and web. Zeitung Micro fonts are perfectly legible in web, where the same technical font styles have to survive in many environments, from older browsers to most up to date mobile screens. Next to that: the lightest weights also function as grades, because they share the same metrics. This can be very handy for selecting the optimal weight for your specific situation, especially on screens or when type is printed by a newspaper press. Letters are rendered in many various ways on different screens. Maybe the interface of your next app requires a different grade than your latest website? Zeitung allows you to change the weight of your text without any further consequence for the design. That is a welcome relief during the design process. Zeitung will help to bring your message across in many different circumstances, from large text in print to small type on screens.
Zeitung Pro
About
Underware
Underware (www.underware.nl) is a rock-hard font foundry with a whole lot of feeling for real type. Stunning retail fonts, exclusive branding, custom type for demanding clients, own freaky design tools, you name it. Sweating & rocking in Den Haag, Helsinki and Amsterdam. Founded by Akiem Helmling, Sami Kortemäki and Bas Jacobs in 1999. Underware's creations have received many awards - recently their innovative dynamic writing fonts received Gold in German Design Award 2021, Certificate of Excellence at TDC New York 2020 and Winner at TDC Tokyo 2020. More about dynamic writing at www.grammato.com. Three separate locations don't limit the way they cooperate with each other. This is how underwarers themselves describe the process: "Our intense cooperation creates surprises by itself. A collaboration offers possibilities which individuals can't benefit from. For example: sometimes all of us reserve a whole day for sketching new type. Early in the morning one of us sends a picture to one of the others, and that person has to create a typeface which fits for this picture within one day. A quick and easy way to push our creative borders, and surprise yourself. We usually start sketching on paper, sometimes very rough with a pen during a phone talk, other times more precisely with a brush or pencil in a more concentrated moment. Sketching by hand allows you to find new forms, to create a specific, unique style. Once you've found that style, the rest of the characters are digitally created and fine-tuned. During the following design process, eg when additional weights are being created, we occasionally return to sketching on paper to find new solutions for problems we meet in the digital process. But in the end, it doesn't matter if the computer or a brush or pencil are your tools. The most important tool is your brain."