Type Trends are a series of interviews conducted on a quarterly basis with design leaders across the global. They share with us their views on trends and their experiences. There are some great learnings to be had — enjoy the read.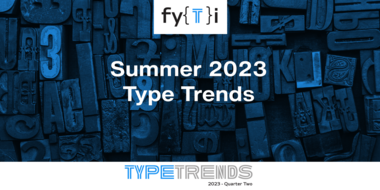 Type Trends: 2023 Q2 Summer Type Trends
Predicting trends of, pretty much, anything is very difficult – and fraught with issues. Spotting tends, however, is much easier. Especially if you have a database to work from. And, boy, do we have a database. Learn more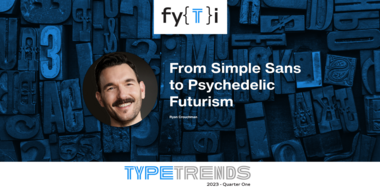 Type Trends: 2023 Q1 Ryan Crouchman
Variable fonts have graduated from a trend, to a full-on typographic staple. Scripts with a twist, American retro and a new wave of fonts that reject traditionalism are also part of what's happening in type. Learn more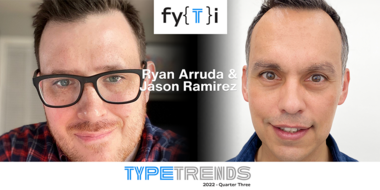 Type Trends: 2022 Q3 Trends by Ryan Arruda and Jason Ramirez
We reached out to two designers for this issue of Type Trends – and soon discovered: even though they had seemingly very different gigs, the two worked to surprisingly similar design goals. We asked lot of questions and came away with some valuable typographic guidance. Learn more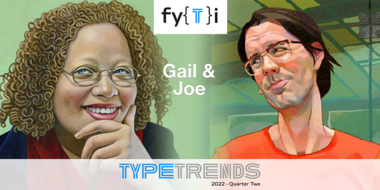 Type Trends: 2022 Q2 Trends by Gail and Joe
Marvel Comics has Black Widow and Daredevil. Ice Cream lovers have Ben and Jerry. Movie buffs have Thelma and Louise. What about typophiles? Well, they've got Gail Anderson and Joe Newton. Learn more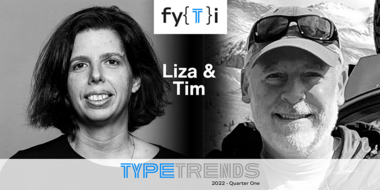 Type Trends: 2022 Q1 Trends by Liza & Tim
As part of our on-going efforts to keep you typographically informed, up-to-date and in-the-know, we reached out to two very different designers with very different processes – but with very similar typographic goals. Learn more.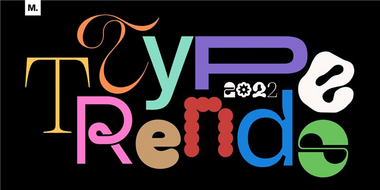 Monotype Type Trends 2022
This report is not our work. It's work by brands and agencies that we admire and whose work really stood out over the last twelve and some odd months. Learn more.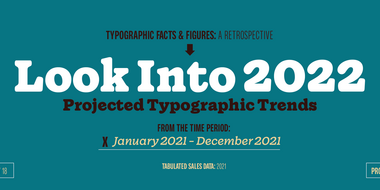 2022 MyFonts Trends for Designers
Last year's "Type Trends" guidance was about creating typographic surprises, bespoke fonts, using evocative typefaces to tell a story, and the merging of art and technology.Learn more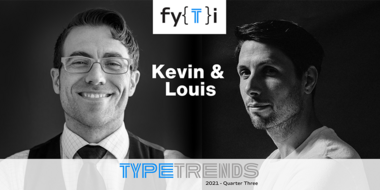 Type Trends: 2021 Q3 Trends by Kevin Cantrell & Louis Mikolay
Some trends like, multi-part color and psychedelic retro fonts, or men's one-piece romper jumpsuits, have the lifespan of a fruit fly. Follow them today and you'll be yesterday's news before you can blink. Learn more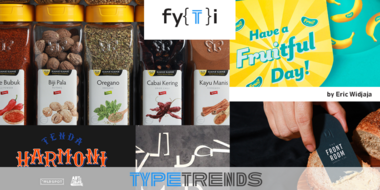 Type Trends: 2021 Q2 Trends by Eric Widjaja at Thinking*Room.
If you're reading this, you're probably a font browser. When you've got a project that calls for something fresh and new, you browse the pages of MyFonts looking for that special typeface. Learn more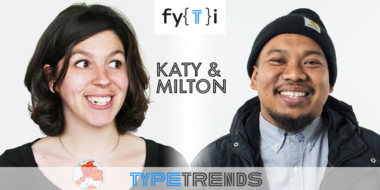 Type Trends: 2021 Q1 Trends by Katy & Milton
As a graphic communicator, your work needs to stand out in a heavily manufactured visual culture. You need to intrigue people, create art as well as utility and build consistent brand without it becoming static. Learn more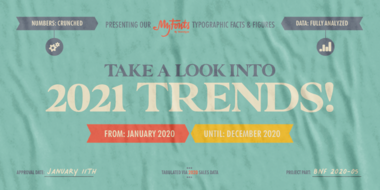 2021 MyFonts Trends for Designers
In 2020, Clif Stoltze and Katherine Hughes, of Stoltze Design, told us about the power of new experimental typefaces, symmetrical layouts with selective deviations, and the value of classic designs.Learn more